You may have a hunch, given all those construction cranes dotting the metro area, that things are booming in Omaha.
It has been hard to miss the multitude of machines and building crews altering the landscape — from the banks of the Missouri River to the western fringes of Douglas County and surrounding suburbs.
Indeed, building is going up in the form of offices, schools and hotels. It's going down like the 1,057-space underground garage for the new Applied Underwriters complex. It's going out, like the one-story furniture store near Crossroads that's stretching up and around into a five-story apartment building.
But now comes new data reinforcing a local boom: Building permits show that the annual construction cost for Omaha projects given the green light in 2019 hit a 10-year valuation high, jumping 25% over the prior year.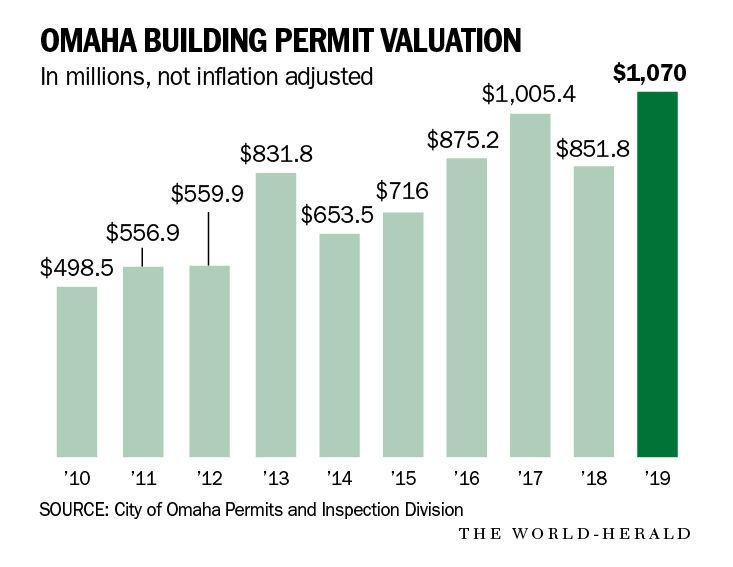 Surpassing $1 billion, the ventures range from newly constructed residences to garage additions to sparkling new offices and converted hotels. That amount doesn't capture everything, either.
Road construction and cost of utility installation, for example, are not included in the building permit data that reflects cost of new and rehabbed structures. And while a permit and project cost might be recorded in one year, work might carry over into another.
Suburban areas have had eye-popping activity as well.
Take Papillion, where tech titan Google last year announced it would build a $600 million data center near an already ongoing $1 billion data center project for Facebook.
Or La Vista, where the $235 million City Centre campus of residential, commercial and entertainment venues continues its climb to become the new heartbeat of that bedroom community.
What's more is that business and real estate experts predict 2020 construction to remain brisk, though they say the pace might not be as robust as Omaha's past year. Places like Papillion had such a good run the last few years that officials said the growth pattern backed off some last year.
Some officials say certain hot areas, like apartment-building, are reaching a saturation point, and that challenges exist in finding skilled laborers to do the building and also in landing talent to fill new and old office space.
"By far the biggest hurdle Omaha has going forward is finding and hiring qualified workers," said economist Ernie Goss. "That's the No. 1 issue for expansion."
Meanwhile, say he and others, ongoing real estate development — driven in part by hungry investors capitalizing on low interest rates — has been a welcome boost vital to a community's long-term physical and economic growth.
An obvious benefit is the creation of local construction jobs that, in turn, generate tax revenue that helps support public services, says David G. Brown, chief executive and president of the Greater Omaha Chamber.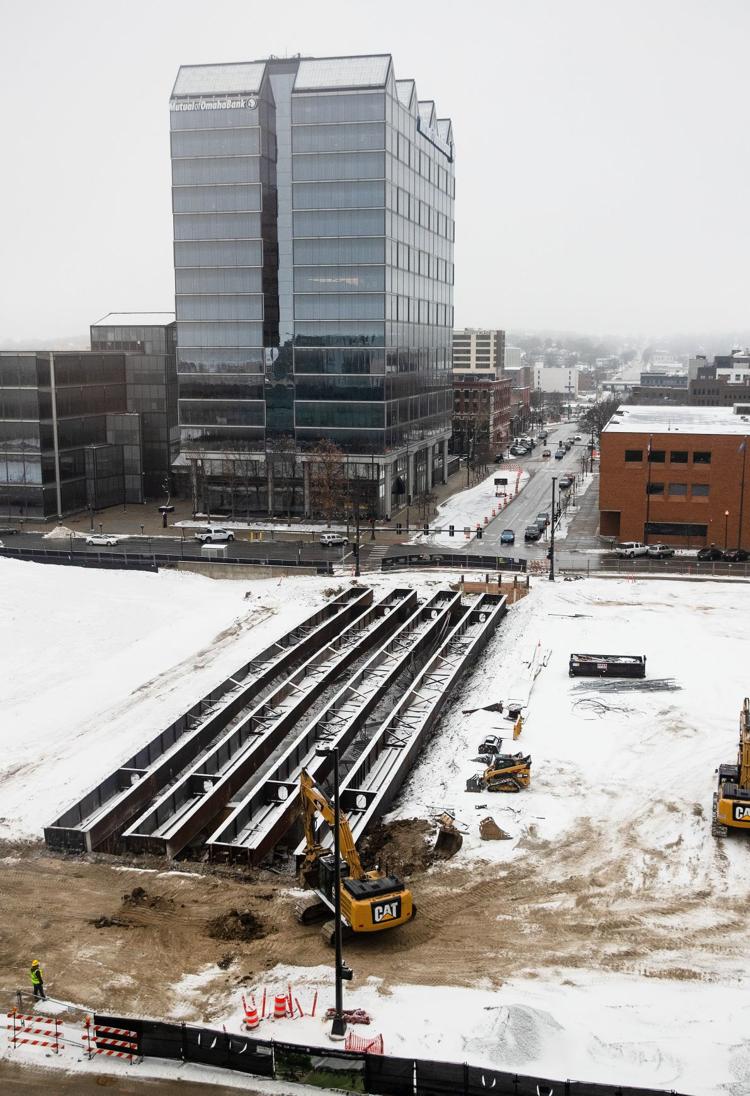 Consider, for instance, a National Association of Home Builders report from a few years ago that says for every 100 single-family houses built, a community during the first year on average gains an estimated $28.7 million in local income, $3.6 million in government tax and revenue and 394 jobs.
"New construction is just a great indicator of confidence in our community," Brown said. "Our whole philosophy is: If you're not growing, you are more than likely shrinking."
He said investment begets more investment.
A prime example is the millions of dollars of job-creating building going on at the University of Nebraska Medical Center campus. That has spawned private investment in nearby neighborhoods, including the Blackstone Business District. Along and around the Farnam Street spine are new restaurants, bars and hundreds of new residences frequented and occupied in part by people who have filled those health care jobs.
Officials say Omaha's rising identity as a sports entertainment mecca — think four consecutive United States Olympic Swim Trials, the long-running College World Series and other NCAA events — has sparked spin-off construction including youth athletic complexes and hotels.
Developer Dan Marak of Kansas City, for example, is seeking to secure his 12th Omaha hotel project. He has stayed focused locally despite what he describes as a tough market where a shortage of skilled laborers has pushed up construction costs and slowed projects.
Given those challenges, why Omaha? "It's a stable economic environment," said Marak, whose recent hotel projects include one near UNMC and another near 72nd Street and Interstate 80. He said Omaha hasn't had the "roller coaster" market swings like some bigger and coastal cities.
He and other developers say they're drawn to the area's solid business base, which also ushers in corporate travelers. Many have tapped local development tools such as tax-increment financing, which offsets certain construction costs.
Companies that manage the growing amount of real estate and that broker property transactions also have prospered. Omaha-based Investors Realty, for instance, in 2019 reached a record 6 million square feet of space under its management, said President R.J. Neary.
The growth pushed the Omaha brokerage last year to relocate to new offices, following 34 years in the same location.
Omaha building permits offer a peek at what was hot in 2019:
A huge chunk of development activity came from additions and renovations to existing commercial structures, including re-purposing old buildings into apartments. Indeed, that area accounted for about $325 million — a 50% increase over the construction value reflected in similar permits the year before.
Examples would be turning the cavernous north downtown Ashton warehouse into new digs for tech company Flywheel. The Ashton is among several old north downtown industrial structures slated for conversion into office and retail space as part of the new $300 million Millwork Commons district.
Sign up for World-Herald news alerts
Be the first to know when news happens. Get the latest breaking headlines sent straight to your inbox.
Restoration of the deteriorating downtown Logan building into a boutique hotel, office and condo space is another example.
Also a big driver of construction: new offices, banks and professional buildings. Omaha permits issued in 2019 for that type of building more than doubled the $53 million of the previous year.
Single-family home construction, meanwhile, took a different turn, as the value of permits issued for new houses in Omaha last year dipped about 10% compared with 2018. That tracks with a broader eight-county area that saw the number of new house permits through November decline about 16%.
For apartments, the number of newly constructed units went up last year in Douglas and Sarpy Counties, according to statistics compiled by the Greater Omaha Chamber.
Goss, the economist, is among those who think the local apartment market is becoming overbuilt and that developers soon will be seeing higher vacancy rates. For consumers, he said, that could be good in that rents could go down.
But ask developer Chris Erickson, who co-founded City Ventures, and he says his recently built apartment complexes in Benson and downtown Omaha still have well-performing occupancy rates above 90%.
His team continues to build apartments at the La Vista City Centre site, and he expects those to fill as well.
Generally, Erickson said, he has felt a "continued high level" of construction over the past five to seven years, and he doesn't expect a noticeable downturn any time soon.
"We'll start to see a slowdown in the next couple of years," he predicted. "Is that in 2020? I'd say not."
---
11 key developments around metro Omaha
Be the first to know
Get local news delivered to your inbox!