Omaha-born Right at Home is settling into new corporate offices atop a new structure at Aksarben Village — just in time to celebrate its 25th anniversary.
Upon entering the 34,000-square-foot leased space, visitors find a feature wall dotted with photos and memories that help tell the story of the franchise network that provides in-home health care worldwide.
There is, for instance, the First Responder at Ground Zero, who later received services from Right at Home caregivers. There are faces of people from other countries who received wheelchairs allowing them to venture out of their home, sometimes for the first time in decades.
"We provide millions and millions of hours of care across the U.S. and the globe," said Brian Petranick, president and chief executive. "These mission moments illustrate the lives that we touch, the impact we have as an organization and, really, the impact that our clients have on us."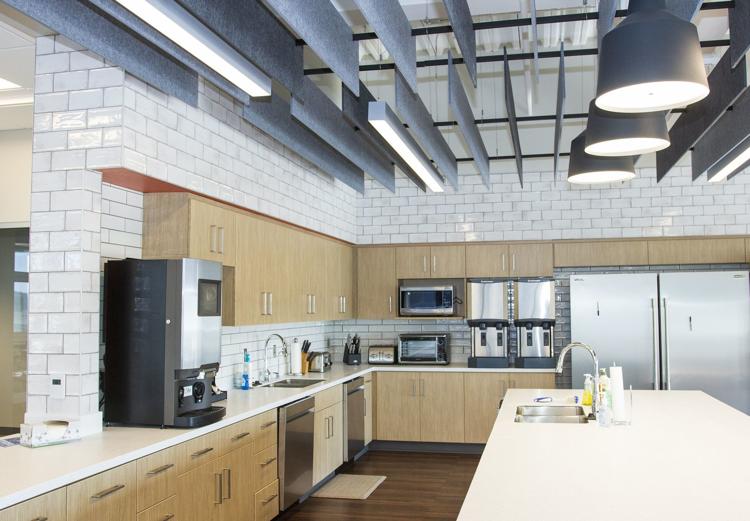 About 90 corporate employees are based on the top two floors of 6700 Mercy Road. They came from a couple of separate spots in Aksarben Village. A half-dozen more positions likely will be added this year, Petranick said, and the new home has room for about 150 total.
Petranick foresees further growth of the corporation and industry, especially as the population gets older and more seek to age at home. He said Right at Home has 650 locations in eight countries, and annual revenue set to surpass $700 million.
Petranick said that Omaha, with its strong schools and cost of living, is where the corporate flag wanted to stay. He said he values the connection with local universities that provide a pipeline for workers.
The annual meeting in April, which also marks the 25th year, is expected to draw about 600 to Omaha.
Changing Omaha: More than 50 stories of local development projects in the works
An ongoing list of some our development stories from 2018-20, with the most-recent stories at the top. 
Sign up for our Money headlines newsletter
Get the latest development, jobs and retail news, delivered straight to your inbox every day.
Be the first to know
Get local news delivered to your inbox!