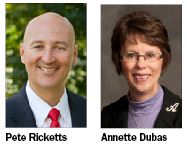 A gay brother and a gay sister.
For two Nebraska gubernatorial candidates, gay marriage has proven to be more than a mere policy issue, it's a family affair that Republican Pete Ricketts and Democrat Annette Dubas have handled in different ways.
Dubas said she has come to embrace gay marriage, as she embraces her brother, Michael Steele, who told the family in the late 1980s he is gay.
"I think my brother has as much right to happiness as anyone else does," said Dubas.
For Ricketts, the fact that his sister — Laura Ricketts — is a key supporter of gay marriage hasn't changed his belief that marriage is meant for a man and a woman.
He not only opposes same-sex marriage, but he said he also opposes a longstanding decision by the Chicago Cubs to sponsor a gay pride parade in Chicago. The Ricketts family owns the baseball team.
The Cubs' connection to the parade raised objections from a fellow Republican candidate, who said Thursday it called into question Ricketts' gay-marriage opposition.
Republican Beau McCoy said that Ricketts should be held responsible for the fact that the Cubs are supportive of the gay community.
Ricketts said he had no involvement in that decision. He also said that despite some "difficult conversations" in his family, he and his sister remain family.
"My sister is gay. I love her, but I disagree with her on this issue," said Ricketts, an Omaha businessman.
Ricketts, Dubas and several of the other Nebraska gubernatorial candidates staked out their positions on gay marriage Thursday, the day before the Nebraska Legislature was set to hold a public hearing on the topic.
In Nebraska, voters banned gay marriage in 2000. Gay couples who are legally married in other states qualify for federal benefits as the result of a recent U.S. Supreme Court decision. But their marriages are not recognized in Nebraska.
All five Republican candidates say they want to keep it that way. Ricketts, McCoy, State Auditor Mike Foley and State Sens. Charlie Janssen and Tom Carlson are on record saying marriage should be between a man and a woman.
"It's in our (State) Constitution," said Janssen. "The people have spoken."
"We should respect their decision," Foley agreed.
On the Democratic side, it's unclear whether gay marriage will be a key factor in the primary battle.
Democrat Chuck Hassebrook, who is a former member of the University of Nebraska Board of Regents, could not be reached for comment Thursday. However, when he was on the NU Board, Hassebrook voted to provide health insurance benefits to same-sex NU employees and their domestic partners.
For her part, Dubas said she strongly believes that the time has come for gay marriage, but she also had no intention of actively working to overturn Nebraska's gay-marriage ban if she is elected governor.
It would take a vote of the people to overturn the ban. If it came up on the ballot, Dubas said, she would be a vocal supporter but not an active participant.
"In my mind, it would be up to the citizens of Nebraska to overturn it or not. At that time, my vote would count just as much as anyone else's," Dubas said.
On the Republican front, Ricketts' co-ownership of the Chicago Cubs could cause him problems.
Ricketts and his sister come from a prominent and wealthy Omaha family. Their father, Joe Ricketts, was the founder of Ameritrade, an online brokerage company that merged with TD Waterhouse in 2006.
The family currently owns the Chicago Cubs and both Laura and Pete Ricketts serve on the five-member board with two brothers. (The fifth member of the board is not related to the Ricketts family.)
Laura Ricketts has been a leader on the national front in support of gay marriage, throwing both her financial and volunteer support behind Lambda Legal, a gay-rights group that has been at the forefront of the gay-marriage movement.
She also has been supportive of the Chicago Cubs' outreach in the gay community.
For more than 10 years, long before the Ricketts' family purchased the Cubs, the organization has supported a gay pride parade. In fact, the Cubs organization has a long history of supporting the gay community and is a member of the National Gay & Lesbian Sports Hall of Fame.
McCoy said he believes Ricketts should have to answer for his association with the gay-friendly baseball club.
"I don't see how it's possible to be against gay marriage while, at the same time, owning with your family, a national baseball team that purports to be one of the most gay-friendly baseball teams in the country," said McCoy.
Ricketts said that just because an organization that he is connected to supports gay rights does not mean he agrees.
He also said the board has never taken a vote on whether or not to support the parade. That decision was made by management.
However, he declined to say whether or not he has voiced opposition to the Cubs' support for the parade in director meetings.
"The discussions we have at the board are private. With regard to that, I don't want to get into it specifically," Ricketts said.