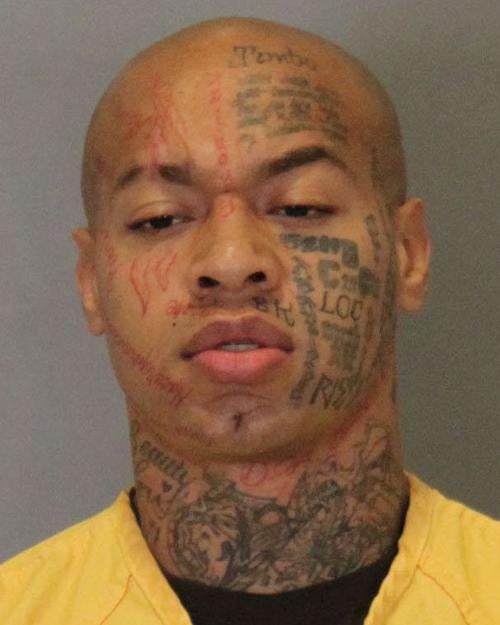 Nikko Jenkins' prison mug shot paints a layered picture.
One side of his face is coated with black ink devoted to the various gang affiliations and exploits he claims. One tattoo high on his forehead is a tribute to "JIMBO" — the late Omaha gangster Jimmy Levering.
Another tattoo, under his jawline, calls out "DOA Bang Bang."
The "red" side of his face is devoted to his family. His mother's name appears in one tattoo. Some ornate tattoos match the ones on the faces and bodies of his female followers.
That Jenkins could hold sway over some women — even though he was in prison from the age of 16 — offers a glimpse into his particular brand of charm.
It was considered cute by the women who posted his pictures on their Facebook pages. For the authorities who consistently dealt with him, the charm was conniving.
The women came to his court hearings and attempted to talk officials out of prosecuting their man. The "cult of Nikko," court personnel called them.
Three or four women all claimed to be Jenkins' wife, though only one had the marriage certificate to prove it.
Sometimes the women got along. Sometimes they sat on opposite sides in the courtroom and shot glares at each other.
They all shared one thing: the name "Nikko" tattooed or simply written on their cheeks.
"It was beyond bizarre," said one prosecutor.
In a letter penned to a judge two weeks before his July 30 prison release, Jenkins fashioned himself as the "alpha male battling the pharaoh king" on behalf of the women in his life.
"I am empowering alpha female hierarchy [sic]," he wrote. "I worship their authority in every beauty treasures so pretty. I enhance them with rule alpowerfully."
Attached to the letter was a snapshot of a woman.
The photo zooms in on tattoos on her forehead, similar to the ones on Jenkins' face. While most are hard to read — they were tattooed upside down on her forehead — the term "Pharaoh King" is scrawled over the beginning of the name "Nikko."