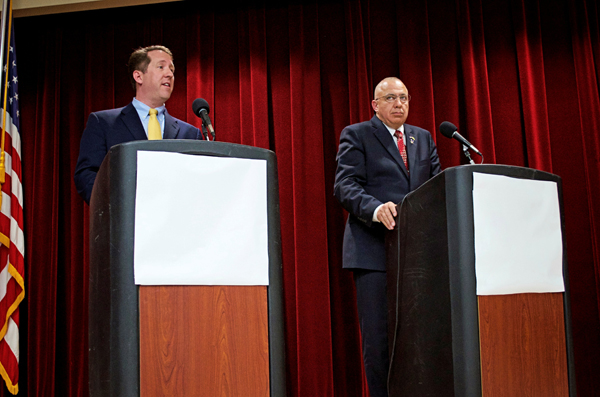 SCOTTSBLUFF, Neb. — The two Republicans who want their party's nomination for U.S. House in the 3rd District took more jabs Friday at Congress and the federal bureaucracy than at each other.
Rep. Adrian Smith and challenger Tom Brewer, a retired Army colonel, met in their only scheduled debate of the campaign at the University of Nebraska's Panhandle Research and Extension Center.
Brewer and Smith generally agreed on many policy issues — federal spending, farm policy, Obamacare, the federal role in education — but differed on how each is better prepared to represent one-third of Nebraskans in one of the nation's largest congressional districts.
Brewer said the nation needs the style of leadership he would take to Congress.
"If we do not have dynamic leadership and we do not have someone who's willing to be aggressive and pursuing those solutions that we need, then the gridlock we have will continue,'' he said.
Smith agreed there is gridlock in Congress.
"There's too much bickering,'' he said.
Smith said his style is to lead through "good, substantive debate'' to identify problems and arrive at solutions.
"I'm about solutions,'' he said.
Smith said there is a lot for Americans to be proud of but he is concerned.
Then the lights went out, and the overflow crowd of more than 250 people in the auditorium fell into darkness for a few seconds. It happened twice during the first half of the debate.
Moderator Bill Boyer of Scottsbluff radio station KNEB explained after the second blackout that renovations on campus temporarily required someone to periodically move in front of a motion sensor in the back of the hall to keep the lights from turning off.
Brewer said the U.S. government has failed on several fronts, including not rescuing the diplomats and others who were attacked and killed in Benghazi, Libya, in 2012. One of the victims was a Navy SEAL who served with Brewer in Afghanistan.
"We failed on the budget. We failed on the border. We've failed to follow the Constitution,'' he said. "We have a ruling class right now in Washington, D.C., that's re-elected every time. Nothing's going to change if we keep doing that.''
Brewer pledged, if elected, that he would not serve more than eight years, the same amount of time permitted a president. He said America would be better served by electing lawmakers to limited terms.
Smith, completing his fourth term in Congress, said he served under term limits in the Nebraska Legislature and appreciates that limited terms reflect the wishes of voters.
He said his record in Congress reflects a reality that learning the issues and building relationships is important.
The House's 435 members need many perspectives, Smith said.
"We want a reflection of America,'' he said. "That's how we can have a system of making sure the power is left to the people.''
Smith said his top job is to help ensure opportunity for all people. He said his record reflects diligent, overtime work to change the bureaucracy, to direct resources where they're needed anywhere around the world and to reduce regulations for the benefit of current and future generations.
"I'm acting on listening to you,'' Smith said. "I'm the guy who will tell you what you need to hear, not just what you want to hear. We need more politicians that will speak directly, using the facts and not happy talk.''
Both candidates said they support the proposed Keystone XL pipeline across Nebraska and that final federal approval has taken too long.
Each said U.S. immigration policy is too cumbersome and slow and is part of the nation's problem with illegal immigrants, and that all immigrants should follow the law.
Smith used the question to note that he is the descendant of German-Russian immigrants to western Nebraska. He grew up in neighboring Gering.
Said Brewer, who grew up in Gordon and had an American Indian grandmother: "My ancestors were Lakota Sioux. We'll leave it at that.''
The winner of the May 13 primary will face Democrat Mark Sullivan in the fall.