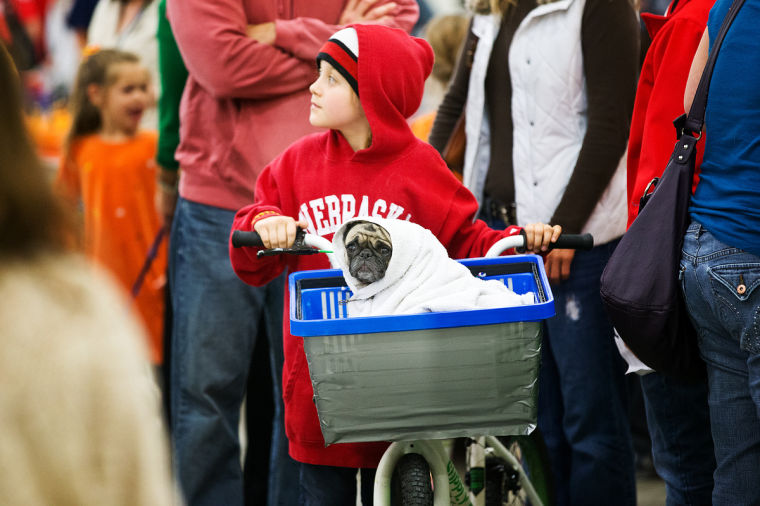 Jessica Ellis says pugs are hard not to love.
Like a pug in a pink fairy costume.
Or a pug as Sandy from "Grease," transformed with a leather T-Birds jacket.
You could go on and on at Sunday's Pug-O-Ween party for pug owners and their dogs. The fifth annual event and fundraiser to benefit Pug Partners of Nebraska drew some 250 pugs, dogs of assorted other breeds and hundreds of pug and dog lovers.
Ellis, president of the Nebraska pug rescue group, didn't bring her two pugs in costume this year.
But she, like the other owners, got special enjoyment in seeing the snub-faced dogs take on alter egos for an afternoon.
"Pugs are fun to dress up," she said. "They're hilarious to look at in costumes."
Some dogs, though, looked to be tolerating their owners' humor more than feeling the fun.
Deanna Nickerson dressed Kylee as a scarecrow, complete with flannel shirt spouting sewn-in hay and toddler-size denim overalls.
Kylee won third place in the scariest pug costume category.
"You can pretty much dress Kylee in anything," Nickerson said. "She doesn't care."
Elsewhere at the National Guard Armory near Aksarben Village, George the pug wore a pope costume.
"Not saying he's happy about it," owner Nick Theoharis said.
Even so, it won George a prize.
Pug owners Scott Lehman and Terri Lukon put Gumbo in a tuxedo collar and Jazz in a pink tutu.
They said there's nothing cuter than a pug in costume.
Well, maybe one thing, Lehman said. "A baby pug in a Halloween costume."