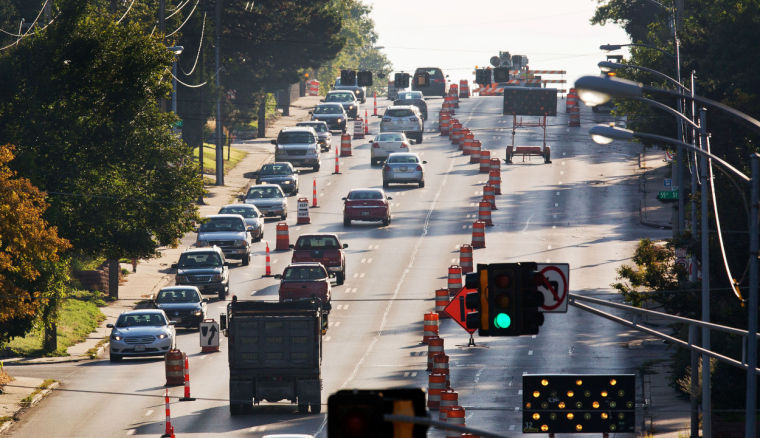 Omaha's newly resurfaced Dodge Street should be open for a Sunday morning drive to church — a month ahead of deadline.
Omaha Mayor Jean Stothert announced Friday that work on Dodge from Turner Boulevard to 52nd Street would be completed and ready for Monday morning drive time.
Greg Armstrong, vice president of contractor Swain Construction Inc., said Friday that all the work is actually done already. All that remained was for the new asphalt surfaces to cure a little longer in a few spots, Armstong said.
Dodge Street will be ready for traffic with "absolutely no restrictions by 9 o'clock Sunday morning," Armstrong said.
The $2.5 million project included new curbs, sidewalks, retaining walls and driveways along Dodge Street from 50th to 52nd Streets.
Swain workers milled off the top 2 1/2 inches of all lanes of Dodge from Turner Boulevard to 52nd Street. They then laid 2 1/2 inches of new asphalt.
The work began Sept. 16. It was expected to take up to eight weeks to complete.
Armstrong said long days of hard work — from 6 a.m. to 7 or 8 p.m. six days a week, and on three Sundays — allowed crews to complete the job early. Fair weather helped too.
There was no financial incentive for completing the project early. But there would have been penalties for not completing it on time.
Armstrong said they beat that deadline by 30 or 31 days.
The Dodge Street work was one of 10 Omaha street projects funded with $6.4 million from the State of Nebraska, according to Stothert's office.
Be the first to know
Get local news delivered to your inbox!