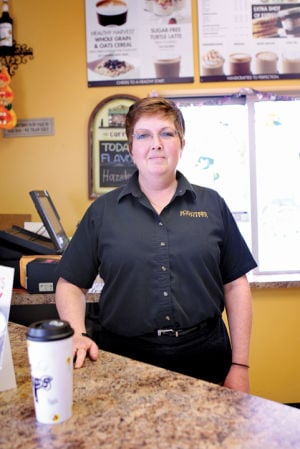 Longtime Council Bluffs business owner Kathy Jordan died Monday after a battle with cancer.
Jordan's laugh and wisdom will be missed, friend Stefanie Mendoza said.
"She was an amazing woman," Mendoza said. "I learned a lot from Kathy. I'll miss her."
Mendoza worked for more than two years at Jordan's Scooter's Coffee locations. The 52-year-old owned a pair of franchises – the West Broadway shop for more than 10 years and the Council Bluffs Chamber of Commerce Hughes-Irons Building location for more than two years.
"She was a very strong individual. That's why she ended up buying the coffee shops in the first place, wanted to be a manager," Jordan's husband, Andy Griffin, said. "She knew what she wanted and how to get it done."
Griffin called Monday the worst day of his life and struggled when asked to reflect on his time with Jordan. The pair married when both were 24 but split up after three years. They reconnected again in their mid-40s, dating for three years, before again parting ways.
When Jordan's cervical cancer resurfaced in July, Griffin was there.
"She was a very caring and passionate person. That's why I was drawn to her," he said. "We kept trying to make it work."
They remarried on Jan. 5 and were side by side as Jordan faced a disease Griffin lamented as "a death sentence."
When doctors said her chances of survival were low, Jordan sold her stores to make sure they'd carry on and for the chance to travel with Griffin.
The pair visited family and saw the sights, including the Grand Canyon in Arizona.
"The stores were her everything," Haley Naggatz said while working the evening shift Monday night. "She didn't want to give them up, but realized she needed to."
Bob Mundt, president and CEO of the Council Bluffs Area Chamber of Commerce, said he was happy to see Jordan live life to the fullest in her final months.
"The best part was she was able to enjoy what was left of her life," Mundt said. "That's what she did."
Mundt and Naggatz described Jordan as kind and generous, with donations to charity part of the job.
"She'd give you all she had in her efforts," Mundt said. "Just a charitable and kind and giving person. She'll be missed in the community."
In death, Jordan continues to give, as she's donated her body for use in studying cervical cancer, Griffin said. A funeral is planned for Friday, with a viewing at 10 a.m. and services at 11 a.m. at Kahler Dolce Mortuary in Papillion.