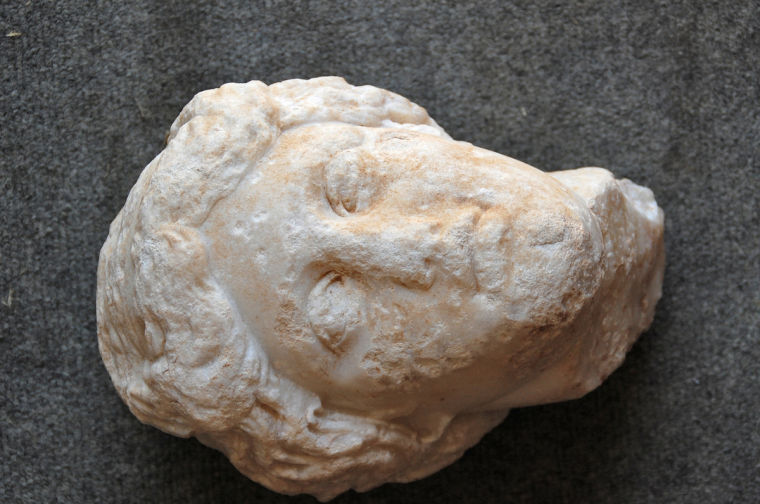 LINCOLN — Years of exploring the mountains and fields of southern Turkey paid off over the summer when a University of Nebraska-Lincoln archaeological team made a lovely find.
The team unearthed a life-size marble head of Aphrodite, the Greek goddess of love, desire and beauty.
The team, led by Hixson-Lied professor of art history Michael Hoff, has been excavating the remains of the ancient city Antiochia ad Cragum, near the southern coast of Turkey.
"It was upside down when it was first found," Hoff said. "The team flipped it over with big smiles on their faces."
Last year Hoff's team uncovered a mosaic thought to be the largest of its type in the region. The 1,600-square-foot mosaic depicted flowers and fruit and is believed to have been part of a Roman bathhouse.
"The mosaic was stupendous, and the statue was an exclamation point," Hoff said.
Aphrodite's head is the first example of a monumental statue found at the site. Hoff said mythological statues are common in Turkey but had not been uncovered yet in Antiochia ad Cragum because of limited excavation.
"We find fragments and pieces that escape getting thrown into the kiln, and luckily we found this head," Hoff said.
Scarred with chips and cracks on its nose and face, the head of Aphrodite's statue most likely avoided destruction during the Roman Byzantine period, about A.D. 330.
Hoff said the area where the head was found was once used to destroy ancient marble statues, to get lime for making mortar or because they were considered pagan symbols.
"Some rather zealous Christians were destroying images of Greek gods and goddesses to get rid of pagan images," he said.
As for the rest of Aphrodite's body, Hoff said it was most likely incinerated.
Before the excavation began in 2005, Hoff and his colleagues spent 10 years conducting a survey of the area. They based their decision to excavate Antiochia ad Cragum on historical context, accessibility and its potential to reveal new information. The ancient Mediterranean city once numbered perhaps 4,000 to 5,000 people, Hoff said.
"It's not the nice objects we find but rather the body of information that they tell," he said. "That's the most important thing."
Hoff said he and his team believe a well-to-do society lived in the area based on the remains that have been unearthed so far.
"Our excavation is beginning to shed light on perhaps a greater cultural wealth in this part of the Roman Empire than what we thought before."