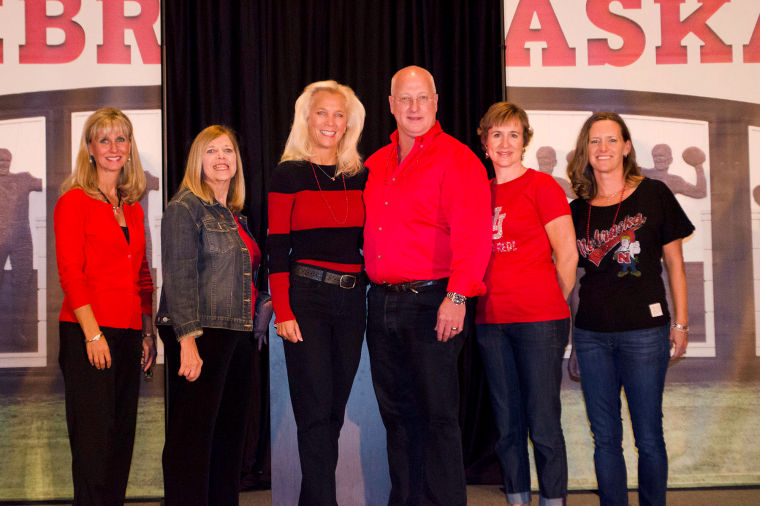 Nearly 400 people kicked off their football weekend on Sept. 20 with a big boost for some small folks.
They attended the seventh annual Big Red Tailgate at the Embassy Suites La Vista, a benefit for Completely KIDS, an Omaha nonprofit organization that offers out-of-school programs to strengthen at-risk youths and their families.
The Husker-themed event raised $230,000 for the group. Guests enjoyed cocktails and dinner, bid at silent and live auctions and bought raffle tickets. A group of Completely KIDS youths also performed for the crowd.
Some former Nebraska players were on hand: center Rik Bonness, who played from 1972 to 1975; and offensive tackles Zach Wieger and Rob Zatechka, who were on the team from 1991 to 1994.
"Once again, Big Red Tailgate was an amazing success," said Penny Parker, Completely KIDS executive director, in a prepared statement. "We are fortunate to have so many generous people who believe in and support the mission of Completely KIDS."
The Completely KIDS Guild coordinated the party. Lori and David Scott were honorary chairmen. Sarah McGowan and Amy Parks were co-chairwomen.
Annette Bynam is guild president. Guild members and volunteers include Jennifer Alloway, Jen Athy, Jen Bartelt, Kate Betsworth, Kate Brownrigg, Lindsey Buchanan, Karla Cassels, Brenda Christensen, Christy Clement, Jessica Covi, Dawn Dinsdale, Shannon Dombrowski, Brigit Elliot, Linda Finigan, Mary Foley, Lizzy Gilbert, Beth Groh, Amy Grohe, Shelly Grote, Andi Hallgren, Denise Hazelrigg, Jami Heidemann, Pam Hession, Jessica Jaksha, Emily Jung, Lori Kardell, Carol Kline, Jenny Kluver, Kara Krehbiel, Sheila Kuehn, Kristin Lewis, Regan Mackintosh, Catherine Mahoney, Leslie Mayo, Anne Medlock, Patrice Ott, Kris Patton, Char Peterson, Jennifer Peterson, Kara Plumb, Arlene Porzelt, Paula Renner, Kris Schaff, Christine Schulte, Brenda Smith, Marjean Stamm, Libby Stiles, Ashley Trankle, Emily Wageman and Carrie Weiler.
University of Nebraska athletes — both past and present — will trade the gym and the field for the runway to benefit the Husker Greats Foundation.
The first Big Red Runway event will be Oct. 20 at Regency Shopping Center. It's designed to be a girls night out, with drinks, food tastings, the fashion show and silent and live auctions.
Proceeds will go toward helping former Husker athletes, male and female, who need medical assistance.
Models will include basketball star Karen Jennings and gymnast Renee Poulos, wearing fashions from Christian Nobel. Former NU football player Jerry Murtaugh is board president for the foundation.
"When you play at Nebraska, you become part of the family," Jennings said in a press release. "It's great to know the Husker Greats Foundation keeps those ties strong and is looking out for you in times of crisis."
Reservations are due by Oct. 18 for this year's High Tea at Roncalli High School.
The school's gym will be converted into a tea room for the Nov. 3 event, a Roncalli tradition. Hostesses decorate creative tables in a variety of themes from picnics to fine china.
Brother Armand Alcazar, a De La Salle Christian Brother and former Roncalli teacher, will sing at the benefit party.
A record crowd of more than 500 people took a virtual trip around the world on Sept. 15 at the "Global Voices: Faith in Action" dinner supporting Lutheran Family Services of Nebraska.
The event, at Embassy Suites La Vista, featured a global bazaar with art, music and dance. Items from across the globe were sold at booths during the cocktail hour, with all proceeds going to the artisans.
The Omaha Burundians Choir performed. The choir is made up of musicians who escaped oppression in their native land when they fled to refugee camps in Tanzania. Immigrants from two dozen countries, Afghanistan to Vietnam, wore traditional clothes in a procession that ended with two local high school students and Bhutanese refugees, Jagir and Mon Kami, singing "The Star-Spangled Banner."
The group also presented awards to Lincoln businessman Roland Temme, the United Way of the Midlands and the Benson Area Refugee Task Force.
Tastes in the Tallgrass, Spring Creek Prairie Audubon Center, Denton, Neb., 402-797-2301.
On Track Guild luncheon, "Tricks and Treats: The Story of Goosebumps," Durham Western Heritage Museum, Stacy Stohlmann, 402-444-5071.
Fine wine tasting, hors d'oeurves and auctions, Southwest Omaha Rotary Night Club, the Club at Indian Creek, 3825 N. 202nd St. Benefits the Boys Town National Hotline. omaharotarynight.org.
"Rake in Wellness" auction fundraiser, EngAge Wellness, Home Instead Center for Successful Aging, 730 S. 38th Ave., 402-552-7210 or saradietrich@umnc.edu.
Neihardt Laureate Feast with photographer and author the Rev. Don Doll, Neihardt State Historic Site, Bancroft, Neb., 1-402-648-3388, 1-800-777-4667, www.neihardtcenter.org.