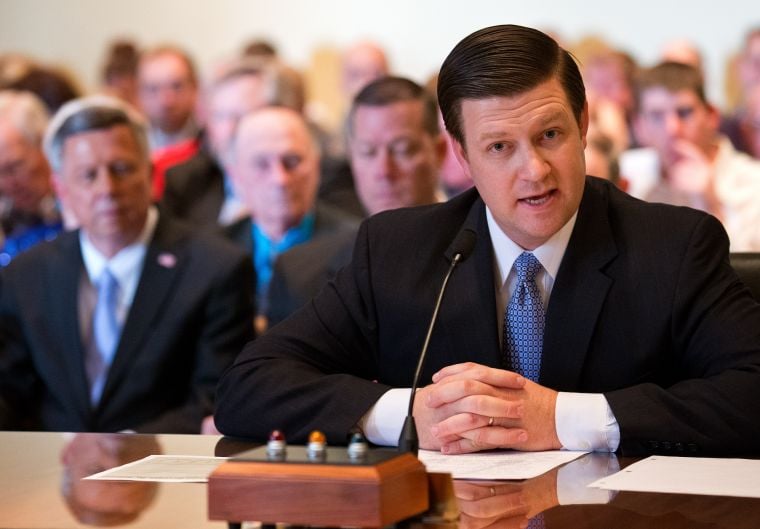 A Falls City businessman may have made history today in Nebraska, pouring about $860,000 in cash and campaign resources into the fledging gubernatorial campaign of Republican Beau McCoy.
Charles Herbster, a short-lived governor's candidate earlier this year, transferred $594,000 in cash from his campaign committee to McCoy's campaign. He also donated $265,000 in campaign assets, such as the services of political consultants who had been paid upfront.
No single donor has made that kind of contribution to a single campaign in recent memory. However, candidates have donated more than that to their own campaigns. For example, former gubernatorial candidate John Breslow spent more than $1.5 million of his own money on his unsuccessful 1998 bid.
"It's not something that's happened to my knowledge, recently, or often, by any stretch of the imagination," said Carlos Castillo, Herbster's former campaign manager.
The donation instantly gives McCoy — a little-known state senator from Omaha — a huge financial boost and the resources to run a credible campaign.
Many gubernatorial and Senate candidates in the state never raise the type of cash McCoy managed in one day. For example, U.S. Sen. Deb Fischer only raised about $460,000 total in her successful GOP primary race for U.S. Senate last year.
McCoy is one of five Republicans and two Democrats running for governor.
Herbster would have been the sixth Republican in the field, but he dropped out after only about six weeks, citing his wife's health issues. Herbster is a cattle rancher from Falls City who also owns a manufacturing company in Kansas City.
His contribution is perfectly legal under Nebraska state law, which does not set any limits on either individual or corporate contributions. In comparison, federal candidates are only allowed to accept $2,600 from an individual.
All of the money in Herbster's campaign had come from himself or his company, Conklin Co.
It was clear from the start that Herbster hoped McCoy would take his place in the race.
On the day that Herbster dropped out, McCoy jumped into the fray, with many of Herbster's former employees on his team.
McCoy said he had been pondering a governor's race and decided to run, with Herbster's encouragement.
The two men had gotten to know each other several years ago at a Nebraska Cattlemen event. Both McCoy and Herbster are strong Christians who describe themselves as men of deep faith.
"We talked about the need of my potential running," said McCoy, recounting his conversation with Herbster. "My wife and I thought and prayed about it, and decided that was the course of action we wanted to pursue."
When he decided to run, McCoy said he had no idea that Herbster would eventually transfer all of his campaign dollars into McCoy's campaign account.
"The offer of financial support from his candidate committee was offered later," McCoy said. "It was Charles' decision."
McCoy said he saw nothing wrong or improper with accepting such a large amount from a single source.
"We respect and appreciate their confidence in us and the resources they have seen fit to transfer to our campaign," he said.
McCoy also said that it was his belief that Herbster could not return the money to himself or his business — that he would have to either donate the money to charity, or use it to run another campaign.
However, the head of the Nebraska Accountability and Disclosure Commission disagreed with McCoy.
Frank Daley, executive director of the committee, said the Herbster campaign could have returned the donations to their original donors —- including Herbster's company — if they had wanted to. "The candidate, at the time of dissolution, could have returned the money to himself," Daley said.
Kent Grisham, a former Herbster staff member who is now McCoy's spokesman, said the Herbster campaign had a different interpretation of state law. They sincerely believed that Herbster could not return the money to himself, Grisham said.
"In every conversation everyone had, no one at the Herbster campaign believed any money could be returned to Charles," Grisham said.
In a press release, Herbster said McCoy was the best person to succeed Nebraska Gov. Dave Heineman.
"While I'm still committed to having a major impact on the future of Nebraska politics, I simply couldn't remain fully engaged in this race at this time," Herbster said.