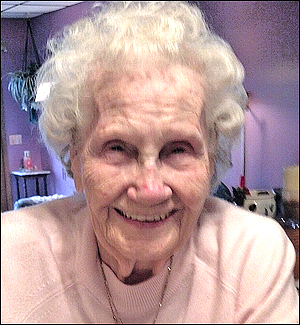 As Omaha was "cheering itself hoarse" over the end of World War I on Nov. 11, 1918, a baby was born — and named Victoria Peace.
The "war to end all wars" didn't do so, and the child named for her parents' hopes for peace lived a long life through war and peace.
Today, the woman born on 11/11 is buried on the anniversary of 9/11. Victoria Peace Christensen was 94.
"She had the most beautiful name her parents could have given her," said son Paul D. Christensen, a retired Marine sergeant major. "Who else is named Victoria Peace? She's probably the only one."
The article, on Nov. 22, began:
"Monday, November 11, when Omaha was cheering itself hoarse over the signing of the armistice, a daughter was born at the home of Mr. and Mrs. Tony Manzer, 4934 North Thirty-third Avenue."
She weighed 7½pounds, and her mother said: "Just as soon as she could get her breath, she cheered with the rest of the world. So what could we do but name her in honor of the occasion?"
Her oldest son knows all about war and peace. He spent a 27-year career in the Marines and fought in Vietnam in 1968 and '69, the bloodiest time of the war.
He later spent three years at Arlington National Cemetery, presenting American flags to widows and mothers "on behalf of a grateful nation."
"It was hard at first, especially coming from a war zone," Paul said. "Dying is not good, but it was fulfilling to see people buried with honor and grace."
Tuesday, as the 17th U.S. president of his mother's lifetime was considering a strike on Syria in retaliation for chemical weapons that apparently were used there, Paul said: "There are always pros and cons about everything. War is the last thing. You've got to talk. I just don't like to see people dying."
Neither did his mother, whose middle name was Peace.
For most of her life, she was known simply as Vicki Christensen. She didn't flaunt her distinctive birth name, preferring to stay in the background.
Growing up as the oldest of five children, she attended the old Omaha Technical High School but dropped out her junior year to help her recently divorced mother with the younger ones.
Vicki soon married Paul R. Christensen, and moved to Carter Lake, a mere two miles from where she was born in Omaha.
The small Iowa town (3,785 in 2010) between downtown Omaha and Eppley Airfield sits oddly west of the Missouri River, the result of an 1877 flood that redirected the river channel and left an oxbow lake.
Until 1960, the Christensens ran a 60-acre dairy farm, part of it on today's Shoreline Golf Course.
"It's amazing how hard my mother had to work through her life," her son said. "We raised hogs and butchered them for personal consumption. She was a great cook. In those days, every meal was major. Dinner was at noontime, supper was later."
Vicki's siblings had moved to California, and she and her family would ride trains to visit.
In Carter Lake, she was an avid volunteer.
"She was kind of a matriarch down here," son Paul said. "If anybody needed anything, she was there. She was very outgoing. She was just a very flowery-type person."
OWH Columnists
Columnists Michael Kelly, Erin Grace and Matthew Hansen write about people, places and events around Omaha. Read more of their work here.
After selling the farm, the elder Paul Christensen worked for the Stauffer Chemical Co. He died 20 years ago, and Vicki always placed a small artificial Christmas tree on his grave for the holiday.
Holidays, including the patriotic ones, were important for the family. Though Vicki didn't call attention to herself on her Armistice (Veterans) Day birthday, son Paul, 76, said the family always made a big deal of it.
Especially in her later years, she loved going on cruises with a sister.
"They've been all over," Paul said. "Hawaii, the Panama Canal, the Mediterranean, Newfoundland. They attended a big parade in New York."
But she always returned to Carter Lake, her home for 78 years. All three of her sons, Paul. Chris and Terry, live there with their wives.
Vicki loved to bake for people and to play cards, usually winning.
"We'd tell her we knew she was cheating," Paul quipped, "but we never caught her."
Recently, she lived in an apartment in Terry's house, with glass doors affording a look onto the lake. She flew an American flag just outside. Her sons and daughters-in-law took turns running errands and caring for her.
Vicki stayed active, but recently fell and needed a wheelchair and oxygen. With her sons at home on Friday, Paul said, she "died a good death" in her chair.
America's population stood at 103 million when she was born and is 313 million today. Could her parents in 1918 have imagined their baby living to 2013?
The "Armistice Babe" left seven grandchildren, 20 great grandchildren and a great-great-grandson. Her funeral was set for this morning at Our Lady of Carter Lake Catholic Church.
The lady from Carter Lake with the unique name then was to be taken to Forest Lawn Cemetery, her final resting place. May Victoria Peace rest in peace.