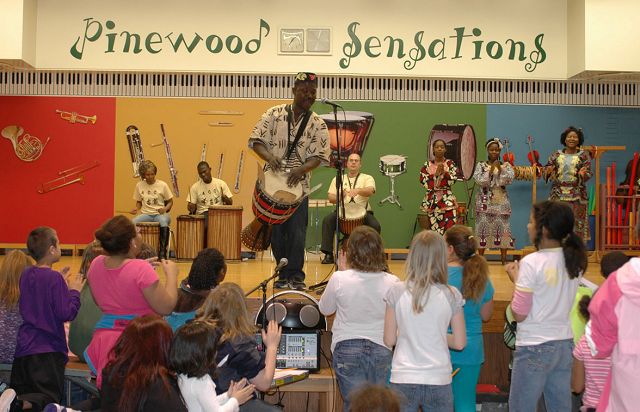 Pass the syrup: JROTC cadets at Omaha Benson will host a pancake feed from 8 a.m. to 11:30 a.m. Sunday at Benson VFW Post 2503, 8904 Military Road. The cost is $8 per person or $25 per family. The cadets are raising money for their trip to the 70th D-Day Memorial Parade in Normandy, France, in June 2014. Benson's JROTC program was selected to represent Nebraska at the parade and Musical Salute to the Veterans. The events will commemorate the 70th anniversary of the Allied landings in Normandy and the liberation of Europe. To take part, cadets must raise $75,000 to cover expenses. To donate to Benson for the JROTC's D-Day 70th anniversary trip, visit omahaschoolsfoundation.org or send a check to: Omaha Schools Foundation, 3215 Cuming St., Omaha, NE 68131, Attn: Benson D-Day Trip.
Special ties: The push for a new, special necktie at Elkhorn Mount Michael started with Mary Ann Maier, student parent advisor, reviewing sales of clothing from the Mount Michael Bookstore. With the help of junior Lumir Drahota to design ties, the project was off and running. "I wanted to make something original, while still keeping the traditional symbols and colors of Mount Michael," Drahota said. The student body voted on which of two designs would be made. These new ties can be worn by students on special school occasions, such as Mom Prom, Grandparents Night and the Student-Faculty Dinner.
Tis the season: Omaha Roncalli and Lincoln Lutheran will have their proms today. Omaha Mercy and Omaha Brownell-Talbot will have their proms Friday.
Putters only: Men for Duchesne will host a putting tournament at noon Sunday. Putt throughout the halls of Omaha Duchesne. Entry fee is $10.
Habitat build: Today is another work day for the Father/Daughter Habitat for Humanity Builds by Omaha Marian families. The students and their dads and uncles have provided more than 300 individual service hours of building, renovating and demolition for the Habitat mission in Omaha. Work today and May 4 is scheduled from 8:30 a.m. to 3 p.m.
All that jazz: Elkhorn Public Schools will host the ninth annual Elkhorn Big Band Jazz Night from 5:30 p.m. to 9 p.m. today in the Elkhorn South commons area. All the jazz bands from all three middle schools and both high schools will perform. There also will be a dance floor and concessions available. This event is a benefit for the Elkhorn Jazz Bands, with all proceeds going toward purchasing jazz music for future performances. Tickets, available at the door, are $5 for adults, $3 for students and $1 for persons older than 65.
Now playing: Tis the season when area thespians take to the stage. Here's a rundown:
» Elkhorn: "The Secret Garden" at 7 p.m. Friday and May 4. Tickets — $4 for students and $6 for adults — are available in the school office and will be available at the door.
» Lincoln Southeast: "Disney's Beauty and The Beast" musical, 7:30 p.m. Thursday through May 5; and 2 p.m. May 5. Tickets — $10 for adults, $8 for students and seniors — will be available at the door.
» Omaha North: "Our Town," 7 p.m. Thursday, Friday and May 4. Tickets — $5 adults, $3 students — will be available at the door.
Finance challenge: Nebraska Educational Savings Trust (NEST) scholarships were awarded to three teams of Nebraska high school students competing in the Personal Finance Challenge. State Treasurer Don Stenberg, NEST trustee, announced the winners after regional competitions in Lincoln, Omaha and North Platte. First-place went to the Johnson-Brock team of Brandie Westhart, Curtis Karel and Nicholas Behrends. Sylvia Smith is their teacher. Each team member received a $2,000 scholarship for a NEST college savings plan. The team advanced to Thursday's National Personal Finance Challenge in St. Louis, Mo. Second-place went to the West Point-Beemer team of Tyler English, Cody Ernesti, Chandler Huston and Alex Ambriz. Their teacher is Steve Sweet. Each team member received a $1,000 college savings plan scholarship. Third-place went to the Burwell team of Hanna Christenson, Cecelia Carson and Rebekah Birch. Their teacher is Jennifer Critel. Each team member received a $500 college savings plan scholarship.
A evening of art: Lincoln Community Learning Centers and local arts and literacy organizations will host the annual CLC Art Walk exhibit from 6 p.m. to 8 p.m. Friday at Old City Hall, Ninth and O Streets in Lincoln. The event will be held in conjunction with Lincoln's First Friday Monthly Gallery Art Walk. Students collaborated with local artists in the design of the inventive doors that represent diversity and connectedness in CLC neighborhoods. Nine Lincoln neighborhoods will be highlighted with doors displayed in the Old City Hall Park. Inside the Old City Hall, two floors showcase student artwork from the 25 CLC elementary, middle and high schools. The artwork includes a variety of mediums, styles and methods. For more information, visit lincolnclc.org.
Big band: Omaha Westside will host a Big Band Dance from 5:30 p.m. to 8:30 p.m. today in the Main Gym. Tickets, available at the door, will be $5 for adults and $3 for children.
Winners: Twenty-three Omaha students won awards in the annual Nebraska Press Women High School Communications Contest. They are listed by school:
» Omaha Westside: Kellie Wasikowski, first place in Environment and Feature Story; Emma Johanningsmeier, first place in News Story, Single-page Layout and Editorial; Eva Phillips, first place in Graphics; Aren Rendell, first place in Sports Story. Estella Fox, second place in Feature Photo; Joe Hack, second place in Environment, News Story and Editorial; Sophie Goldberg, second place in Graphics. Amelia Jensen, third place in Feature Photo; Sophie Clark, third place in Feature Story; Tom Schueneman, third place in Editorial; Skylar Harris, third place in Review. Their journalism teacher is Rod Howe.
» Omaha Central: Tia Spears, second place in Opinion; Emily Beck, second place in Single-page Layout; Elissa Wiener, second place in Sports Story; Jennifer Rooney, second place in Feature Story and third place in Single-page Layout. Maya Durfee O'Brien, third in Opinion; Mekenzie Kerr, third place in News Story. Their journalism teacher is Hillary Blayney.
» Omaha Marian: Emily Fisher, first place in Yearbook Layout; Sydney Pelster, first place in Yearbook Copywriting; Alexis Vinton, first place in Columns; Allie Smith, second place in Yearbook Layout; Katherine Lang, third in Yearbook Layout. Their journalism instructor is Marsha Kalkowski.
All first-place entries advance to the national competition.
Busy school: The Mr. Bellevue East competition will be Tuesday night in the auditorium. The Vocal Music Bingo Night will be Thursday in the cafeteria.
Auf deutsch bitte: Bellevue West will host today's State German Convention.
Who will he be? The Mr. Millard West competition will be Friday evening at the school.
Recycling: Lincoln Southwest Band and Orchestra will host an Electronics Recycling Drive from 9 a.m. to 1 p.m. May 4 in the upper parking lot of the school. The company doing the recycling, Secure Recyclers, will delete any secure information from laptops, desktop computers, etc. Anything that uses electricity is eligible to be recycled. The profit for the group is calculated by weight. Have an old refrigerator? Bring it. Don't have a way to move it? Secure Recyclers can pick it up. Because one goal is to keep toxic items out of the landfills, there is a fee for all televisions, monitors and appliances: $10 for screens 19-inches or less, $20 for screens 20- to 30-inches, $35 for screen larger than 30 inches and $10 for large appliances and microwaves. Funds from this drive will help students participate in the London New Year's Day Parade and Festival on Jan. 1. For more information, visit isite.lps.org/awilhel2/web/LondonFundraising.htm.
Focus on history: Missouri Valley Middle School will have Iowa History Night from 6 p.m. to 8 p.m. Monday in the high school gym.
Music time: Andersen Middle School in Millard will host today's Millard Instrumental Solo/Ensemble Festival. Schools from several districts will participate.
Winners all: ACCESS has announced the winners of the Mastering Money Basics writing competition for Nebraska students in kindergarten through fifth-grade. Hampton Public School won first and third place. Taking first with a story about "Buying Cattle" were Dominic Clevenger, Breanna Heeren and Marshall Konwinski. Third place went to "Roth IRAs," written by Jake Arndt, Kendyl Boyce and Madisen Brown. Margo LaBrie coordinated the projects for the fourth- and fifth-graders. Second place went to Millard's Aldrich Elementary. The story "Cookie and Ca$h" was written by Allison Luo. Sue Schall coordinated the project for the fifth-grader.
CORNERSTONE CHRISTIAN SCHOOL
Walking for school: The Cornerstone Christian School Annual Walk-a-thon will be Friday. The event includes a walk and a carnival for students. Tuition covers about three-fourths of school expenses, and this fundraiser helps fill the gap. Cornerstone is in Bellevue.
COUNCIL BLUFFS COMMUNITY SCHOOL DISTRICT
Start thinking: The district will sponsor a career fair Tuesday for fifth-graders at the Mid-America Center in Council Bluffs.
Fun time: Westridge will have its carnival Friday.
All about science: Students at Clarmar enjoyed a full day of science activities during the annual Science Exploration Day. Hands-on activities included making and eating Shake It Up Ice Cream and experiencing the constellations and stars in the portable dome StarLab. In other demonstrations, students met and heard about the care of a 70-pound tortoise and various raptors from Raptor Recovery, listened to presenters from Project WILD and the Nebraska Aquarium and Extension offices, and learned about bees and Nebraska wildlife. Wayne and Karen Coshow of Country Critters in Iowa brought a turtle, an iguana, a Chilean rose hair tarantula, a spike bearded dragon, a 1-year-old red-tailed boa and a Navajo lizard, sharing interesting facts about each of them. The day of science activities ended with the University of Nebraska at Omaha's Dr. Dan Sullivan and the CAPOW! (Chemistry and Physics on Wheels!) program, which wowed students with various science demonstrations.
LEWIS CENTRAL COMMUNITY SCHOOLS:
Buddy day: Kreft Primary will have Buddy Fun Day on Wednesday. The kindergarten and first-grade students will participate in activities planned by the physical education teachers.
Young poet: The April issue of Highlights for Children published the poem "The Magnificent Dinosaur" by 8-year-old Fauzan Siddiqui in its "Your Own Pages" section. Fauzan, the child of Zakaria and Bebi Siddiqui, is a third-grader at Aldrich. He enjoys playing with Legos, tennis, swimming, racquetball and spending time with his friends.
Carnival time: Abbott will have its school carnival Friday. One special feature of the carnival is the edible book fair.
Screen-free, please: Holling Heights will host activities next week to promote Screen-Free Week, during which families are asked to turn off their entertainment devices with screens. Pages, Picasso and Pancakes! will be Monday. Families will browse and shop at a book fair, see student artwork and have supper prepared by the Pancake Man. Tuesday evening will bring a talent show, Thursday will bring a spelling bee and Friday will bring the school carnival.
Get the dirt: Families at Bryan Elementary have been invited to Friday evening's gardening event as another activity in the PACE (Parent And Child Engagement) Group.
Pie and painting, perhaps: The PTO at Hitchcock will sponsor Dessert & Display on Thursday evening. All students will have artwork displayed.
Family fun: Rohwer will have a carnival Friday.