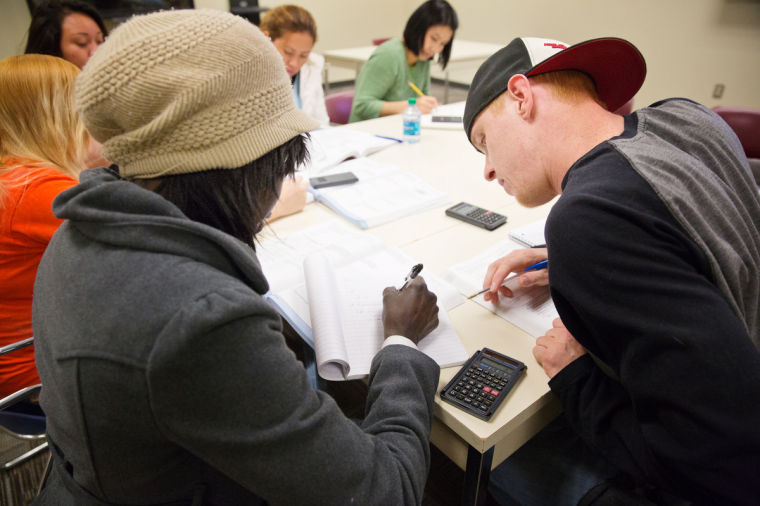 Luisa Sanchez is feeling the pressure.
The 24-year-old Omaha woman successfully completed four of the five tests needed to earn a GED in 2005 but failed the math portion. Then her focus shifted from school to work and her goal of becoming an assistant manager. A second attempt also was unsuccessful.
Now Sanchez has an appointment to take the math test again next month. This time, the stakes are higher. If she doesn't pass, she'll have to start from the beginning.
In January, the current General Educational Development series will be replaced by a new, more rigorous version intended to meet modern expectations for college- and career-readiness. Scores earned under the current system will be wiped out and test-takers will have to start over.
The coming change has spurred an uptick in traffic at many adult education centers in Nebraska, Iowa and nationwide, both for test preparation classes and for the tests themselves.
Sanchez is taking a night math class at Metropolitan Community College Express, an adult education center at 24th and Vinton Streets.
"When I heard that they were going to switch the test next year, I thought 'I really have to get it done now, because I don't want to have to start over,' " she said.
Though official tallies aren't yet in, reports from testing centers across Nebraska — there are 30 statewide — indicate people are trying to beat the deadline, said Vicki Bauer, director of adult education for the Nebraska Department of Education.
"From what testing centers have said, people are starting to come in, and they feel the pinch," she said.
Metro's enrollment in GED classes this fall is 738, up 27 percent from last fall. This spring, the college administered 794 modules of the five-part test, which was up 108 percent from the winter quarter. Summer testing, while not as busy, was still 35 percent higher than a typical summer.
Iowa has seen a 20 percent increase in the printing of GED diplomas over the past several months, as well as increased traffic at test facilities, according to the Iowa Department of Education.
"We are still seeing a number of people who are trying to get finished," said Mona Dowding, Metro's adult education director.
Not only are Metro's testing sessions busier, she said, but the college has added sessions to accommodate test-takers. Metro last year became the main provider of GED instruction and testing in the metropolitan area after the Omaha school district ended its offerings due to budget pressures.
Iowa Western Community College also has seen test sessions filling up and anticipates adding more, said Terri Amaral, the college's adult education and literacy coordinator.
Both the Bellevue Public Schools and Central Community College, which covers 25 counties in central Nebraska, also have seen increased test traffic, although it hasn't reached the levels officials anticipated given the upcoming change in the test and in the mode of testing. Beginning in January, test-takers will use a computer instead of pencil and paper.
Ann Chambers, Central's adult education director, said the college saw a large increase in testing leading up to the last test change, in 2002.
This year's push hasn't been as big, she said, although it has picked up in the past week or two. The testing center in Grand Island typically sees a couple of people per session. One night last week, a dozen people took a total of 30 tests.
Education officials have been working for more than a year to contact and reel in those who have started but haven't completed the tests — calling, sending emails, and advertising in newspapers and other venues.
"We've done all kinds of things to get the word out to folks," said Iowa Western's Amaral.
They're also reminding those still interested in testing to check available test dates with their local testing center. Most are in schools, which close for the holidays. One of Central Community College's centers will wrap up Dec. 6; another on Dec. 21.
In Nebraska, between 140,000 and 163,000 adults lack a high school diploma, said Bauer, the education department official.
Between 1,800 and 2,000 Nebraskans successfully complete GEDs each year, she said. But some start the process and don't finish. In Nebraska, 7,202 people who had started the current test series since 2000 hadn't finished by May, the most recent date for which figures were available.
In Iowa, which awarded a little more than 3,400 diplomas in fiscal year 2012, about 11,500 residents who had started the series between January 2002 and March had not completed it. Nationwide, an estimated 1 million people could be affected by the changeover.
The reasons people seek GEDs vary. Bauer said she's seen people in their 80s and 90s come back to finish.
Ninety students graduated from Metro about a week ago. "Every student who walks across the stage at graduation has a story," Dowding said, noting that the program has had the same number of graduates in the past six months as it usually sees in a full year.
For many, the GED is just one step toward the next chapter in that story.
"It's not just a piece of paper, it's career goals," said Mary Solberg, Sanchez's math teacher.
A third of Solberg's Thursday night class, which started at 22, already had graduated. One plans to study heating and air conditioning; another, criminal justice. Most of the remaining students won't start testing until next year, when the new system is in place.
One is Saizing Lian. She has a college degree and taught history at a university in Myanmar. Now she and her husband have their own business, working as sushi chefs in area grocery stores on a contract basis.
They want to grow their business, maybe add others. But that means learning business skills. For that, she needs more English. "English wasn't used in our country," she said.
Sanchez, on the other hand, gave up high school in order to make sure her younger sister got there. Her parents had divorced, and her dad was at work. Now she wants to finish so she can study to become a certified nursing assistant and then registered nurse.
She's been attending classes, studying on her own and practicing with an online tutorial. She said Solberg, her teacher, is optimistic.
"She has a lot of faith in me," Sanchez said. "She thinks if I put in my own time to study, I'll get there."
This report includes material from the Associated Press.