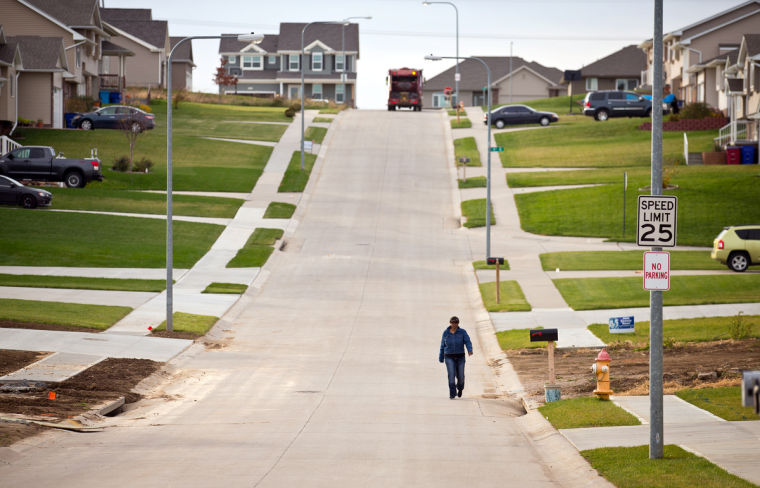 On the road to progress, Bellevue has a speed bump: sidewalks. Or rather, the lack thereof.
Bellevue officials would eventually like to see the city filled with sidewalks, but right now some older parts of the city have patchy ones, at best.
And the current city policy isn't adequately addressing the problem, council members say.
The city has a policy aimed at getting property owners to install sidewalks: All new homes must come with them. Anyone who plans a substantial construction project must include them if they aren't there already.
But the policy hasn't worked out as intended. In the past, Public Works Director Jeff Roberts said, the policy has been waived for nearly everyone who asked.
The City Council plans to take another crack at solving the problem. Roberts suggested that the council codify guidelines for when to approve a waiver.
"Over the past several years, the policy on granting waivers for sidewalks has been inconsistent at best," he wrote in a memo to the council and mayor last month.
Roberts proposed that the city approve a waiver only if the house is on a rural street that has no curb, gutter or storm sewer. That's because the sidewalk would eventually be torn up anyway to construct those improvements.
The city also could designate a zone where it wants sidewalks, and then everyone there has to install them. Those who are granted a waiver would give up their right to protest if the city imposes a sidewalk zone.
That option hasn't been used in recent memory, but council members said they're considering using it.
Questions about how to manage such pedestrian paths aren't unique to Bellevue.
Back in the 1970s, Omaha embarked on a sidewalk campaign after three junior high boys were hit by a car and killed.
Papillion has installed sidewalks where they need to be, spokesman Darren Carlson said, though the city has occasionally annexed a neighborhood without them.
In Springfield, the mayor and City Council have made sidewalks a priority in the past few years. Unlike Bellevue, though, the city has sidewalks in place — but they've become so bad in some areas that you can't even walk on them, Mayor Mike Dill said.
A few years ago, the city started contacting all businesses on Main Street to have them fix the sidewalks. The next year they moved on to another street.
"We're going to do that all across the city until the sidewalks are repaired," Dill said.
The Bellevue City Council also is looking to act on its problem. It approved three waivers at its Oct. 28 meeting and denied a fourth. But council members said landowners shouldn't get complacent — it was a temporary solution, and they're looking for a more permanent fix.