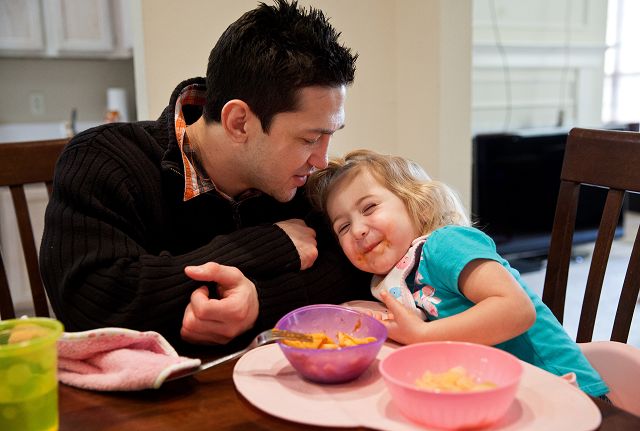 LINCOLN — Joe Trader became a father and an activist on the same day.
After his daughter was born in 2010, Trader's girlfriend announced that she wanted to break up. Determined to play a role in his daughter's life, the Omaha man filed legal papers seeking custody.
An Iraq War veteran who held down two jobs while obtaining a business degree at the University of Nebraska at Omaha, Trader argued for joint legal custody and equal parenting time. He got neither.
So he started a fathers' rights page on Facebook that has since obtained nearly 900 "likes." He also helped get roughly 150 people to show up at the Nebraska Legislature this year in support of two bills intended to make equal parenting time the case in the majority, rather than the minority, of custody arrangements.
"I want responsible parents to be recognized," he said. "I just want my child half the time."
In the meantime, the Legislature's Judiciary Committee has focused its attention on one of the bills, with supporters and opponents taking sides on what has become an emotionally charged annual effort by noncustodial parents.
Legislative Bill 22 would require courts to provide joint legal custody and maximum parenting time for both parties, as long as judges determine that it's in a child's best interest. The bill was introduced by Sen. Galen Hadley of Kearney and made a priority by Sen. Russ Karpisek of Wilber.
Under Nebraska's current system, district court judges decide custody and parenting time in contested cases. The best interest of the children caught in divorce is supposed to be their primary motive in deciding parenting plans.
Opponents argue that an equal parenting mandate could hurt some kids by forcing uncooperative parents to have more contact with each other. Children exposed to conflict perform worse in school and have more physical and emotional problems, research shows.
They also argue that requiring increased contact between the parents could be dangerous in cases where physical abuse was present in the home. And they express concerns that equal parenting will reduce the amount of money spent on child support, which could hurt kids.
Supporters call attention to research studies showing that most children in divorce do best when they have significant, regular contact with both parents. Yet nationally, up to 35 percent of fathers have virtually no contact with their children following divorce.
Some parents agree on equal living arrangements for their kids without having a judge step in. But if the parents can't agree, judges typically grant custody to one parent — primarily the mother — by default, equal parenting advocates say.
Of the 3,400 Nebraska divorces involving children in 2011, 28 percent resulted in joint custody, and 60 percent resulted in sole custody for mothers. In about 10 percent of cases, fathers were granted sole custody.
"It's a huge, huge deal, and it upsets a lot of people," said Chris A. Johnson, a Hastings attorney and past chairman of the family law section for the Nebraska State Bar Association.
As a result, the two sides are lobbying members of the Judiciary Committee to either kill the bill to advance it to the floor.
Some members are working on a compromise amendment so the bill can at least get a full debate by fellow senators. Others, however, have expressed misgivings, even with the compromise.
When asked last week, Omaha Sen. Brad Ashford, chairman of the committee, said he did not sense enough support to advance the bill. But the bill has not yet come up for a committee vote, so its fate remains undecided.
Regardless of what the committee does, it seems unlikely that the thorny issue will go away in Nebraska or other states.
Iowa also gives judges the discretion to decide child custody and parenting plans in disputed cases. In 2011, an equal parenting bill gained some support in the Iowa Legislature, but not enough to pass.
Arizona, however, adopted shared parenting legislation last year that supporters say the Nebraska bill is modeled after. They consider both the Arizona law and the Nebraska bills as modest steps toward equal parenting that allow judges the ability to make the final call on custody based on what's in the child's best interest.
Many noncustodial fathers in Nebraska actually preferred a different bill that would have more strongly spelled out an equal percentage of parenting time that judges would have been compelled to follow. But the committee decided early on not to advance that bill.
The concept of starting with the presumption of equal parenting worries Voices for Children Nebraska, a nonprofit organization that has been providing input to committee members. Sarah Forrest, policy coordinator for the group, said the group supports shared parenting when the parents themselves agree to such arrangements on their own or through mediation.
"In situations where parents fight about everything, you're going to make them make decisions on where the kids go to school, where they go to the doctor," she said. "And if parents really can't agree on anything, you're going to expose the kid to a lot of conflict."
She also cited research showing that shared parenting arrangements don't necessarily reduce subsequent litigation in high-conflict cases.
Lorin Galvin, director of mediation services for Douglas County District Court, said he has seen cases over the years in which divorced parents couldn't agree on critical issues, such as whether to follow a doctor's advice on medicating their child.
While he took no position on the bill, Galvin said Nebraska once had a presumption that gave every mother automatic custody of infants, but that requirement was dropped because it produced poor outcomes in some cases. He argued that there are compelling reasons for judicial discretion in child custody cases.
"They see these people, they hear them," he said. "They're not abstract, they've laid their lives out on the table. After doing that, how can you not give the judge the ability to determine what's best?"
Clearly in the case of Trader, the fathers' rights organizer, the mother of his child didn't want shared custody. The World-Herald left a message at the office of the woman's lawyer Monday.
Regardless, the judge's order in the case shows how difficult it can be to find common ground in child custody disputes.
Douglas County District Judge Timothy Burns ruled in 2012 that both Trader and his former girlfriend were "proper and fit" parents. But their inability to communicate without arguing led the judge to decide that it was not in the child's best interest to be raised in a joint custody arrangement.
He awarded Trader a fairly standard visitation schedule of two evenings per week and every other weekend with his now 2-year-old daughter.
"The court can only hope that the parties realize that they have a wonderful child and that civility toward each other in the future will go a long way to raising (their daughter) in a healthy and nurturing environment," the judge wrote.