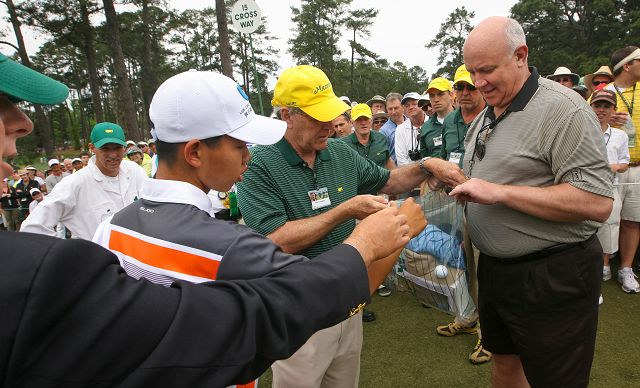 Tom Lowndes carried a bag of some pretty sweet Masters souvenirs.
A Christmas ornament for wife Deb, a box of commemorative tumblers, some shirts and sweaters and a hat.
And for a few minutes, a golf ball. Off the tee of 14-year-old Chinese phenom Tianlang Guan. During live play in Sunday's final round of golf's first major of the year.
The ball found its way through a 3-inch hole in the bag of the weekend golfer from Council Bluffs.
Talk about your Masters moments.
"You are the most famous guy on the golf course," a spectator told Lowndes.
Lowndes said, "If you had seen the opening in the bag ..."
Lowndes, a former principal at McMillan Magnet Center and now an administrative manager for Council Bluffs Community Schools, was part of a group of six golfers from the Omaha area who got tickets for Sunday's play.
Lowndes was carrying his bag from the Augusta National Golf Club shop as he and his buddy Roger Fleury walked to get some lunch. They were crossing the 15th fairway when he heard a sound — like a hand smacking a piece of plastic.
Parallel to hole 15 is No. 17, and Guan had sliced his first shot toward Lowndes.
Instantly, marshals in green shirts came to the area, looking for Guan's ball. They had begun checking a plastic garbage bag nearby when Lowndes mentioned the sound he had heard.
"Then I looked in my bag and there it was sitting on top of this hat I just bought,'' Lowndes said. "Right away, this marshal comes running over to me. He grabs hold of my bag. He says to me, 'Don't move an inch, sir.' ''
Lowndes, 59, said he was quickly at the center of what seemed like 100 people, including newspaper photographers and reporters who peppered him with questions. Although everyone connected with the tournament was all business, Lowndes decided to have some fun.
"I told everybody to back up; we needed some space,'' Lowndes said. "I went into a comedy mode. The crowd was laughing.''
Marshals told Lowndes that Guan had to be the one who removed the ball from the plastic bag. So he continued playing to the crowd.
"I have some glassware in there,'' Lowndes told the people nearby, ''so if he's going to hit out of my bag, he has to be careful.''
When Guan arrived, he gave Lowndes a smile and said thank-you. Guan reached into the bag for the ball and then was allowed a drop. It rolled into an unplayable lie, so he was allowed to drop again.
Guan wasn't assessed a penalty.
Lowndes stood right next to Guan as he eventually shot his way back closer to the 17th green. The youngest golfer to make a cut at any major since 1900, Guan carded a 75 Sunday and a 300 for the tournament.
Lowndes didn't ask Guan for a memento, although he wanted him to autograph the ball.
"I said to Roger, 'He's just an amateur,'" Lowndes said. "He probably only has three or four balls left in his bag.''
Lowndes also didn't get a picture of the two of them together — cameras and phones are forbidden and violators are barred forever from the tournament.
But the memory will make it quite the keepsake.
"It was hilarious,'' Lowndes said. "We laughed until we got home last night.''