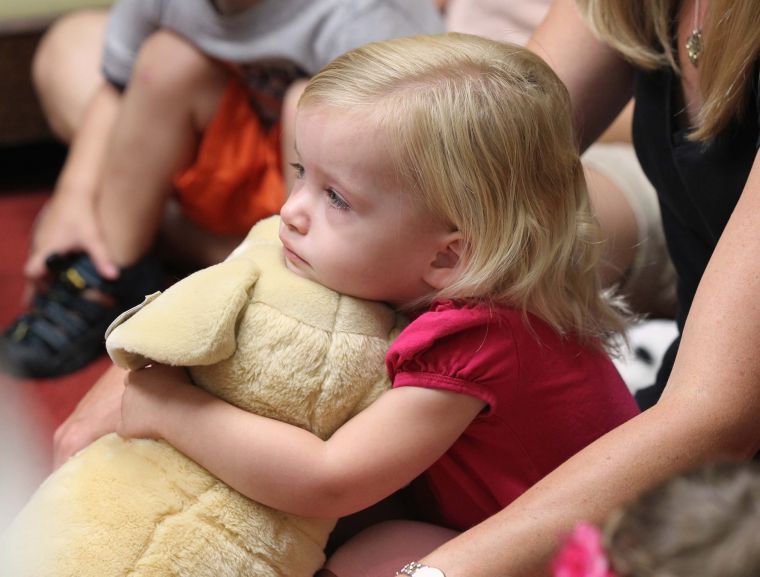 If you love children's literature — and you don't have to be a child to do so — you may want to visit the Bookworm on Wednesday when it hosts five noted authors of children's books.
The event begins at 6 p.m. and will feature Jim Aylesworth, author of "Cock-a-doodle-doo, Creak, Pop-pop, Moo"; Tom Birdseye, author of "Soap! Soap! Don't Forget the Soap! An Appalachian Folktale"; five-time Golden Sower Award-winner Mary Downing Hahn, author of "Closed for the Season"; Helen Lester, author of "Tacky the Penguin" and "Me First"; and Brian Pinkney, award-winning author of "Martin & Mahalia, His Words — Her Song."
The Bookworm is located in Countryside Village, 87th and Pacific Streets.
Omaha storyteller to take part in online festival
Omaha storyteller Pippa White is participating in Stories Connect Us All, an online storytelling festival designed to promote understanding among racial, ethnic and religious groups.
During the three-day festival, Wednesday through Friday, people con log on to Facebook.com/StoriesConnectUsAll. A different storyteller will present video stories every half-hour, from 8 a.m. to 10 p.m. Central time.
The storytellers are from multiple cultures. There will be 72 stories by 60 storytellers.
White's video story, "Not By the Sword: How a Cantor and His Family Transformed a Klansman," is based on a book set in 1991 Lincoln by Kathryn Watterson. After the video, White will remain online to answer questions and respond to festival participants' comments.
Young authors urged to write to favorite authors
Once again, the state's young readers are invited to write personal letters to an author for Letters About Literature, a national reading and writing promotion program. A student's letter can be to any author in any genre and should explain how that author's work changed the student's view of the world.
The program is sponsored by the Center for the Book in the Library of Congress in partnership with the Nebraska Center for the Book, the Nebraska Library Commission and Houchen Bindery Ltd.
State winners in three levels — Level 1, grades four to six; Level II, grades seven and eight; Level III, grades nine through 12 — will be honored in a ceremony in the State Capitol Building during National Library Week in April. Their letters will advance to the national contest.
Book signing: Mary K. Stillwell, author of "The Life & Poetry of Ted Kooser," 1 p.m. today, the Bookworm, 87th and Pacific Streets.
Workshop: Family History Writers Group, 1:30 to 3:30 p.m. today, W. Dale Clark Library, 215 S. 15th St.
Book discussion: I Should Have Read That in School classics group, "Things Fall Apart" by Chinua Achebe, 6:30 p.m. Monday, the Bookworm.
Author presentation: Ron Hansen, author of "She Loves Me Not: New and Selected Stories," 7:30 p.m. Monday, Creighton University's Harper Center Hixson-Lied Auditorium, 2500 California Plaza.
Book discussion: Wednesday Words, poet Karen Wingett, noon to 1 p.m. Wednesday, Kaneko, 1111 Jones St.
Workshops: Mentoring for teen writers, 5:30 p.m. to 6 p.m. Wednesday; Nebraska Writers Workshop for poetry, script writing and fiction, 6 p.m. to 9 p.m. Wednesday, Baright Library in Ralston.
Book discussion: Wednesday Bookworms, "The Rhythm Boys of Omaha Central High: School Basketball at the '68 Racial Divide" by Steve Marantz, 6:30 p.m. Wednesday, the Bookworm.
Book sale: Friends of the Omaha Public Library, 10 a.m. to 3 p.m. Thursday, Swanson Library, 9101 West Dodge Road.
Book discussion: Amiable Adult Readers Discussing Books Almost Always Read by Children, "Three Times Lucky" by Sheila Turnage, 6 p.m. Thursday, the Bookworm.
Workshop: Wordsowers Christian Writers Group, "The Role of Virtual Assistant," 7 p..m. Thursday, Rockbrook Garden Cafe, 108th Street and West Center Road.
GET LIT: Brigit St. Brigit Theater actors give readings from several genres, 6:30 p.m. Friday, the Bookworm.
Workshop: Nebraska Novelists critique group, 7 p.m. Friday, Crossroads Barnes & Noble, 72nd and Dodge Streets.
Book discussion: Sherlock Holmes Book Club, "The Disappearance of Lady Frances Carfax," 10 a.m. Saturday, the Bookworm.
Story Time: Brigit St. Brigit's Scott Kurz reads from children's books, 10:30 a.m. Saturday, the Bookworm.
Workshop: For teen writers preparing for Louder Than a Bomb, 1 to 2:30 p.m. Saturday, W. Dale Clark Library.
Book discussion: Books and Bagels, "Tell the Wolves I'm Home" by Carol Rifka Brunt, 11 a.m. Oct. 13, the Bookworm.
Calendar events are free and open to the public.