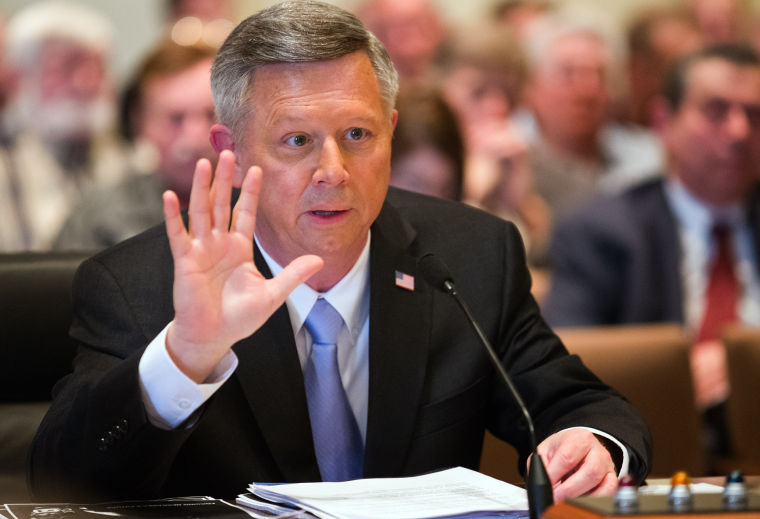 LINCOLN — It took less than 30 days to unravel.
Gov. Dave Heineman introduced his bold tax reform plan Jan. 18, but he threw in the towel Saturday after a drumbeat of criticism, especially from farm and business interests.
The proposals to either eliminate or cut income taxes in exchange for expanded sales taxes had been denounced as "job killers" and a threat to the state's manufacturing industry and agriculture.
On Saturday, Heineman backed off, asking lawmakers to pull the legislation and to undertake a study of the state's tax system over the next year.
The governor had vowed to fight his opponents and said the proposals needed to be voted on this session. But on Saturday, he said he had heard the criticism "loud and clear.''
It was a major political setback for Heineman, whose attempt to significantly overhaul Nebraska's tax system for the first time in a generation was sunk when he failed to win the support of his usual political allies.
Lawmakers held their fire, giving Heineman credit for starting a debate on taxes and praising him for knowing when to retreat.
"I would say it's a strength to realize you have a plan that's not well thought out and to say you can do better," said State Sen. Burke Harr of Omaha, a Revenue Committee member.
Heineman was smart to act Saturday, said Legislative Speaker Greg Adams, because the bills likely would have been killed in committee.
Sen. Brad Ashford of Omaha, a co-sponsor of the governor's proposals, said he still thought tax reform legislation should be enacted this year. "But maybe I'm beaten," he added.
Ashford said the debate so far showed that Nebraska needs to broaden its sales tax base in order to lower property and income taxes.
The motion to kill the bills will likely come from Sen. Beau McCoy of Omaha, a Revenue Committee member and the other co-sponsor. McCoy said Heineman made the right decision, because it opens the door to a broader tax discussion — one that he hopes will include hearings across the state.
"We'll be back at the beginning of the 2014 session with some good legislation that will improve what we like about Nebraska," he said.
Longtime lobbyist Walt Radcliffe credited the governor with listening to people and responding when they asked for the bills to be killed. He also gave him credit for putting out the plan and getting a reaction.
"I don't know that it's a setback. You don't always get what you want," Radcliffe said. "Now the question is: Will there be the political desire to change the tax system?"
Key lawmakers disagreed about the prospects for a major tax overhaul next year, when many lawmakers will be running for re-election, the governor will be a lame duck and the Legislature meets for 60 days instead of 90.
Ashford predicted it would be difficult to get major tax bills passed in an election year, while McCoy expressed confidence in the Legislature's ability to tackle big issues in a short session.
Radcliffe noted that several lawmakers will be term-limited, so they may be more willing to consider controversial ideas.
Adams said the chances of success for major tax legislation next year will depend heavily on the work of the Revenue Committee.
Sen. Galen Hadley of Kearney, chairman of that panel, said leading up to next year he wants to create a tax study committee with the eight members of the Revenue Committee and other interested senators.
Hadley said such a study committee could hire experts and utilize ex-officio members from the Revenue Department and Legislative Fiscal Office.
"This is the way to start the discussion," he said.
A Tax Modernization Commission with a different makeup has been proposed by Sen. Paul Schumacher of Columbus. His Legislative Bill 613 is set for a public hearing Tuesday before the Legislature's Executive Board.
This is the second straight legislative session in which Heineman has been rebuffed on policy proposals.
Last year, lawmakers voted to override him on providing publicly funded prenatal care for the babies of illegal immigrants and on allowing cities to raise their sales taxes by one-half cent. Heineman also was forced to scale back his income tax cut last year.
This year, public hearings on his tax measures — LB405 and LB 406 — brought out a diverse collection of opponents, including several business and agriculture organizations that traditionally support the governor.
Much of the criticism of the Heineman proposals centered on eliminating or reducing income taxes when many people believe high property taxes are the state's major tax problem.
Manufacturers such as Omaha's Lozier Corp. said losing sales tax exemptions on equipment purchases and "inputs'' would drive up their costs and force them to consider moving their companies — and jobs — out of Nebraska.
Heineman said it's now up to lawmakers to come back with a plan. He said his hope is to change Nebraska's tax system to make the state more competitive for job growth.
"Let's give them time to move forward and study all the options," Heineman said. "There's plenty of other options."
He said the options include lower income and sales tax rates, the elimination of some sales tax exemptions, and lower property taxes.
LB 405 called for eliminating all state income taxes on individuals and corporations and instead would have raised about $2.4 billion worth of tax revenue through ending numerous sales tax exemptions.
New sales taxes would have applied to the equipment, raw materials and energy purchased by manufacturers; the seed, fertilizer and tractors bought by farmers; prescription drugs; college dormitory rooms; and purchases made by hospitals, churches and other nonprofit groups.
The other measure, LB 406, was less ambitious. It would have shifted about $400 million in taxes. Corporate income taxes would have been eliminated, and the taxes on retirement pensions would have been reduced. Instead, a handful of sales tax exemptions, including those on agricultural chemicals and seed, and energy and molds and dies used by industry, would have gone away to raise tax revenue.
Adams said they were, as Heineman called them, bold proposals. But they were "probably a bit too bold for now."