Papillion-La Vista's wrestling teams both finished in second place at the Metro Tournament Jan. 13-14 behind Millard South, whom they will host on Thursday, Jan. 19 in a much-anticipated dual.
Cross-town rivals Papio South were led by Maqency Davis (girls 135, 17-5) with a third-place finish, and had three of the top ten leaders for most pins in the least amount of time among the Metro boys.
Both Trace Marco (3:23) and Ian Hardy (4:09) recorded four pins, ranking in the top three for best time among boys wrestlers with as many pins. State qualifier Cannon O'Connor also had four pins in 7:35.
Hardy (120, 28-7) and O'Connor (195, 24-8) both finished in fourth place, along with brothers Leo (106, 23-7) and Hank (113, 21-9) Kriegler, and Brody Wilson (170, 19-4).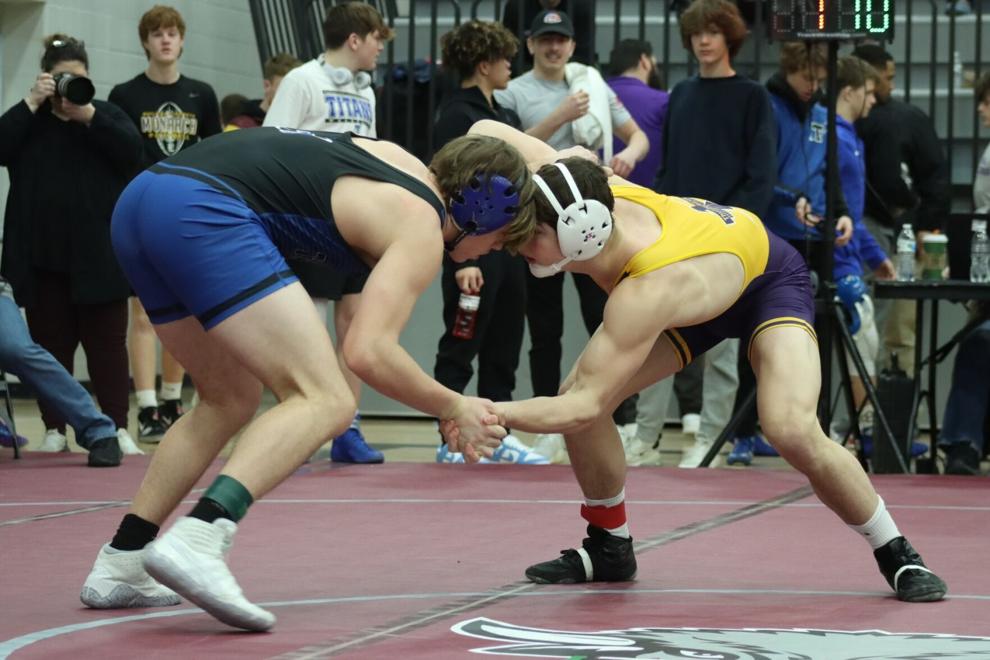 Marco (182, 28-6) and Sterling Sindelar (152, 15-6) both placed sixth.
Monarchs' Cal Price (132, 28-3) earned the lone gold medal for the boys — his second at Metros after winning last year — winning by a 10-3 decision over Millard South's Gino Rettele in the first-place match.
"(The key was) sticking to my game plan and not trying to do too much because I know my stuff works and I know it could beat him," Price said. "(Winning) just helps with confidence really, because I knew I could win the tournament, I knew I could beat these people, it's just about executing."
Price pinned four opponents – within a combined 8:58 – after a narrow 8-7 decision over Jermaine Dortch from Omaha North in the first round.
"After the first match, I was like, I didn't really stick to what I do," Price said. "I didn't stay on my game plan, and then after I was just focusing on what I need to get done, working on my moves, and it worked out."
"High school kids, sometimes they come out flat," boys head coach Chris Curry added. "Talking with Cal through December and making a few changes, going down a weight class and getting him to open up has made a big difference. I mean, he's won the last three tournaments. He's on a roll. You know, things are things are clicking for him. He's got a great amount of confidence. He's ready to take on anybody in the state right now."
The Monarch girls had four different gold medalists, beginning with Talia Astorino (29-3), winner at 115 pounds.
"We just had some challenges in every weight class and I mean, that's the biggest thing is, we don't see all these teams throughout the year. So many times when we come to an event like this, we're coming up against competition we haven't seen before," first-year head coach Jamie Brown said.
Brown added kudos to the wrestlers for putting in the work to perform at that level.
Astorino, who has tallied four first-place finishes in her career and was second at last year's Metros, pinned her first four opponents – three in the first round and one within the first minute – and won by 11-6 decision over Chelsey Robinson from Omaha North.
"I feel like it's a big confidence booster just knowing I can go out there and beat some of those girls that are in the area," Astorino said.
The junior also ranked first for most pins in the least time (four; 6:09).
"I just go out there and I try and take one of the first shots just so I can get in there and get some points," she said.
At 120, Jamelah Taylor (28-6) won the first-place match with a pin of Millard South's Kloee Mitcham (12-6) at the 1:07 mark. After receiving a first-round bye, Taylor won by tech fall (20-4) and another pin to advance to the final.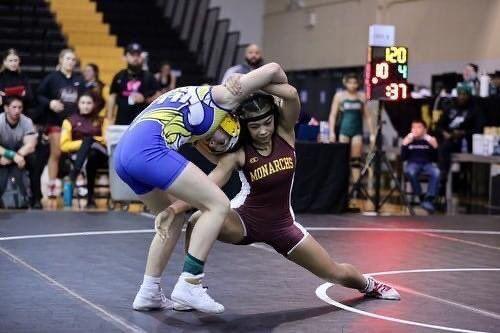 Taylor earned her second first-place finish and fifth top-two placement.
Addeline Graser (135, 22-3) – coming in with a first-place finish at Millard West and six in her career – cruised with a pair of pins within two minutes combined, but was met by tough opposition in her first-place match.
"I was able to get to where I wanted to have nice shots, and then break them down. And then in the finals, it was harder because she was a better opponent than all the other girls. So I had to really fight for where I wanted to put her," Graser said.
With just 30 seconds left in the third round, Graser was pinned by Zoey Barber (31-1) from Omaha Westside.
Jenna Secord (140, 19-2) picked up the first-place finishes with three pins, the final coming 1:57 into the first-place match against Millard West's Neveah Hascall.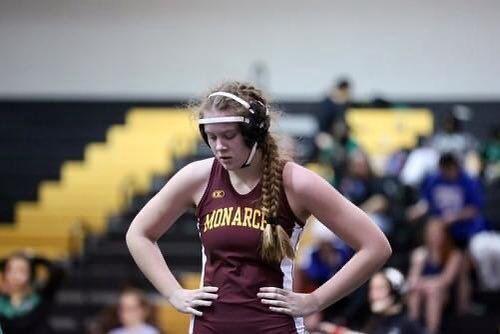 "I think it's special to win (individually) and get second (as a team) because even with half of our team being injured, we still proved to everyone in the area that we are one of the best teams in this area," Secord said. "And for winning I think it's special because this is my second time winning Metros and that was my goal was to win it again."
Secord added she wants to be the first person to get the takedown and goes for the "Monarch ride" after.
"I just tell myself that I need to score first ,and that's how I feel like I get pins so fast because I always score first."
At 145, Emma Stice (21-1) continued her dominance with each of her three pins coming within the first 1:30, ending with a pin of Persephone Prochaska from Omaha Marian in the first-place match. The first-place finish is the eighth in her career at Papio.
Stice was proud of the team's worth ethic and persistence overall as the Monarchs had their "best tournament so far."
"Everyone gave it their all and when they were in a bad position, they just got out of it and they looked for the next thing for the next move," the junior said.
Individually, Stice was hungry for quick pins. Literally.
"I was more focused on (thinking) I just don't want to be tired," she said. "And I was really hungry, I was really hungry. I was really trying to get through it, I'm not gonna lie. I like to compete as hard as I can, as fast as I can."
Honing in on pins was a focus for Stice on Saturday, and her understanding of when she's in a bad position and getting herself out of those has been a key factor in her stellar record.
"I usually just look for the next thing to do when I'm on the mat," Stice said. "I feel like that's really helped me have the record that I have now and be as successful as I am, is (because) I don't think about the bad things that have happened. I just move on to the next."
For the Monarchs as a whole, the success they've had has been based on pushing and supporting each other, along with hard work in practice – especially with conditioning that prepares them for long matches.
"I think we've just been prepared and having the team supporting everyone helps a lot too and it gives us a confidence boost," Secord said.
Secord, Stice and Taylor are the team captains, who have gone from "not knowing how to wrestle" three years ago to now winning their weight class at Metro.
"They're our captains for a reason. They have a very strong leadership style. They're great kids. They know how to motivate others. Off the mat, they're just good people. They're responsible, they're reliable, they're all solid students," Brown said.
She added that the other wrestlers, namely Kirsten Clark — who finished fifth at Metros and Brown said has the heart of a warrior — also deserved recognition for always putting in the work as well.
"The spotlights are always around the girls that win championships or runners up, on the podium at the high levels, but I really have to say that even the girls that are placing fifth or sixth place, they have improved tremendously," Brown said. "But those girls, they look good and we're proud of them and very impressed with how far they've come this season."
Strong values, friendships and accountability have led the Monarchs to their successes, and Brown said those values make them ideally coachable.
Matt Elsasser has also been a big help, Brown said, in her first season in charge, along with the boys team coming alongside Brown's team.
For the boys at Metro, two-time state medalist Tyler Durden (113, 33-4) finished second with a narrow 3-2 decision defeat to Isaac Ekdahl from Millard South.
"Eckdahl is a serious competitor," Curry said. "My message to (Durden) was to keep your head up. It was one match, learn from it... I think this loss makes Tyler work harder for what he wants to do by the end of the year."
Prior to the defeat, Durden earned three pins and a 5-3 decision win over Papio South's Hank Kriegler, a senior putting up impressive results for the Titans.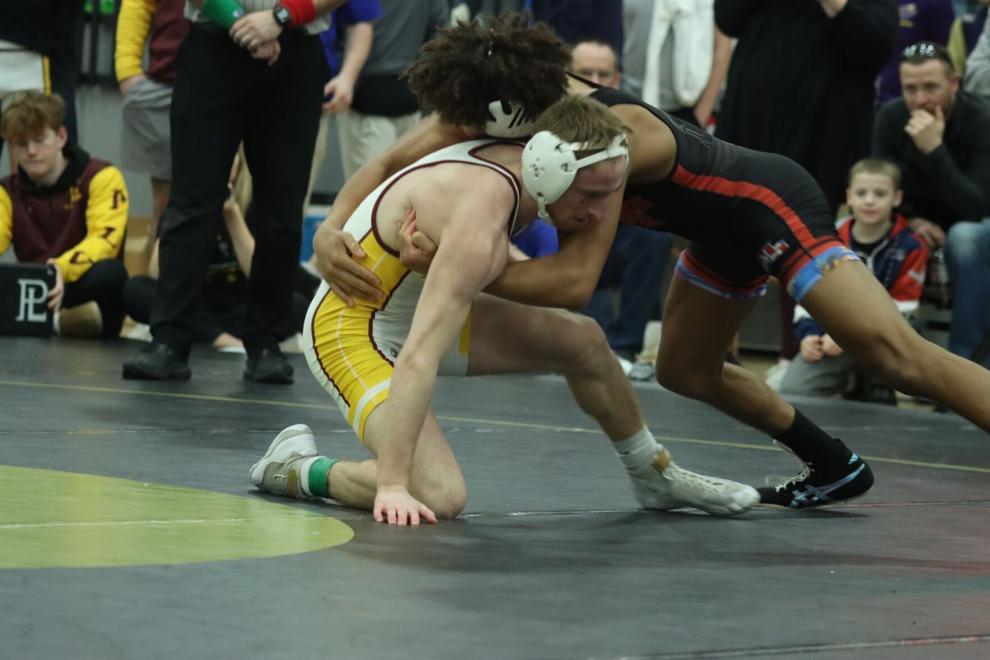 At 126, Jacob Campbell (29-11) – who recently recorded his 100th career win – won with three pins, a tech fall and a tight 7-6 decision over Kooper Brandle from Omaha Westside in the semifinals.
Against Miles Anderson (Millard South, 31-3), Campbell lost by tech fall (21-6) 3:38 into the match.
Coleton Haggin (182, 32-5) put up a good fight against undefeated Noah Blair (28-0) from Millard West, but lost by a 7-2 decision in his first-place match. Three pins, a 7-3 decision and 13-2 major decision vaulted Haggin into the final.
Curry said Haggin has been dealing with a few ailments and they are trying to get him healthy, but added he is "such a tough character kid" who will always say he's ready to go.
At 195, Casey Popish (29-10) lost by decision (7-2) to Caeden Olin (30-3) from Millard South. Popish pinned three opponents and won by 6-3 decision in the semifinals to get to the first-place match.
"(Popish) didn't even have a year last year, he was injured," Curry said. "Coming back into a big-boy class as I like to call it, and competing at a really high level."
Curry added that he and the rest of the coaching staff love Popish's worth ethic and competitiveness.
Alex Morris (220, 24-7) pinned three of his first four opponents – winning by tech fall (17-2) against the other – but lost 11-6 to Tyler Stewart from Omaha North. Through the ups and downs in his career, Curry loved what he saw from Morris.
Jace Wheeler (285, 18-14) and Cadillac Niroomand-rad (106, 19-16) both finished in the top five as well.
Next up, the dual against the Patriots on Thursday night. Both teams go in with measured hunger and togetherness.
"I know our team's hungry to beat them because they beat us a few times," Price said. "And we have the tools to beat them because it's not like they're super-wrestlers, so much better than us or anything. We just trying to get the job done."
"I want to take revenge because it was really close, how we lost them," Secord said.
Brown countered by saying they don't necessarily view it as revenge, but as no different than any other dual.
The Monarchs will be challenged by having open weight classes, but Brown said a strong team dynamic is what allows them to avoid worrying about needing to win their matches they do compete in.
"Yes, they're competing as an individual, but we're really trying to establish that strong team bond. We try to do fun things with them. We encourage them to get together and spend time together outside of the wrestling room, Brown said.
"We have a vision for our team," Curry said. "We say this at the very start at the start of every practice and this is it: we're based on mutual respect between players and coaches working in the same direction. It's not about who's right at once, right where commitment and sacrifice is shared.
"What that vision really kind of emulates is what are you doing to get your teammate better."