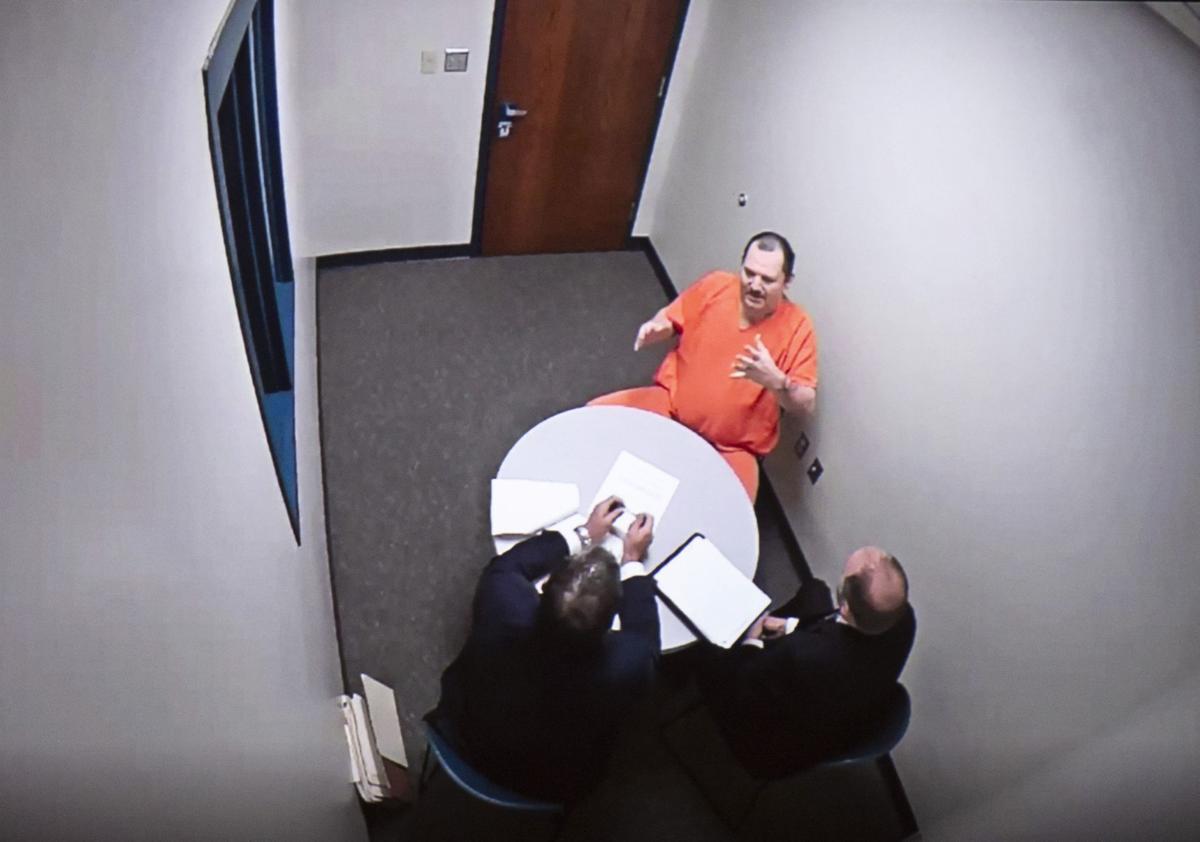 WILBER, Neb. — "Witches" and a "vampire." Group sex, stolen antiques and the notion that a woman could become one of Aubrey Trail's "girls" by killing someone.
Testimony in Trail's murder trial got even darker and more bizarre on Monday, as a former member of a group he called "my girls" testified that Trail told her that to join his "cult" of a dozen young women, she needed to torture and kill someone.
The 22-year-old woman said she met Trail's girlfriend, Bailey Boswell, via the dating app Tinder during the summer of 2017. She said she was enticed to begin traveling with Trail and Boswell after he began buying her clothes and manicures, and giving her a $200-a-week allowance.
"I called him daddy," she told a hushed courtroom, because that was what he wanted.
The woman's identity, which was revealed in open court Monday, was ordered not to be published by Saline County District Judge Vicky Johnson on Tuesday. Before the trial, Johnson had ordered that photographs and video not be broadcast of the woman, and two others, to protect their privacy.
In that May 22 order, the judge also added: "This does not restrict the media from otherwise reporting on their testimony." An earlier version of this story identified two of the women. On Tuesday, however, the judge imposed the additional restrictions on naming them.
Being a member of Trail's group, she said, meant engaging in group sex and helping him swindle others out of money in the antique trade.
But it also involved something much more sinister, she said: murder.
The woman said Trail, who referred to himself as the "vampire," eventually told her that to become one of his "witches," she needed to kill someone "and take their last breath." Trail added that she would gain even more "powers" if the victim was tortured for two to three hours beforehand.
In the beginning, she said, "it all sounded like it was real, very convincing."
The woman, who left the group before Loofe was killed, nervously wrung her fingers as she testified. Under court order, cameras and recording devices were shut off when she took the stand. The same order was filed for two other young women who became part of Trail's group who are expected to testify Tuesday.
Trail, the woman said, told her that the killing should "turn you on sexually" and asked her to think about what would do that.
She said she had group sex with Trail and Boswell — the "queen witch" — more than once at their Wilber apartment as well as during a trip to Branson, Missouri.
In August 2017, the woman said, Trail led her and Boswell to a Walmart in Beatrice, Nebraska, where they met a short, blond-haired woman whom Trail and Boswell had met via Tinder.
"Aubrey asked me if I wanted her to be my first," she said.
"Your first what?" asked Sandra Allen of the Nebraska Attorney General's Office, one of three prosecutors handling the murder trial.
The trio left the store without the woman, and Trail, days later, said that the purported victim had family problems to deal with in California and that the group would have to "save her for another time."
After that, Trail told her that he wanted to kill another "witch" in their group. The woman said Trail told her that woman was "too nice."
"She cared too much," the woman said Trail told her. "She didn't have the evil in her."
Monday's testimony came as the murder trial of Trail entered its third week. Testimony in the already gruesome trial is expected to wrap up next week.
Trail, a 52-year-old ex-convict, and Boswell, his 25-year-old girlfriend, are both charged with first-degree murder in the slaying and dismemberment of Sydney Loofe, a 24-year-old Menards clerk from Lincoln.
The remains of Loofe, who was short with blond hair, were found Dec. 4 and 5, 2017, scattered along country roads near Edgar, Nebraska, and wrapped tightly in black plastic trash bags.
Loofe, according to prior court testimony, met Boswell via Tinder and was later introduced to Trail.
The woman's testimony was eerily similar. She said she witnessed more than one time when a woman had met Boswell via Tinder, then was introduced to Trail.
The woman said she was working at the Lincoln Regional Center during the summer of 2017 when she met Boswell online.
She said she was soon introduced to Trail, who asked her about her aspirations in life and eventually showed her 10 to 15 nude photos of his "girls."
He gave her $200 for "her time" during their first meeting, which involved hanging out with Bailey and smoking pot. Eventually, though, she was asked to become "part of them."
"He said there was 12 (other girls) and I could be the 13th," the woman testified. "That's when he explained that they were witches and everyone had their own roles to play in the cult."
"He said I could leave any time I wanted," she said. But, he added, to become a witch, you had to "take the first soul" to obtain your "powers."
She said Boswell explained the "rules" for being in the group, including staying overnight with her and Trail at least once a week. That's when the group would use sex toys in what Trail described to investigators as "weird sex."
Trail, the woman said, would pay her extra to make phone calls to antique clients under assumed names, paid her car and apartment payments, and provided her with a $200 weekly allowance. He also helped her set up her own antique case to sell stolen antique dolls at a Lincoln antique mall, the woman said. Eventually, though, she said Trail told her that she would have to "steal her own" antiques to sell.
Trail, the woman testified, also told her that he had "powers" to fly and to read people's minds. She said she never saw him fly but did recount one instance in which he seemed to have known her thoughts.
The woman said she left the group in September 2017 — about two months before Loofe disappeared — after traveling to a TJ Maxx store in Lincoln to purchase bags for Trail to "carry whatever he wanted to steal" during an upcoming trip to Pennsylvania.
As she stood in a dressing room, she said, "I didn't recognize the person in the mirror. I told Bailey I wanted out."
The woman said that while she was in the group, she never saw Trail and Boswell carry out a ritualistic slaying, which she had been told were supposed to be held in a secluded, wooded area when the moon stage was right.
The woman said she then moved back home, but kept in touch with Trail, who continued to send her money when she asked for it.
The woman testified that Trail had once threatened to kill her family — and boasted that he had killed several people — if she revealed what the group was doing. But that didn't happen, the young woman said, because they trusted her.
It is unclear whether he will testify in his own defense.
On Friday, a three-hour videotape was shown to jurors of a June 2018 statement Trail made to law enforcement. In it, he claimed that Loofe had died accidentally, by strangulation, after agreeing to participate in a sexual fantasy involving choking to the point of unconsciousness.
Earlier testimony on Monday focused on whether Trail's statements in that videotape were credible or not.
FBI agent Mike Maseth told jurors that there were some claims made by Trail that could not be backed up by the evidence collected, including that he had videotaped Loofe agreeing to participate in the choking "sexual fantasy" that led to her death.
That tape, and others that Trail claimed depicted the fantasy, were never found, Maseth said.
The agent also said that once, Trail told his FBI interrogators that he had something to say but didn't want to say it on videotape. So he led them into a restroom, where he whispered to them, "Witches kill, witches kill, a life for a life and they gain more power when they kill."
Maseth said a list of 12 or 13 women was found in Boswell's purse that detailed the "special powers" of each woman, including "healer" and "see danger."
But, the agent testified, Trail also told the FBI that "50% of what I tell you is bulls---."
Joe Murray, one of Trail's court-appointed lawyers, introduced photographs from Loofe's cellphone that depicted "erotic asphyxiation," lesbian sex and marijuana use.
The images were shown to jurors.
But Maseth said the 10 to 15 photos were the only ones depicting such things out of 1,200 found on her phone. And, he said, the photos did not reflect any consent to a sexual fantasy with strangers.
Sign up for The World-Herald's afternoon updates
Receive a summary of the day's popular and trending stories from Omaha.com.