WILBER, Neb. — After first denying any role in the death of Sydney Loofe, then maintaining that it was an accident during the filming of a sexual fantasy, Aubrey Trail spun a new story on Tuesday.
Before a hushed courtroom at his murder trial, Trail said those prior versions were all "bulls---."
"There's no video, there's no sexual fantasy, there's no two other people in the room," Trail told jurors.
It was a stunning change of story for Trail, who had most recently claimed that two women had paid him $15,000 to film a sexual fantasy with a third woman who would be choked nearly to death. Things got out of hand, he said, and he choked Loofe — who he said had agreed to participate for $5,000 — too hard.
But on Tuesday, after taking the stand in his own defense, Trail gave a new version, though he continued to maintain that Loofe's death was an accident and not premeditated murder.
Prosecutors tore into his latest account of events, saying that his story changed whenever investigators uncovered new evidence in the slaying and dismemberment of the Lincoln store clerk, and that it was a reflection of his life's work as a criminal and a con artist. Trail himself acknowledged on the stand Tuesday that he had spent most of the past decade in prison for crimes such as forgery and passing bad checks, and had recently been convicted of scamming a Kansas couple out of nearly a half million dollars.
"Isn't it true, Mr. Trail, that your performance today is your biggest con?" asked one of the prosecutors, Doug Warner of the Nebraska Attorney General's Office.
Trail denied that, saying he had no reason to lie anymore.
Trail, 52, and his 25-year-old girlfriend, Bailey Boswell, are charged with first-degree murder in the slaying of Loofe. Both face the possibility of the death penalty if found guilty.
But he was rolled into court in a wheelchair with his hands cuffed and two bright red wounds clearly evident on the right side of his neck.
When he took the stand, he appeared to stun even his defense attorneys by saying his previous statements to investigators were "all bulls---."
Trail claimed that he had met Loofe, a 24-year-old cashier at Menards, several months before Loofe arranged two dates with Boswell via the Internet dating app Tinder in November 2017.
He testified that he had felt sorry for Loofe when he first met her because she was crying at her cash register. They eventually struck up a conversation, and he hired her to make scam phone calls for one of his illegal business ventures, paying her $200 per call.
Sign up for The World-Herald's afternoon updates
Receive a summary of the day's popular and trending stories from Omaha.com.
Trail said that he had met Boswell about three years ago when she was working at a massage parlor in Missouri. They eventually rented an apartment in Wilber to base a business selling antiques — both purchased and stolen — and engage in "weird sex" with various young women.
At least four young women were described to have filtered in and out of their group during 2017, engaging in group sex activities and earning a weekly allowance for obeying Trail and helping with the antique endeavors.
"How did you make that happen?" asked one of Trail's court-appointed lawyers, Joe Murray.
"Money and sex. There was plenty of money and plenty of sex. … They could get anything they wanted," Trail responded. "I had it great."
Loofe and Boswell had entered into a romantic relationship, he testified, right after he met the Menards clerk in early 2017. But he said that Loofe — whom he described as lacking a "criminal conscience" — didn't approve of ripping off people, which eventually caused her to leave what Trail called "the group."
Months later, however, Boswell wanted Loofe to rejoin the group, he said. Boswell accidentally came upon Loofe's Tinder account, according to Trail, and arranged a date. He claimed that Loofe didn't recognize Boswell's photos on Tinder, which featured her in more makeup.
After Loofe initially "freaked out" on the first date, they rekindled their relationship, according to Trail. But Loofe, he said, was still reluctant to rejoin the group, which was selling stolen antiques and scamming people out of money for counterfeit coins.
The second date eventually ended up in Wilber, where Trail said he talked to Loofe and showed her a tobacco can full of $100 bills, telling her "she could make that kind of money in 30 to 45 minutes" if she rejoined the group.
That date ultimately turned into a "sex party" involving Loofe, Boswell and himself, Trail said.
At first, he said he had choked Boswell with an electrical cord as she had sex with Loofe, Trail said.
Later, though, it was "her turn," Trail said, referring to Loofe. She was handcuffed with a pair of fuzzy cuffs, he said, and he began to choke Loofe while Boswell had sex with her. Loofe, he said, began coughing and her lips turned blue.
Trail insisted that it was not his intention to suffocate Loofe.
"I used people for money, I used people for sex … (killing someone) was counterproductive," Trail said. He later added, "I can't bring Sydney back. I didn't mean to, but I did ... ."
During his testimony, Trail claimed that the talk of "witches and vampires" and "torture and killing" among members of the group was just that — talk — and that much of that was conversation during sex or comments by the young women in the group about getting even with someone.
Boswell, he said, enjoyed "rough sex" and being choked during sex. But Trail continued to maintain that she was only "present" when Loofe died, and should not be held responsible for Loofe's death.
He described Boswell, a former high school basketball standout from Leon, Iowa, as a young girl "whose biggest crime was meeting me."
Trail said he concocted much of his earlier stories, including one about killing 14 other people, to throw investigators off track in hopes that Loofe's body wouldn't be found or that he could talk his way out of it.
"It was talk … it was fantasy," he said.
Trail said he cut Loofe's body into pieces using a bow-type saw because he couldn't think of another way to sneak it out of the basement apartment, which was only a few yards from Wilber-Clatonia High School. He denied using a hack saw that he and Boswell purchased at a Home Depot store in Lincoln the morning before Loofe's last, fateful date with Boswell.
He said there was no plan, and only panic, in disposing of Loofe's remains. Initially, he was going to bury them, Trail said, but eventually he tossed them down some randomly selected gravel roads an hour's drive west of Wilber. Her body wasn't discovered until Dec. 4 and 5, 2017.
Trail appeared to grin at times during his testimony, which even his defense attorney, Murray, appeared to have a hard time believing.
"How can we tell that you're (now) telling the truth?" Murray asked.
"You'll have to decide what you believe," Trail responded.
Warner, one of the prosecutors, was much more blunt in his questioning, and Trail was much more evasive, often answering his questions with "if you say so."
Warner recounted how Trail initially denied involvement, and then, after Loofe's body was found, asked for a cup of coffee and a break in an interrogation "because I need to think."
Then the prosecutor recounted the scam Trail and Boswell concocted to swindle more than $400,000 from a Kansas couple.
Warner then displayed a photo to the jury and gallery of a portion of Loofe's bloody arm, featuring a tattoo, that was discovered along a Clay County roadside.
"Now you had to come up with another explanation to explain this," the prosecutor said.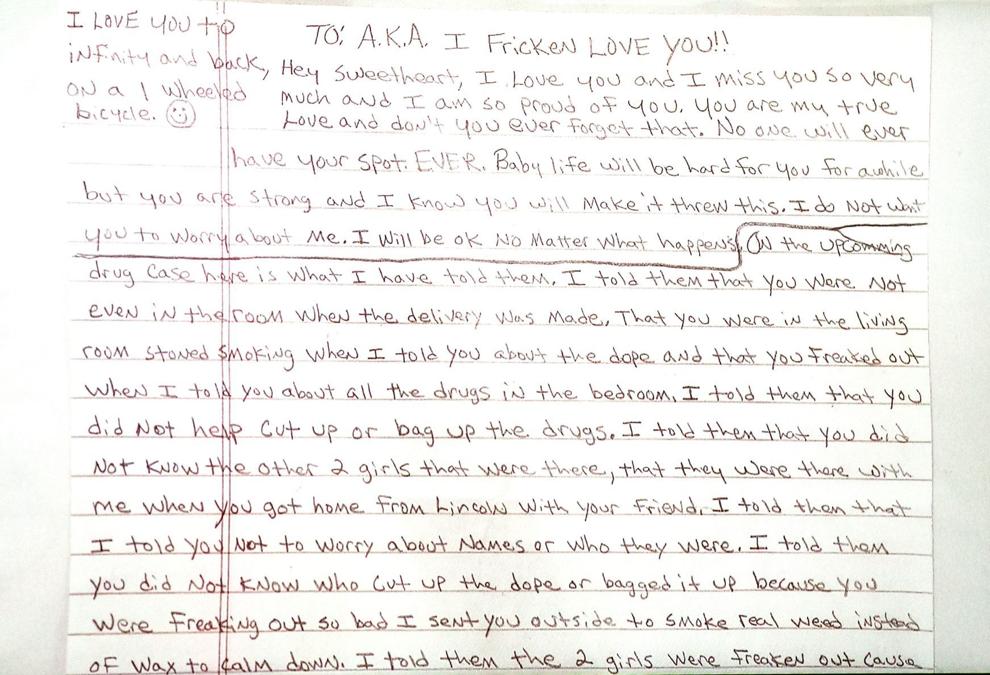 Earlier Tuesday, FBI agent Mike Maseth testified that letters clandestinely passed from Trail to Boswell while both were in the Saline County Jail told her "here is your story" about Loofe's death.
The letters, some in code, also indicated Trail's desire to paint himself as the villain and to have her tell investigators that she was forced to participate in the disposal of Loofe's dismembered body.
Also Tuesday, two clerks from the Grand Weaver Hotel in Falls City testified for the defense. They said they saw Loofe with Trail and Boswell at the hotel several weeks before Loofe went on two dates with Boswell in November 2017.
Final arguments are expected Wednesday. If Trail is found guilty, a shorter trial to determine whether he qualifies for the death penalty will be held.