A family feud that has pitted the adult children of a biotech company founder against their sister reached one resounding resolution in court this week.
A Sarpy County district judge awarded more than $720 million to the estate of Wayne Ryan, founder of Streck Laboratories, an Omaha-area business that has dozens of patents in its manufacturing of medical diagnostic products.
Judge Nathan Cox said the business, now led by Ryan's daughter Connie, grossly undervalued its net worth and, thus, the amount that Wayne Ryan was entitled to for his share of the business. His order calls for Streck to pay Wayne Ryan's estate $467 million, plus more than $253 million in interest.
Ryan, a longtime Omaha-area scientist, businessman and philanthropist, died in 2017.
"This is a victory for my father, a bittersweet victory because he is not here to know that a court understood what he had gone through," said daughter Carol Ryan, a trustee of her father's estate. "The Court recognized that the value in Streck was my dad, his technology, his key customer relationships and his hard work."
An appeal is expected. Streck and its CEO, Connie Ryan, issued a statement Thursday saying, "Based on the law and the evidence that was presented ... Streck respectfully disagrees with the fair value placed on the shares held by (Wayne Ryan). Streck intends to pursue all available remedies to challenge the order."
The statement also says, "Streck remains committed to its over 400 employees located in (La Vista) Sarpy County ... and its global customers."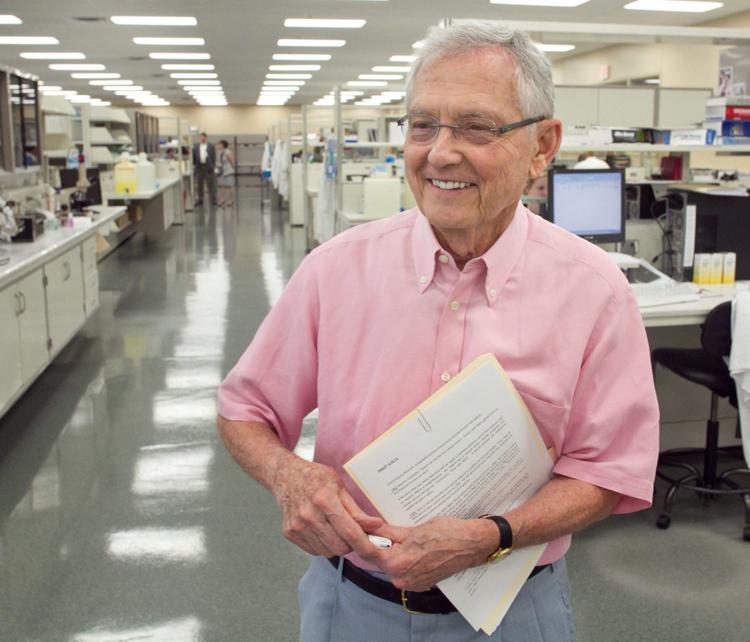 Streck has more than 40 patents and more than 20 medical products that are sold around the world.
The entire judgment will go to charitable causes championed by the Ryan Foundation, said Omaha attorney Marnie Jensen, who helped secure the judgment.
Wayne Ryan and his wife, Eileen, were prolific philanthropists, donating millions of dollars to the Catholic Church, Creighton University, New Cassel Retirement Center, St. Augustine Indian Mission in Winnebago, Nebraska, and dozens of other organizations across Omaha and the state.
"I am so fortunate that I had the opportunity to get to know Dr. Ryan — he was a brilliant scientist and person," Jensen said. "It's such a shame he wasn't here to see this outcome and the benefits of what his charity is going to get."
This lawsuit has been pending since 2014. Connie Ryan took over as CEO in 2013.
In his 74-page order, Cox wrote that Wayne Ryan, the majority shareholder, should have been included in the evaluation of bidders for the company he created.
"It is undisputed that Dr. Ryan founded Streck and developed the technology upon which the company is built," Cox said. "He was also instrumental in establishing the relationship with Streck's biggest customer, Sysmex. In sum, Dr. Ryan created Streck's value."
And, the judge ruled, that value was much more than Streck and Connie Ryan claimed that it was. Under instructions from the court, experts were told to calculate the company's value as of October 2014, the time the lawsuit was filed.
A defense expert placed the 2014 value of Streck at $445 million.
Cox called that expert's valuation "biased" and "inherently unreliable."
Sign up for The World-Herald's afternoon updates
Receive a summary of the day's popular and trending stories from Omaha.com.
The judge wrote that Connie Ryan said Berkshire Hathaway CEO Warren Buffett had offered to buy Streck for $330 million.
About the same time, Carson Wealth evaluated the company and put its worth at $850 million.
Cox ruled that experts for Wayne Ryan's side gave more sound reasoning for the value they placed on the company. He agreed with an expert who placed the value at $893 million.
The judge also sharply scrutinized Connie Ryan and the board's failed attempts to arrange a sale. He noted that the company received 10 bids ranging from $387 million to $635 million. Oddly, the judge wrote, Connie Ryan and the team evaluating the bids did not pick the highest bidders as finalists to purchase the company.
At one point, Connie Ryan brought in John Kershaw, an executive of a Japanese company that did the most business with Streck.
"Kershaw talked about (how) the Ryan family was 'legend' in Japan," Cox wrote. "He made an impassioned request to beg Streck's board of directors to not sell the business."
Jensen, Wayne Ryan's attorney, said that impassioned plea was part of Connie Ryan's attempt to sabotage a sale. In a July 2014 meeting, Wayne Ryan expressed his displeasure with the process, noting that he was the majority shareholder.
"You have nothing to lose," Wayne Ryan told the board. "I have everything to lose in this decision you're making."
Despite that plea, Jensen said, the board did not include Wayne Ryan in the process.
"They excluded Dr. Ryan, the founder, the inventor, the lifeblood of the company," Jensen said. "I don't know what Connie Ryan and her team's intent was. What I can tell you is they doomed the sales process."
Several other lawsuits have been filed among Ryan family members in recent years. In one federal lawsuit, for example, Connie Ryan sued her sister Carol, brother Steven and Barry Uphoff, a former member of Streck's board of directors, alleging that the three formed a revenge company to try to damage Streck.
The three deny that — and that lawsuit is pending in federal court.