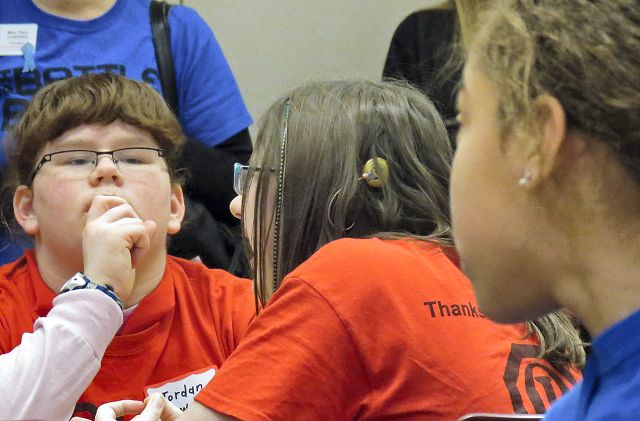 A five-month book battle culminated recently in a high-minded contest among the eight surviving elementary school teams.
Since September, teams comprising 140 students at three Papillion-La Vista elementary schools — La Vista West, G. Stanley Hall and Parkview Heights — have squared off against one another. Preliminary rounds whittled the field until the final battle at district headquarters in Papillion.
The competition was open to students in fourth-, fifth- or sixth-grade. Each competitor had to read one novel a month from a list of 20.
During the battles, teachers posed questions from information extracted from the novels. Competitors got 15 seconds to answer with the book's title and then another five seconds to come up with the author. More points were awarded for answering with both the title and author.
"I feel like we've really raised the bar for these kids and set high expectations. And that's probably what scared me the most," said Suzanne Tooley, an organizer from La Vista West. "We went in not knowing if these kids are really going to read five extra books over five months. And they have."
When it was done, La Vista West ended up on top in the final battle after a tie-breaking round of questions.
Tooley brought the idea to her principal after hearing about Elkhorn's district battle.
Tooley and fellow organizer Diane Rasmussen said the three schools were chosen because of demographic similarities. The Papillion-La Vista Optimist Club donated T-shirts for the teams.
Novels that provided battle fodder were Golden Sower award winners and nominees.
Omaha Library Director Gary Wasdin said such reading programs are "incredibly important" for comprehension skills.
"At these ages, kids are beginning to mature as readers," he said. "They are exposed to new vocabulary words that will stick with them for life."
The battles included genres of adventure, sports, comedy, fantasy, realistic fiction, historical fiction and mystery. Some of the books were "The Liberation of Gabriel King," "Hatchet" and "The Tale of Despereaux."
In the Papillion-La Vista district, organizers said the event helped expose students to "lots of different literature."
"They learned so much more than reading," Tooley said.
Be the first to know
Get local news delivered to your inbox!