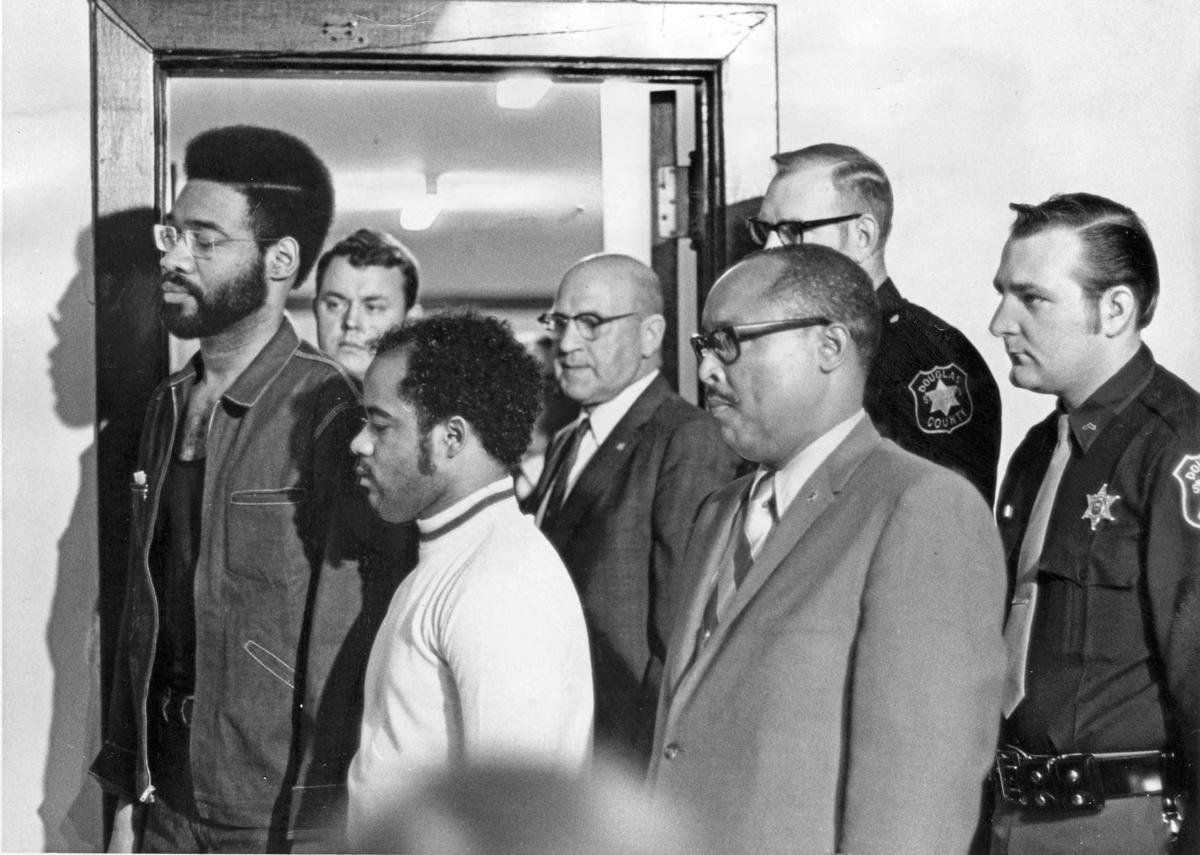 LINCOLN — A group of supporters of Ed Poindexter, convicted in the booby-trap killing of an Omaha police officer 50 years ago, made an emotional appeal Monday to release him from prison to promote healing and because he's near death.
Poindexter is black and was a member of a Black Panther-like group that railed against police conduct; Officer Larry Minard was a white married father of five children who died after touching a suitcase full of dynamite in 1970 amid of one of the worst periods of racial strife in Omaha's history.
But backers of Poindexter, a model prisoner who is suffering from diabetes and other health problems, said that after serving 50 years behind bars, he's paid his debt to society.
"A benevolent release will go a long way in mending some of the racial divisions in our community by saying, 'Ed, enough is enough. And Godspeed,' " said Preston Love Jr., a North Omaha leader, to members of the Nebraska Board of Pardons.
Members of the board — Gov. Pete Ricketts, Attorney General Doug Peterson and Secretary of State Bob Evnen — thanked the seven people who testified on Poindexter's behalf during the public comment period of their meeting but took no action; there was no pending application before the board.
But Ricketts, who said he had already discussed the case with Love, suggested that the group make an application for a compassionate medical release that the board could consider later, perhaps at its next meeting in two months. He also suggested that they follow Love's suggestion to reach out to Minard's family and the Omaha police.
"That's a good place to start that conversation," the governor said.
But backers of Poindexter said the recent death of George Floyd during an arrest in Minneapolis, and the recent attention to racial inequities in the judicial system, make it a good time to again review his case.
Monday's presentation was organized hurriedly by Dr. Diane Topolski, an Omaha physician who said recent events prompted her to delve into cases of what she saw as "systemic racism" in Nebraska. The case of Poindexter and Rice stood out, she said, in her research and talks with lawyers, journalists and community leaders in Omaha.
"My conclusion is that Ed did not receive a fair trial in 1971 and was wrongly convicted of a crime in which he had no involvement," she said.
At 75, Poindexter is at increased risk of death if he were to contract COVID-19 and is no longer a threat to society, she said. A pardon would not mean that he is innocent, but would show compassion, show that he's paid his debt to society, and would allow a very frail inmate to live out his final days outside of prison, the physician said.
"I hope you appreciate the sense of urgency associated with this decision," she told board members. "You are Ed's last hope."
Author Michael Richardson, who worked in North Omaha at the time of the bombing, maintained in a book last year that Poindexter and Rice were framed for the murder by federal and local law enforcement officials.
The book says that the prosecution's star witness, Duane Peak, lied on the stand and that law enforcement planted evidence.
Peak, then 15, testified that he was acting at the direction of Rice and Poindexter when he loaded a suitcase with dynamite, planted it in a vacant North Omaha house and called police to report a woman screaming there. But in 2007, a voice expert who analyzed a tape of the phone call said it was "highly probable" that the deep voice on the call was not Peak, who was granted immunity for his testimony.
The Nebraska Supreme Court ultimately rejected a request for a new trial. After Richardson's book was published last year, Ricketts and Douglas County Attorney Don Kleine both rejected requests to reopen the case.
In 1974, U.S. District Judge Warren Urbom overturned the convictions of Rice and Poindexter, ruling that police had illegally searched Rice's home. But their convictions were later reinstated on appeal.
In 1993, the State Board of Parole recommended that Rice's life sentences be commuted by the Pardons Board to a period of years, a necessary step to become eligible for parole. But the Pardons Board rejected the move.
Timeline: The bomb slaying of Omaha Police Officer Larry Minard
Omaha police officer Larry Minard was murdered at the age of 29 on Aug. 1970 in a booby-trap killing. Two men — David Rice and Edward Poindexter — were convicted of the crime and handed life sentences in a high-profile case that has drawn much attention over the years.