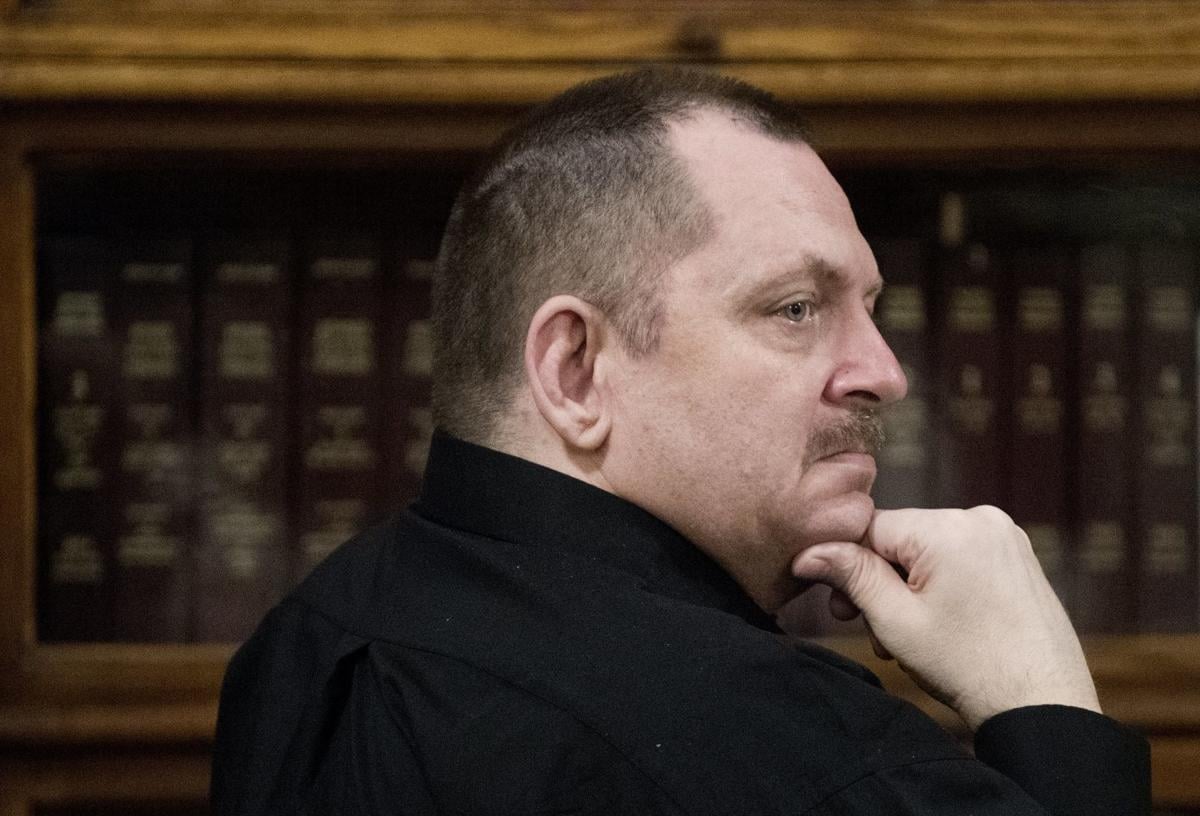 WILBER, Neb. — Three young women — all of whom said they were lured into group sex and other activities orchestrated by Aubrey Trail and Bailey Boswell — testified Tuesday that the pair spoke more than once about a desire to torture and kill someone.
The talk, they said, came both before and after the Nov. 16, 2017, disappearance of Sydney Loofe, the Lincoln store clerk Trail and Boswell are accused of killing and dismembering.
One woman testified that the pair put off a "weird vibe" that made her suspect something "bad" had happened when she was picked up by Trail and Boswell in Omaha on Nov. 17.
The three women all said they met Boswell on the online dating app Tinder — as did Loofe, 24 — and were later introduced to her "sugar daddy," Trail, who promised to help them financially.
All three testified that they were threatened by Trail and Boswell if they didn't obey the pair's rules and follow their wishes. Their fear continued even after the pair were apprehended in Branson, Missouri, two weeks after Loofe is believed to have been killed.
"It crossed my mind multiple times," said one of the women, "if I said the wrong thing (to police) that my life and my family's lives were still threatened."
Sign up for The World-Herald's afternoon updates
Receive a summary of the day's popular and trending stories from Omaha.com.
The women — whose names were ordered not to be published by the trial judge on Tuesday — were key witnesses to bolster the prosecution's argument that Trail and Boswell had conspired for months to lure a young woman via social media for the purpose of homicide.
Trail and Boswell are both charged with first-degree murder and face the possibility of the death penalty if convicted. Trail's attorney, and Trail himself, have maintained that Loofe died accidentally, by choking, during a sexual fantasy involving Trail and two unidentified women that went too far.
Tuesday's testimony revealed bizarre and scary allegations from several weeks just prior to Loofe's disappearance and a few from just afterward.
That's the time period in which the three women said they lived and traveled, mostly at separate times, with the two murder suspects.
Among the details in Tuesday's testimony:
That Trail and Boswell wanted one of the women to select someone to kill and torture so they could videotape the act and sell it.
"They said they would make $1 million to do it, then split it and go separate ways," the woman said.
That Boswell wanted one of the women to torture and kill someone to prove her loyalty to Boswell in their dominant/submissive sexual relationship. The woman said the order was later dropped after she proved her worth.
That each of the women, who mostly met up with the pair individually, was paid between $150 and $200 a week as an "allowance." But, they said, the payments came with a set of rules, including calling Trail "daddy" and Boswell "mommy," participating in group sex sessions and accepting punishment, including whippings.
That Trail insisted that he had supernatural powers, including the ability to fly and to put Boswell in a trance — powers that elicited skepticism from most of the women.
That one of the women had a fantasy of being a cat, complete with a leash and collar. But she said she was humiliated when she was ordered to eat cat food out of a bowl.
That Boswell enjoyed pain during sex and wanted one of the young women to talk about acts of torture while engaging in sex with her. Boswell, the woman testified, also talked of dismembering a body and breaking someone's fingers as a form of torture.
That Trail had what he called a "kill bag" that contained a hammer, pliers and a sauna suit.
Such a plastic suit was found with Loofe's body parts.
That one of the women, after learning that Loofe was missing, suggested that someone kidnap Trail's daughter to force him to exchange her for Loofe.
Tuesday also included a rare order from a judge to not publish the names of the three women who testified Monday afternoon and Tuesday in open court.
Before the trial began, Saline County District Judge Vicky Johnson had ordered that photographs and video not be broadcast of the three women when they testified, to protect their privacy.
In that May 22 order, the judge also added: "This does not restrict the media from otherwise reporting on their testimony."
On Tuesday, however, the judge clarified her order and ordered reporters to not publish the women's names, which had been revealed in open court during testimony this week and last week.
One of Trail's court-appointed attorneys, Ben Murray of Hebron, used his cross-examination to question the women about their fantasies — and whether those fantasies included an interest in torture and murder. He also asked them whether they had participated in the killing of Loofe, as well as the dismemberment and disposal of her body, which law enforcement said occurred on Nov. 16, 2017 — the day after Loofe met Boswell for a Tinder date.
"Isn't it possible you helped dispose of the body?" Murray asked one of the women, the one with the cat fantasy. "How did the (cat) leash get out (where the body parts were found)?"
"I don't know," responded the woman.
But under additional questioning by Sandra Allen, one of the prosecutors from the Nebraska Attorney General's Office, the woman — by now dabbing tears with a tissue — said that on Nov. 16 she was in Omaha playing with her younger brother and visiting a doctor to obtain an inhaler for asthma.
Another of the women, under questioning by Murray, acknowledged that she asked Trail to choke her during sex with Boswell, and that Trail was reluctant to do so, saying he could hurt someone.
The last woman to testify acknowledged that she was interested in torture and serial killers, but said that it was an academic interest about Renaissance-era practices, and not a sexual interest.
Tuesday's testimony by the three woman also included new allegations about the path taken by Trail and Boswell after the slaying.
They first went to Omaha, where they picked up one of the women, and then checked into the Ameristar Casino in Council Bluffs. They stayed until Nov. 19, leaving Trail's car at a Walmart and leaving in the woman's vehicle for a supposed "cocaine run" to Grand Island that was supposed to make them $25,000.
The woman said the cocaine run, in which the drug was supposed to be dropped from a plane, "absolutely made zero sense," but she went along, in part to be obedient.
After spending three days in Grand Island without getting the drugs, the woman said, Trail and Boswell began talking of traveling to Kearney, where they could find a victim to torture and kill "who would not be missed." Trail, she said, wanted to watch the two women commit the slaying.
The woman said they drove to Kearney and checked into a hotel but quickly left after she saw a message on her cellphone from the Lincoln Police Department.
"I freaked out," the woman said, adding that Trail and Boswell got "very serious" and explained that they were being blamed for the disappearance of a young woman Boswell had dated.
"For the first time, I was super scared," said the woman, who was then driven back to the Omaha area and dropped off.
Be the first to know
Get local news delivered to your inbox!