LINCOLN — More than 60 years after she accompanied Charlie Starkweather on one of the nation's most notorious killing sprees, Caril Ann Fugate is seeking a pardon.
Fugate was 14 when her boyfriend went on a murderous rampage in 1957-58 that left 11 people dead in Nebraska and Wyoming, including her mother, stepfather and baby half-sister. She was convicted of first-degree murder and felony murder in the commission of a robbery. She spent 17 years in prison before being paroled in 1976.
Starkweather, her 19-year-old boyfriend, got the death penalty for what was one of the nation's first mass killing sprees.
In her application, obtained by The World-Herald, Fugate, now 76 and going by her married name of Caril Ann Clair, indicated that she is seeking peace of mind in her advancing age.
"The idea that posterity has been made to believe that I knew about and/or witnessed the death of my beloved family and left with Starkweather willingly on a murder spree is too much for me to bear anymore," Fugate wrote. "Receiving a pardon may somehow alleviate this terrible burden."
Her application for a pardon was filed on Aug. 29, 2017, but wasn't scheduled to be heard by the State Board of Pardons until Feb. 18. The World-Herald sought the application after it appeared on the agenda.
Sign up for World-Herald news alerts
Be the first to know when news happens. Get the latest breaking headlines sent straight to your inbox.
The Pardons Board, which consists of Gov. Pete Ricketts, Attorney General Doug Peterson and Secretary of State Bob Evnen, recently came under fire during a legislative hearing for scheduling only 13 pardons hearings during the past three fiscal years, compared with 345 the previous three years. Critics said it had created a huge backlog of cases, and denied "a fresh start" for offenders who had completed jail or prison terms and gone onto productive lives.
Fugate, in her application, said she had had no other arrests or convictions since the Starkweather spree, and had been employed by a hospital in Lansing, Michigan. She married after moving to Michigan, but indicated that her husband had died. Fugate now lives in Hillsdale, Michigan.
The question of her guilt or innocence in the killing is still debated in Lincoln, where Starkweather and Fugate lived, and where the string of slayings began.
While a pardon would not declare her "innocent," it would represent a formal forgiveness of her crimes.
"When I was 14 years old, I was abducted and held captive by Charlie Starkweather," she wrote. "I was terrified and did whatever he wanted me to."
She said Starkweather told her his gang was holding her family hostage and they would be killed if she tried to escape. Her application said she was present when one of the victims, Robert Jensen of Bennett, was shot, and did hold the money taken from him.
"Starkweather frightened me to death … whatever (he) told me to do I did," Fugate wrote. "I lived in constant fear for my family's safety. Because I loved them with all my heart."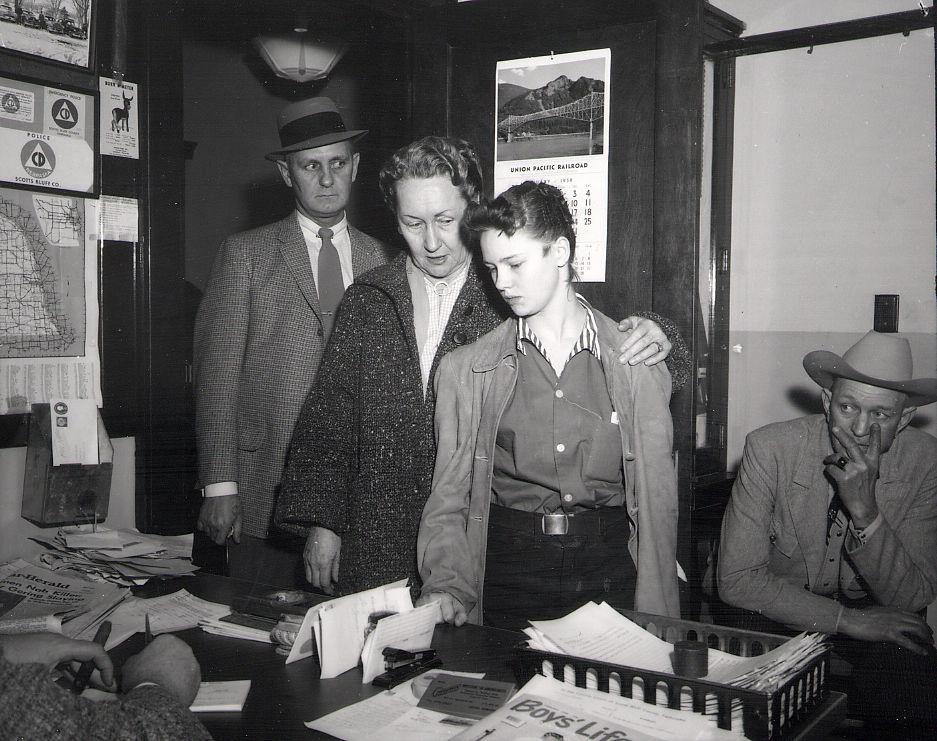 Fugate maintained that she was convicted only because Starkweather "lied" about her involvement after she had sent him a note telling him she didn't want to see him again. That's when, she said, he changed his story, and told police that she had shot and murdered some of the victims.
John Stevens Berry, who co-wrote a book about Fugate and is one of the attorneys handling her pardon request, wrote in the application that she was the youngest female ever tried for first-degree murder at the time.
He added that Fugate's personality disintegrated due to the trauma of the slayings, causing her to have a "blank" expression that people interpreted as "cold." Since 1958, Berry wrote, much has been learned about juveniles and their lack of ability to comprehend their acts.
The lawyer also questioned the validity of her conviction, criticizing the use of Starkweather as the chief witness and pointing out that one juror, even before Fugate's trial began, had laid a bet that she would get the electric chair.
Among those submitting letters in support of her pardon was a granddaughter of two of Starkweather's victims, C. Lauer and Clara Ward of Lincoln; two of Fugate's stepsons; a former warden of the Nebraska women's prison; and a Michigan woman who had hired Fugate as a nanny.
One letter, from a minister in the United Kingdom, asked the board to deny a pardon, saying there was no evidence that she was wrongly convicted.
Notable crime news of 2020
Read about some of the biggest and strangest crime stories in Nebraska and western Iowa.