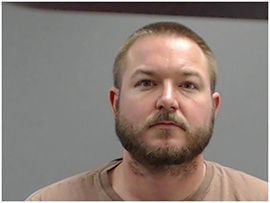 COUNCIL BLUFFS — A bar owner featured on "Bar Rescue" who was accused of sexual abuse pleaded guilty to amended charges Monday and will spend 90 days in jail as part of his sentence.
Matthew Overmyer, 35, co-owner of the O Face Bar in Council Bluffs, was arrested Feb. 4 and initially pleaded not guilty to second-degree sexual abuse and assault with intent to commit sexual abuse.
In court, Overmyer's attorney, Michael Hooper, said he was prepared to go to trial.
"But Overmyer wanted to accept responsibility, so he is," Hooper said.
According to court documents, Overmyer attacked a woman and forced her to have sex with him twice on Feb. 2.
Overmyer pleaded guilty to two amended charges of assault with intent to commit sexual abuse with no injury.
Overmyer's bar was twice featured on Spike TV's "Bar Rescue."
The exposure caused the Council Bluffs City Council to deny Overmyer's bar its liquor license, a decision that was overturned on appeal to the state.
Overmyer was sentenced to two years in jail for each charge, but the time was suspended, as long as he abides by the terms of the plea agreement. He is scheduled to spend 90 days in the Pottawattamie County Jail beginning Jan. 16.
He will serve two years of probation following his sentence and will undergo a sex offender treatment program. A no contact order with the victim has been issued for five years.
Overmyer also will have to register as a sex offender for the rest of his life and pay any restitution to the victim, should she seek counseling.