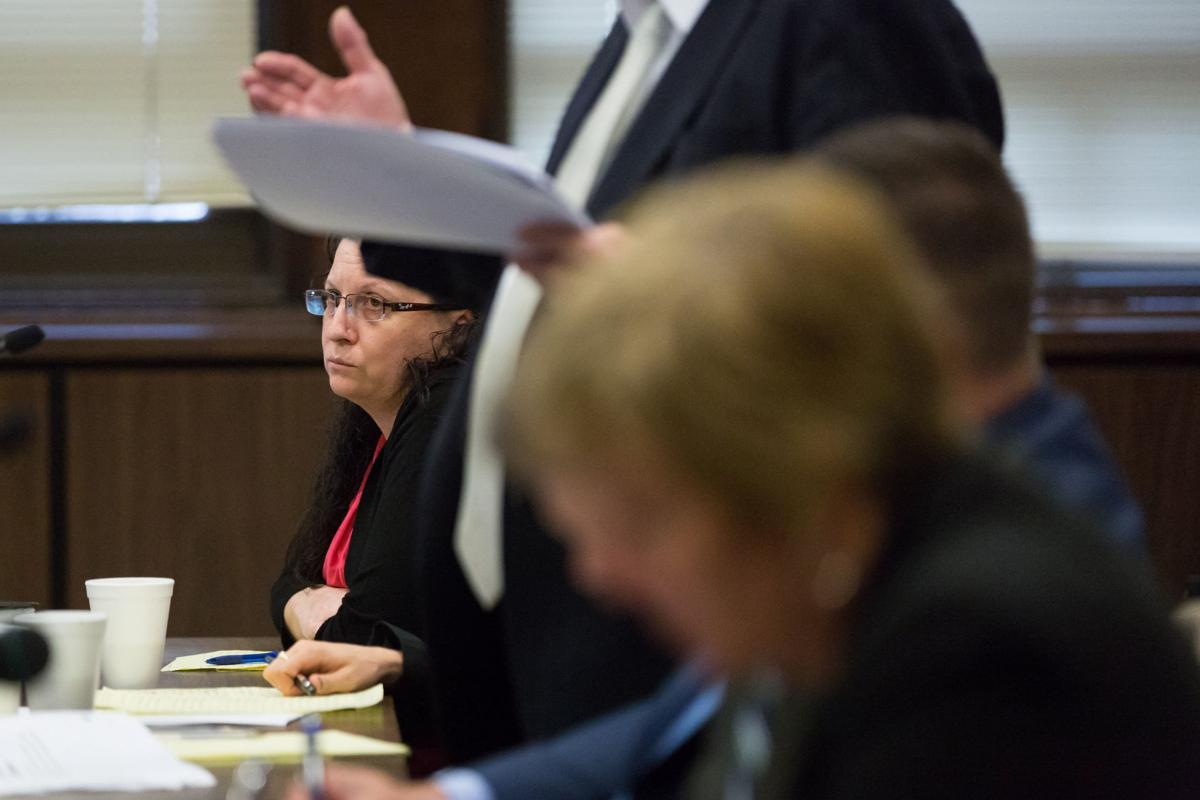 The person who created a fake Facebook profile for Cari Farver was careful to make sure the digital footprint was hidden, using services that masked the user's physical location.
"I believe this shows an increasing sophistication in trying to hide (the identity of the user)," testified Anthony Kava, a special deputy in the Pottawattamie County Sheriff's Office, in his analysis of the electronic data.
In September 2015, for example, someone logged into Farver's fake profile using a device at a Council Bluffs address — the same address as Shanna Golyar's boyfriend's home, where she was living at the time.
In his hours-long testimony, Kava methodically untangled the complicated digital web that Golyar allegedly weaved in her quest to hide that she killed Farver.
Golyar is charged with first-degree murder and second-degree arson in the case before Douglas County Judge Timothy Burns. Kava is essentially the prosecution's star witness because of the massive amount of digital evidence and analysis needed to connect Golyar to the alleged slaying.
Farver has not been heard from or seen since Nov. 13, 2012. Her remains have not been recovered. Golyar's attorney, James Martin Davis, has repeatedly said there is a lack of physical evidence that a murder even occurred — there are no eyewitnesses to the slaying, no weapon and no body.
Kava testified for most of the day Thursday, the seventh day of trial, and is expected to continue well into today.
Kava used a PowerPoint presentation for the first part of his testimony — and covered about 200 of at least 500 slides detailing the data from cellphones, cameras, email accounts, social media profiles and other applications.
He linked many of the bogus Apple, Facebook and email accounts to Golyar, mostly because of the location where the accounts were accessed — Golyar's boyfriend's Council Bluffs home, where Golyar lived for a couple of years.
Prosecutors say the thousands of mysterious emails sent from those accounts also were sent by Golyar.
Of 31 Google accounts that were analyzed by Kava, 16 were "impostor accounts," many with variations of Farver's name.
One of the emails using Farver's first and last names was created Jan. 8, 2013 — two hours before Golyar voluntarily allowed the Pottawattamie County Sheriff's Office to download the contents of her phone.
The digital trail was dizzying — many of the recovery emails for the bogus email accounts were also fake ones that Golyar created, Kava said.
Kava also examined the contents of a Sony video camera, Nikon camera and memory cards found in Golyar's Persia, Iowa, apartment.
He recovered deleted or formatted-over photos and videos that nearly matched photos posted by the fake Farver Facebook profile.
"It's visually very similar, if not identical," Kava said.
One video that Kava recovered was a snippet of Farver recording herself and graffiti on her vehicle just days before she disappeared.
She and her then-teenage son, Max Farver, were using WD-40 to remove silver spray paint scribbles from her black Ford Explorer.
Prosecutors allege that Golyar was behind the vandalism.
In the video, Cari Farver appeared frustrated but optimistic, with a good dose of sarcasm.
"This side's my favorite, somebody thought they were quite the artist," Farver joked as the camera shows a long line of silver paint on the side of the SUV. "We're gonna see if we can get it off."
The video was never uploaded to Facebook, and relatives were unaware that Farver made it.
It may be the last recording of Farver, wearing her signature bandanna.
Be the first to know
Get local news delivered to your inbox!