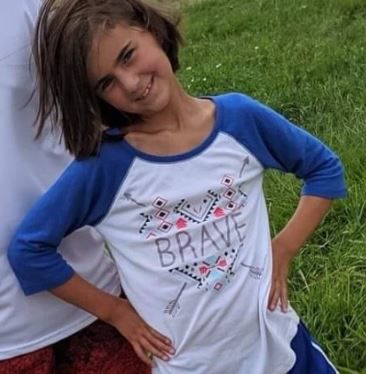 The driver whose car struck and fatally wounded a 10-year-old girl crossing a downtown Papillion street has been charged in the case.
Masey Lawrence, 19, of Papillion turned herself in early Friday after a warrant was issued for her arrest. She was charged in the warrant with failure to yield to a pedestrian, speeding and misdemeanor motor vehicle homicide.
Lawrence was booked into the jail just after 3:45 a.m. She posted 10% of a $10,000 bail, or $1,000, and was released after 4:30 a.m.
Police said that at about 4 p.m. Aug. 20, a northbound car driven by Lawrence struck 10-year-old Abby Whitford as she and her 6-year-old brother were crossing Washington Street at Second Street.
James Schaefer, an attorney representing Lawrence, said Friday that he planned to contact the Sarpy County Attorney's Office soon in an attempt to reach a resolution in the case.
Lawrence "is certainly remorseful," Schaefer said. "She's very remorseful over how this happened."
Abby and her brother had gotten out of school and were headed to Sump Memorial Library, police have said.
To reach the library, they needed to cross four lanes of traffic on 84th Street, which is Washington Street in Papillion. One car was in the first two lanes, and it stopped. A truck was in the third, inside lane, and it stopped.
With her little brother trailing behind, Abby stepped into the fourth, outside lane, and a car coming up on the side of the truck didn't stop for the flashing crosswalk caution lights and struck the girl. Lawrence remained at the scene, police said.
Abby, a fifth grader at Trumble Park Elementary School, died two days later from her injuries.
Sarpy County Attorney Lee Polikov said Friday that he filed a misdemeanor charge instead of a felony because of state statutes that address motor vehicle homicide and precedents set by the Nebraska Supreme Court.
The statutes, he said, essentially differentiate motor vehicle homicide into two categories: careless driving, which is a misdemeanor, and reckless driving, a felony. But the statutes don't help prosecutors discern what kind of conduct is considered careless instead of reckless, Polikov said. That requires that they rely on the facts of the case and prior rulings.
The Nebraska Supreme Court has said that speed alone is not enough to warrant a felony charge, Polikov said. He said he thinks prosecutors will be able to prove that speed was a factor in Abby Whitford's death.
If Polikov had his way, he said, all motor vehicle homicide charges would be felonies.
"Personally, I don't like the idea that there's even a distinction (between careless and reckless driving) because I think when there's a loss of life, it ought to be a felony — period," Polikov said.