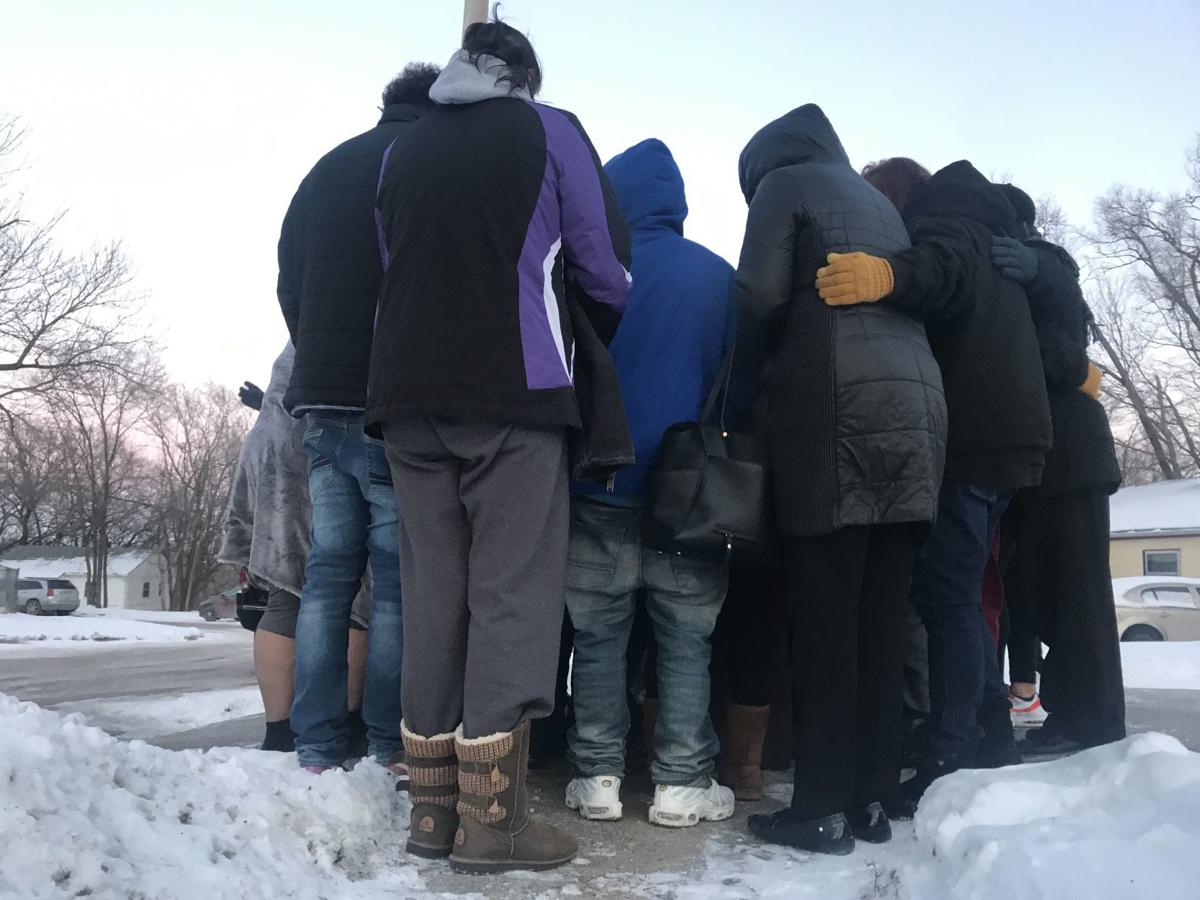 Friends and family of Jacque S. "Jack" Holbert IV remembered the 21-year-old through laughter and tears Thursday evening as they huddled together to pray near the home where he was fatally shot.
"Hard working," "loved his family," people called out when asked to share their memories of Holbert, who was shot early Sunday morning while sleeping in a home near North 38th Avenue and Burdette Street.
About 30 people gathered tightly together in the subzero wind chill for the gathering organized by Omaha 360. Several people prayed that the family would be lifted up, that the community would be healed and that those who knew something about the shooter would come forward.
Toward the conclusion of the gathering, organizers draped a prayer shawl around Holbert's mother, Sophia Hall, and the women in the group held her tight as she wept.
Holbert's mother, Sophia Hall, said the love she felt at the gathering grew out of her son's nature.
"My son was well-loved, and everyone who met him gravitated toward him," she said. "He lit up the room with his smile, he'd give you the shirt off his back. I know that sounds clichéd, but that's the way he was."
Hall said her son was staying at the house to help a paralyzed friend.
"He was in the wrong place at the wrong time," she said. "If anybody knows anything, please come forward. There's no malice. I just want to know why."
Holbert's uncle, Corderro Hall, said his nephew was a good person — someone who could be relied on. 
"He had a lot of friends who cared about him, and it means a lot that they would come out, especially when it's so cold, and be here for his mother," Hall said.
Hall said his nephew helped him launch his construction business. and traveled with him to Texas to roof houses damaged by hurricanes and flooding
"Jack was a wonderful person, whenever I needed him, he was there," Hall said. "If there was an award for best nephew, he would win it.
Anyone with information should contact Crime Stoppers at 402-444-STOP or at omahacrimestoppers.org. Tipsters remain anonymous and may be eligible for a cash reward of up to $25,000 for information that leads to an arrest.."
In addition to his mother, Holbert is survived by two younger sisters. The family has established  the Jack Holbert Benefit at Metro Credit Union and a GoFundMe account to help with funeral expenses. Services will be 1 p.m. Tuesday at Zion Baptist Church.
Sign up for World-Herald news alerts
Be the first to know when news happens. Get the latest breaking headlines sent straight to your inbox.