BEATRICE, Neb. — Seven years after spending some time in jail with Joshua Keadle, Cory Pfeifer saw a news report about Keadle being charged with murder in the disappearance and death of Peru State College student Tyler Thomas.
The report prompted Pfeifer, now a truck driver from Plattsmouth, to go to the Nemaha County Attorney's Office and relate something Keadle told him in that county's jail about the missing student.
"I'll never go to prison because they'll never find the body," is what Keadle told him, Pfeifer testified Wednesday.
What did he say happened to Thomas? asked a prosecutor, Doug Warner of the Nebraska Attorney General's Office.
"I f***** her and left her at the dock," Pfeifer said Keadle told him.
Keadle, now 38 and serving time in prison for an unrelated sexual assault, stared at Pfeifer as he testified.
But one of his court-appointed attorneys forcefully tore into Pfeifer's testimony, questioning why he waited so long to come forward about such a well-publicized case, and whether his use of methamphetamine might have clouded his memory.
You had plenty of opportunities to tell police earlier but didn't, said Matthew McDonald of the Nebraska Commission for Public Advocacy, and you also failed to report the statement to your probation officer or even a judge.
"In fact, you were trying to get the reward money, weren't you?" McDonald charged.
"I didn't know there was reward money. ... You're wrong," responded Pfeifer, who was serving out a 30-day sentence for drunken driving. He said he never received reward money.
The exchange was an emotional high point Wednesday in the trial of Keadle, who is charged with first-degree murder in the death of Thomas, a 19-year-old from Omaha. She disappeared after a night of campus parties on Dec. 3, 2010; her body was never found, despite months of extensive searches by an estimated 500 volunteers.
Keadle, who authorities believe was the last person to see Thomas alive, was a person of interest immediately but wasn't charged until 2017, as he neared eligibility for being released on parole from his 15- to 20-year sentence for sexual assault.
He initially denied involvement in Thomas' disappearance, but later changed his story, saying he picked her up as she walked, reportedly upset and intoxicated, across campus after midnight and then drove her to a boat launch outside of town. Keadle said he agreed to give her a ride to Omaha if she performed a sex act. But afterward, he said, she got angry and threatened to accuse him of rape.
An argument and hand fighting ensued, with Keadle maintaining that he eventually drove away, leaving Thomas alone along the icy river.
On Wednesday, jurors got two opposing theories on what caused some mysterious drag marks discovered shortly after Thomas went missing. They were found at a spot on the riverbank where a student said Keadle liked to drive to smoke marijuana.
The "intermittent" drag marks led to the water, and law enforcement investigators suggested that they were made when a body was dragged into the river.
But Thomas' attorneys disputed that, and said the scuff marks could have been created by search dogs or a group of 20 students who had searched the area before the drag marks were found.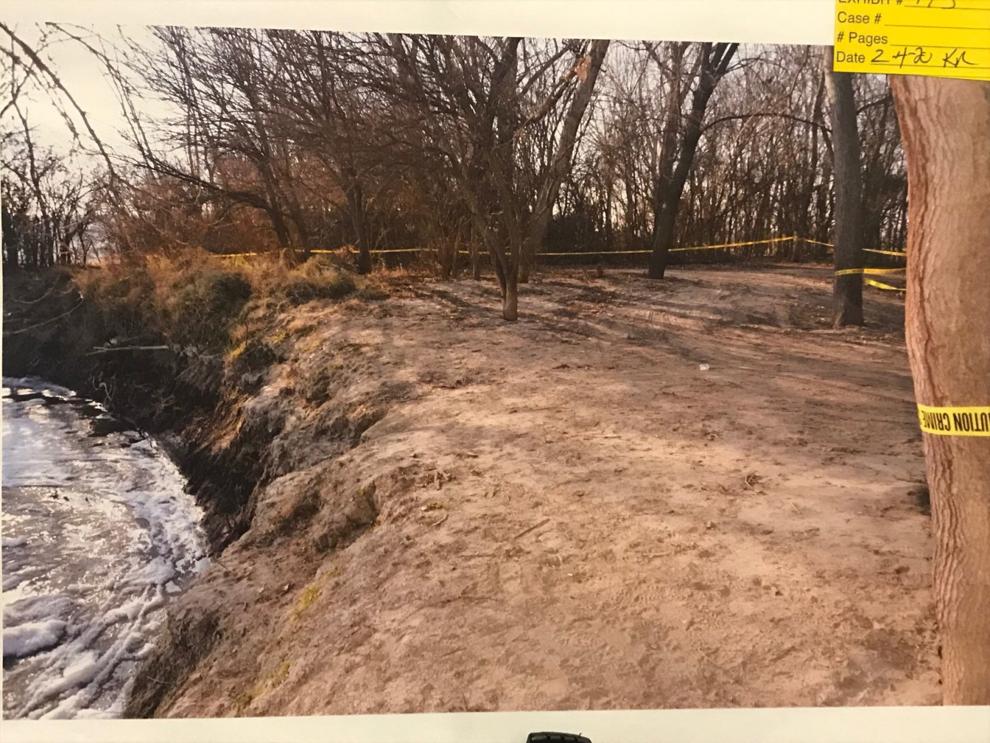 McDonald also got an FBI investigator to acknowledge that nine canisters of debris had been vacuumed from Keadle's Ford Explorer in the days after Thomas disappeared in the search for trace evidence, but nothing was linked to Thomas or to a violent crime.
Likewise, investigators testified Wednesday that no blood or evidence of a struggle was found in Keadle's vehicle, at the boat launch or at Keadle's pot-smoking spot a couple hundred yards upstream.
Keadle's Explorer, according to other testimony on Wednesday, was seen twice returning from the river on a Peru bank's surveillance video on the night Thomas disappeared, at 2:09 a.m. and at 3:15 a.m. The last cellphone text message from Thomas' phone was at 1:25 a.m. on Dec. 3, according to court testimony.
Warner, the prosecutor, suggested that Keadle's vehicle was not seen on the video leaving Peru for the river because he had taken other routes through the college town, rather than the main street.
The trial is expected to continue through next week.
Notable crime news of 2020
Read about some of the biggest and strangest crime stories in Nebraska and western Iowa.