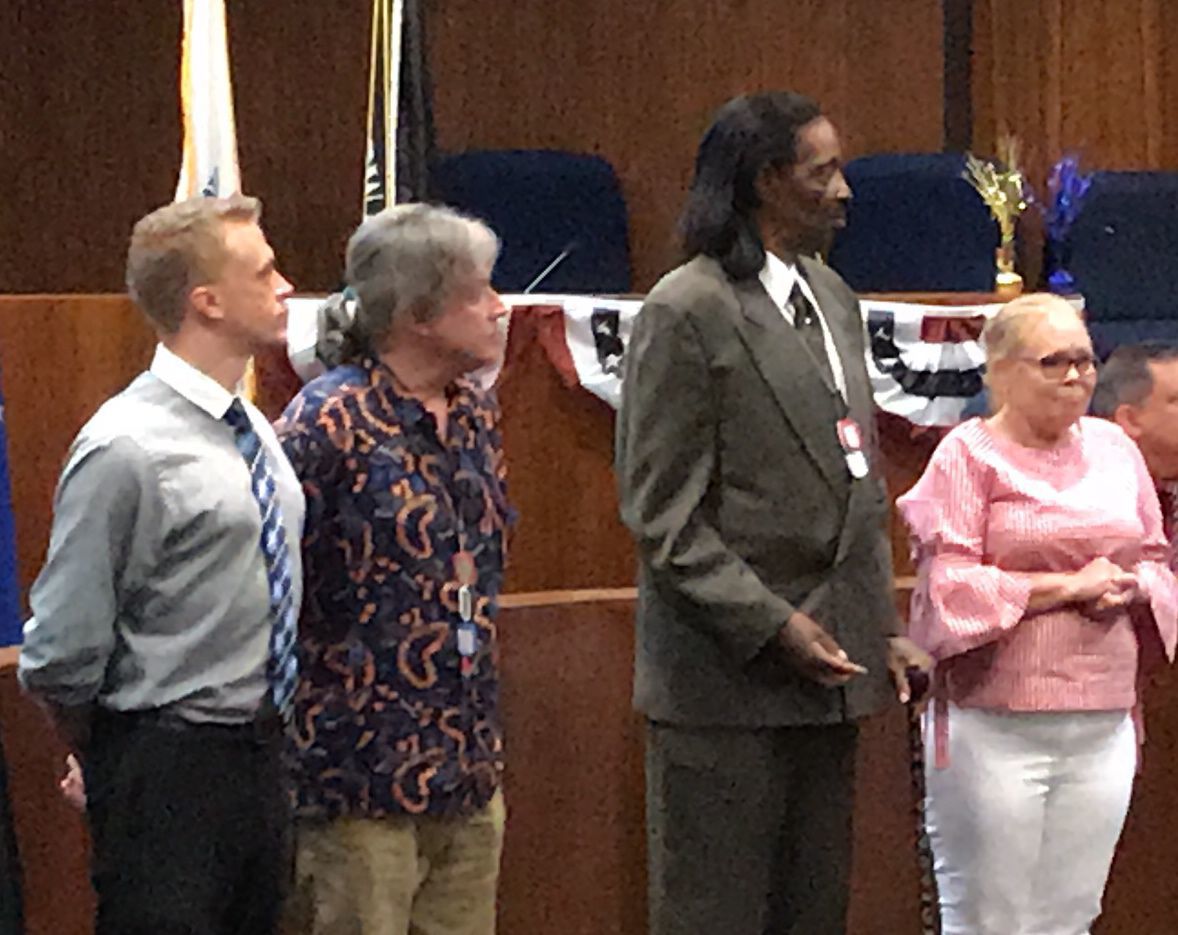 The first four people to complete Nebraska's first problem-solving court program for military veterans graduated Wednesday in Omaha in a ceremony that treated them like champions.
Justin Polland, Larry Hart, Gerry Crawford and Deborah Hook received multiple standing ovations from more than 125 people, including such dignitaries as Omaha City Council President Ben Gray, packed into the legislative chambers of the City-County Building. They gave speeches thanking friends, relatives and mentors.
They received U.S. flags in triangular wooden boxes. Gold-colored dog tags were draped around their necks. The metal letters read "Honor Restored."
"We are grateful for your service, and we are inspired by your example," Nebraska Supreme Court Judge Stephanie Stacy told the four.
It was quite a change from being shackled, wearing jail jumpsuits and facing prison time, which is what they were before they entered the Douglas County Veterans Treatment Court.
The Nebraska Supreme Court and Douglas County launched the diversion program in December 2016. They give military veterans charged with crimes a chance to avoid prison and turn their lives around by adhering to a strict regimen of keeping a job, staying clean of drug or alcohol abuse, passing rehabilitation classes, paying restitution if there were financial damages from their crimes and frequently meeting with a judge.
There are more than 220 such courts nationwide. The Douglas County Veterans Treatment Court, funded by the Nebraska Legislature as a two-year pilot, was the first in Nebraska. A second launched last year in Lancaster County.
"I'm just glad Nebraska pitched in and did it," said District Judge Mark Ashford, who oversees the Douglas County veterans court. "The PTSD and other stuff we're talking about, and substance abuse, are so pervasive."
If you saw the four graduates' jail booking photos, it would be hard to believe they were the same people, Ashford said.
"I'm convinced a couple of these folks wouldn't even be alive today," he said.
About two dozen people are currently in the Douglas County Veterans Treatment Court, which was designed to handle about 30 people at a time.
State Sen. John McCollister, who sponsored the bill allowing for the courts, spoke at Wednesday's ceremony. He noted that the wife of a veteran had inspired the legislation, saying that families don't know how to help their loved ones who come home troubled after their military service.
Polland, a former Marine who was the first participant in the program, said he was grateful for the opportunity, and that life looks a lot different now than when he was arrested in May 2016.
Polland said he had help completing the difficult program from his mentor in the program, from Douglas County Corrections Director Mark Foxall and the jail's veterans housing unit, and from his family. Polland singled out his young daughter, who bounced up from her seat and bounded down the aisle to stand beside him. "She promised, she pinkie-swore to keep me out of trouble," he said.
McCollister said the program focuses on treatment, not punishment, for qualifying veterans and is cost-effective. Stacy said such programs can reduce recidivism. She said research shows that in Nebraska, 95 percent of people who went through a similar diversion program, drug court, remained crime-free one year later.
The ceremony Wednesday was patriotic, with a presentation of colors and the singing of the national anthem. But it had legal circumstance as well as pomp. Deputy Douglas County Attorney Jeff Lux asked Ashford to dismiss the felony charges that each of the graduates had faced before they entered the program. Ashford did so, noting that they had all pleaded guilty and would have faced prison sentences without the diversion program for veterans.
Later, Hart, who served two years in the Army, stood in the City-County Building lobby with his partner, Christine Hart, and his tall, lanky Veterans Treatment Court mentor, Joe Thode. The diminutive Larry Hart's gold dog tag shone on his Hawaiian shirt as he accepted handshakes and hugs from the last people leaving a reception that featured cake with whipped-cream frosting.
Hart said his program included addiction recovery and care, including two months of in-patient treatment, for military-related post-traumatic stress disorder. Among other things, he went through a victim impact class that really left an impression on him.
He said it helped that the program includes so many veterans, from the mentors to such people as Mick Wagoner of the Veterans Legal Support Network.
"One of the famous credos is never leave somebody behind," Hart said. "We have kind of a trust between us that people in the military have."
"The word family encompasses it," Thode said.
"Yeah," Hart said. "We're all one family."