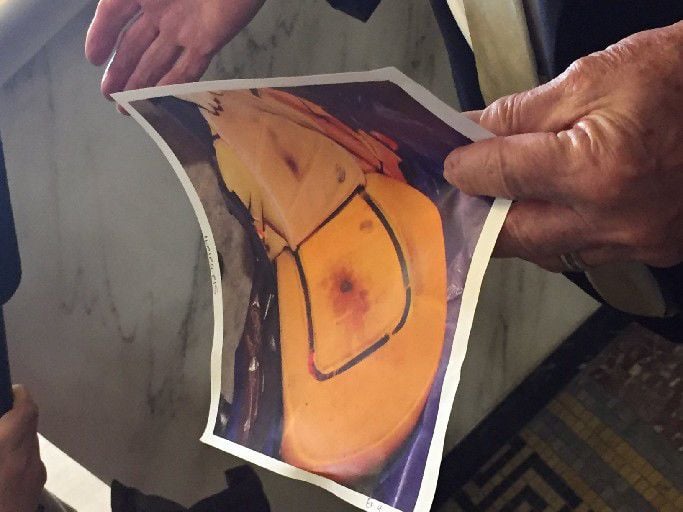 It had been four days since anyone had seen Cari Farver.
Then her mother received text messages from Farver's phone number saying her daughter had sold her furniture to a woman named Shanna Golyar.
The texts asked the mother to let Golyar into Farver's home and turned angry when the mother refused.
Prosecutors argued Wednesday that Golyar — not Farver — had sent the text messages in an attempt to conceal that she had killed Farver days earlier. Detectives think a possible motive was that Golyar grew jealous of Farver because they had dated the same man.
In a nearly four-hour preliminary hearing, three investigators unraveled a tangled web of texts and emails that they say can be traced to Golyar since Farver's disappearance on Nov. 13, 2012.
Not only did Golyar pose as Farver in the hours, months and years after her disappearance, Golyar continued to pose online as other people to cover up the apparent killing as late as last year, officials testified. Golyar sent 11 emails to authorities in February acting as another woman and confessing intimate details about Farver's slaying, a sergeant testified.
Golyar's attorney, James Martin Davis, argued that there was no evidence of a murder. Police have not recovered Farver's body or a weapon.
Douglas County Judge Craig McDermott ruled that Golyar, 41, will stand trial on a first-degree murder charge. Golyar, who was arrested in December, is being held on $5 million bail.
Officials first investigated Golyar two days after Farver's disappearance, when Farver's mother received a text and photo from her daughter's phone. The photo showed a check to Farver and signed by Golyar for Farver's furniture, testified Sgt. Jim Doty of the Pottawattamie County Sheriff's Office.
About a week before Farver's disappearance, Golyar had called Farver's home phone six times while deactivating the caller identification, according to cellphone records.
Farver, 37, had been dating Golyar's ex-boyfriend for a couple weeks, Doty testified.
On Nov. 12, 2012, Farver stayed at the boyfriend's apartment near her job at West Corp. because she left work late that evening, Omaha Police Detective Dave Schneider testified.
The boyfriend told authorities that he said goodbye to Farver before he went to work on the morning of Nov. 13. That is the last day Farver was seen by anyone, officials said.
At midday, the boyfriend got a text from Farver's number saying the relationship was finished.
The boyfriend and Golyar started to date again a month later, he told law enforcement.
For the next three years, the man received about 10,000 emails purporting to be from Farver, Doty said.
Anthony Kava, a special deputy in the Pottawattamie County Sheriff's Office, analyzed the man's email data and found that the emails purported to be from Farver would actually reply to a hidden email address that belonged to Golyar.
Kava showed the court a diagram of various email accounts, electronic devices, software and IP addresses that could all be linked to Golyar.
West Corp. considered Farver a stellar employee, but she was absent two days in November 2012 without any word, Schneider said.
A supervisor then received a text from Farver's number, two days after her disappearance, saying she had resigned and taken a job in Kansas.
"I've found a replacement for my position, her name is Shanna Golyar," Schneider testified that the message said.
Sure enough, Golyar applied for Farver's position at West Corp., according to human resources records.
Golyar's listed referral? Farver.
Golyar's listed email? The same address Kava said was hidden in emails sent to the boyfriend, purporting to be from Farver.
In a December 2015 interview with deputies, Golyar said she had met Farver only one time — briefly in the boyfriend's apartment hallway when she went to pick up some items.
Farver's debit card was used twice after her disappearance — at Family Dollar and Walmart. The Walmart purchase included cleaning supplies, winter clothing, a shower liner and a black and white shower curtain, Doty testified.
The investigator testified that he had seen that same shower curtain in photos retrieved from Golyar's Persia, Iowa, home.
Police also found cameras at Golyar's home that they believe belonged to Farver.
Authorities have not found Farver's body but say they have detected evidence of her blood in her vehicle.
Farver's 2002 Ford Explorer was found in her boyfriend's apartment complex — but next to a different building — nearly two months after her disappearance. Golyar's fingerprints were found on a tin of mints in a front cupholder of the SUV.
Davis, Golyar's attorney, said that the fingerprints could have been from when Golyar and the boyfriend were dating and that Farver later took the tin from the boyfriend.
No other physical evidence was uncovered in the vehicle until law enforcement searched again in 2016. Doty removed the front passenger seat's fabric to find blood stains on the padding.
Tests of the blood came back as a virtual match to Farver; the chances of it being anyone other than Farver were 1 in 100 billion.
Davis argued that the spot of blood didn't mean Farver had died from any injuries.
"There's no medical evidence saying that it's not menstrual blood," Davis said.
From November 2012 to August 2013, Golyar reported a handful of incidents to authorities — criminal trespassing, destruction of property and arson — and named Farver as the suspect.
Even last year, Golyar continued the deception through electronic communication, Doty said.
Golyar forwarded 11 emails to the Pottawattamie County Sheriff's Office that she claimed to have received from another woman — the ex-wife of the boyfriend. But the author was Golyar all along, Doty testified.
Sent in February, the emails purported to give details of Farver's slaying and resulting cover-up — she was stabbed multiple times in the chest and stomach, her body was burned, her vehicle was cleaned and returned to the boyfriend's apartment, the perpetrator posed as Farver in texts and emails and went to Farver's home to steal items.
Davis, Golyar's lawyer, argued to Judge McDermott that prosecutors did not present enough evidence that a murder was committed or that there was premeditation.
Davis said there was no body, no crime scene, no murder weapon, little blood and no confession from Golyar directly.
"You can't just connect all the dots from one 'if' to the next," Davis said. "Judge, there's just too many improbables here."
Deputy Douglas County Attorney Jim Masteller said Golyar benefited romantically and materially by killing Farver.
"There's a mountain of evidence showing this defendant's consciousness of guilt," Masteller said.
McDermott reviewed the case in silence for two minutes before ruling that Golyar will stand trial.
Farver's relatives in the courtroom embraced one another and shook their heads in disbelief during the hearing. Afterward they declined to comment.
In Masteller's final line of questioning to Detective Schneider, he hammered home that Farver has not been seen since Nov. 13, 2012.
Farver intended to go to her half-brother's wedding that weekend, and it was even more special because her son was a part of the celebration.
Farver had been planning a baby shower for a friend.
Farver was very close with her father and often visited him in Iowa.
She didn't make it to his funeral, nearly a month after her disappearance.
The reason, prosecutors say, was that she was dead.