It was a mixed message, but one that was welcomed by supporters of James Scurlock, a 22-year-old black man killed Saturday night by a white bar owner during protests in downtown Omaha.
Douglas County Attorney Don Kleine relented Wednesday and said he would petition the Douglas County District Court to appoint a special prosecutor and convene a grand jury to review whether charges should be brought against Jake Gardner, the former owner of The Hive and Gatsby bars at 12th and Harney Streets.
At the same time, Kleine said, he has seen additional evidence since Sunday, when he reviewed several videos and witness statements. None of what he saw would change his decision that Gardner was acting in self-defense, Kleine said.
"There have been a few things that have come in that actually, that probably (support) the nature of the decision that we made," Kleine said. "Just enhanced or made that (decision) even more strong."
That said, Kleine added: "I certainly believe in transparency and have no problem with any oversight about (our) decisions. … I welcome and support the calling of a grand jury to review evidence in this rare instance."
Afterward, Scurlock's father, James Scurlock II, thanked the community, especially black Omahans, for forcing the issue. And he thanked Kleine for listening.
Several people pushed for a grand jury after Kleine said Monday that he didn't think one was necessary. Folks even started inquiring about petitioning for a grand jury, a move that would have required about 20,000 signatures.
"I want to thank the black community for getting us this grand jury — the pressure (from) everybody," Scurlock said.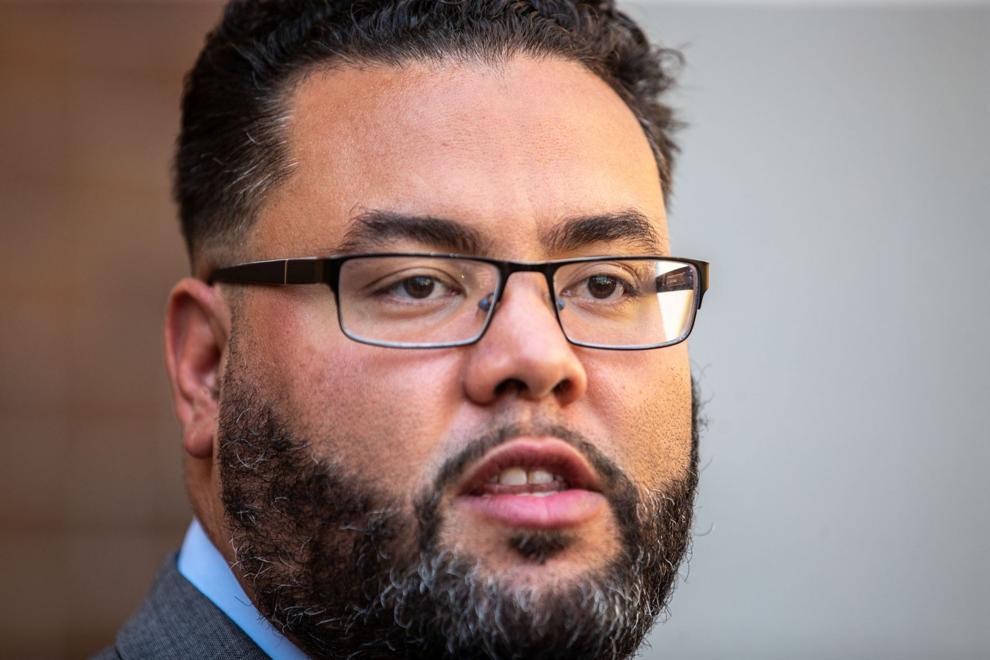 State Sen. Justin Wayne, an attorney for the Scurlocks, said it wasn't just the black community.
"The outpours, the calls, the emails were huge in this matter," he said. "And the reason it was huge in this matter is we are still having witnesses, videos and evidence coming forward. I think that played a role in this decision, and as we get a more clear picture, justice will be served for James."
Kleine said he personally will file a petition with the presiding judge for a grand jury and a special prosecutor. He noted, however, that because of COVID-19, it may be a while before the grand jury can meet.
Monday, after reviewing a handful of grainy and graphic videos and transcripts of witness interviews, Kleine announced that he had concluded that the bar owner, Gardner, acted in self- defense when he shot and killed Scurlock.
Videos of the Saturday night incident show that Gardner had confronted three men, including Scurlock, after his father twice shoved someone and then was pushed to the ground. Scurlock had not been shoved, nor had he shoved Gardner's father. Scurlock did push another man standing in front of Gardner's two bars.
Scurlock was moving forward and Gardner was backing up. Gardner lifted his shirt to show a gun and pulled the gun to his side. A woman and another man tackled him to his back in a puddle in the street. He fired two warning shots — getting the first two people who tackled him to flee.
Four seconds later, as he rose to a knee, Scurlock jumped on Gardner's back and the two went down. Scurlock placed Gardner in what authorities have alternately called a chokehold or a headlock. At the end of the 20-second struggle, Gardner fired over his shoulder, killing Scurlock.
An attorney for 40 years and a prosecutor for 30, Kleine blanched Wednesday at all the "whataboutism" going on. He responded to critics who questioned whether he would have made the same decision if the gunman were black and the protester white.
In his 14 years as Douglas County's top prosecutor, Kleine said, Omaha police have investigated 28 shootings that were ruled to have been justified, Kleine said. Of the 28, 17 blacks, 10 whites and one Latino were ruled to have fired in self-defense.
Kleine provided The World-Herald with the list of those cases. One of the 28 cases involved a black male shooting and killing a white male in self-defense. Two of the 28 cases, including Gardner's, involved white males killing black men.
In this case, 16 jurors and three alternates would meet in secret and hear evidence of whether charges should be filed. Twelve of those 16 would have to vote for charges in order for an indictment to be returned.
Wayne pointed out that details of the grand jury proceeding won't automatically become public — unless there's an exoneration and a judge decides it is in the public's interest to view a transcript and exhibits.
Wayne called on people to stop harassing the owners of the building that housed Gardner's bar, noting that they have evicted Gardner. He also called on people to stop harassing the Scurlocks; he said people have threatened them and thrown rocks at the Scurlocks' home.
Wayne told The World-Herald Tuesday that witnesses have provided accounts to Omaha police that are "game-changers." Wednesday, Wayne declined to detail those accounts because he said he didn't want to taint the grand jury.
Wayne urged Douglas County's presiding judge to appoint a special prosecutor whom "this community buys into," noting that "our community has an inherent distrust of the judicial system."
"This process is one step in the right direction," Wayne said, "one step for justice for James."
Gardner's attorney could not be reached for comment Wednesday.