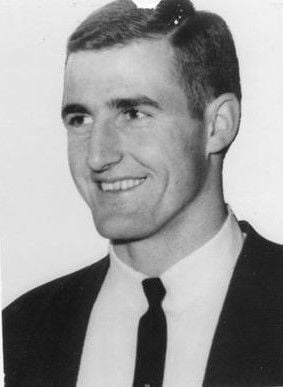 NORTH PLATTE, Neb. — The man responsible for one of the bloodiest bank robberies in Midwestern history will be released from a federal penitentiary in Leavenworth, Kansas, on Friday — but he's far from free.
Duane Earl Pope will be transferred to a prison facility in Nebraska to serve out the three life sentences he was given after a bank robbery in Big Springs more than 50 years ago left three people dead and one person paralyzed.
Pope walked into Farmers State Bank on June 4, 1965, under the guise of needing a loan. He then shot the bank employees one by one in the back and in the neck.
Duane Earl Pope was born in 1943, growing up as one of eight children on a small farm outside Roxbury in McPherson County, Kansas. He attended school in Roxbury, and by all accounts was a fairly ordinary student. He was quiet and shy; court documents said he was less of a disciplinary problem than the average boy.
He was active in extracurricular activities, including football and basketball, for four years; he played baseball and competed in track for three. He was in band, glee club, chorus and drama; he was the senior class president and a member of student council.
He enrolled in McPherson College, a denominational school in McPherson, Kansas. While he was there, court documents say, Pope was a fine athlete and an "average student."
During his last year at the college, he was co-captain of the football team and was named the all-conference defensive end. Court documents say that Pope's football coach called him "the least trouble of anybody that I had."
Except for parking tickets and a minor traffic violation, there's no evidence that Pope had run-ins with law enforcement before June 1965. According to court records and newspaper accounts, those who knew Pope were shocked to hear he was the suspect in a bank robbery that left three dead and another paralyzed.
Even more shocking was evidence that Pope had apparently been planning the robbery for quite some time. According to court documents, Pope thought robbing a bank could get him enough money to start an excavation business.
He had been working on homemade silencers for his guns and in his college's laboratory. On May 15, 1965, he bought a revolver and tested one of the silencers in his father's barn; he decided it wasn't effective.
On May 27, he purchased a .22-caliber Ruger automatic pistol and welded a coupling to it so he could attach a silencer. He also crafted himself a breastplate.
On June 2, he dropped a rifle out of an upstairs window of the farm home so he could pack it into his 1939 Buick; he'd placed the Ruger and silencer in the car earlier.
He told his parents he was heading to Oklahoma to find work, borrowed $50 from his father and left. He drove to Salina, where he spent the night before renting a 1965 Chevrolet and moving on to Ogallala. On the night of June 3, he traveled to Big Springs and drove around Farmers State Bank before returning to his hotel room, which was registered in his name.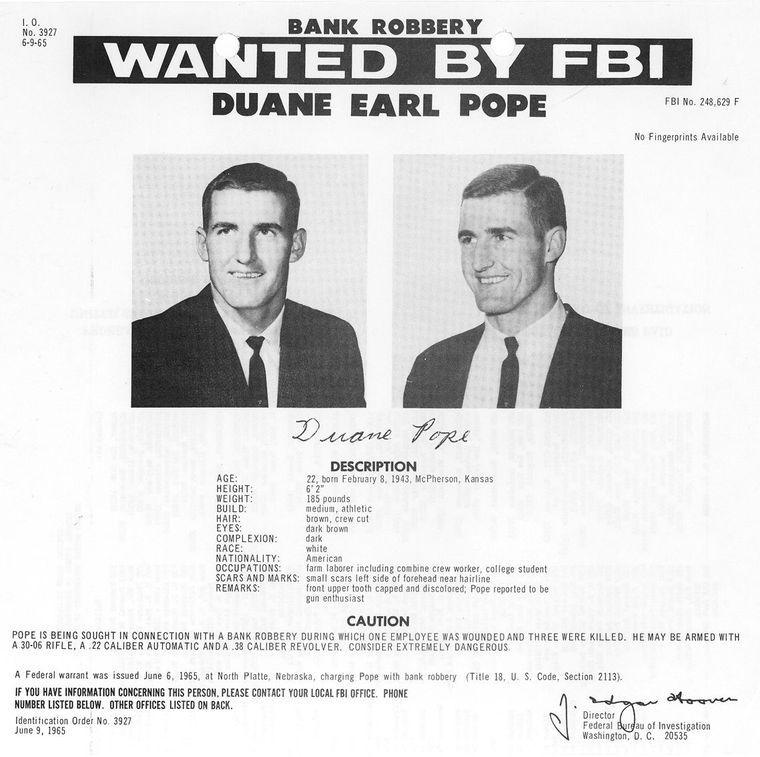 Pope woke up early on June 4. He put his gun in his briefcase and drove to Brule before turning off the highway. He checked out a back road south of Brule to make sure it would work for his getaway and removed the license plates on his vehicle.
In Big Springs, Pope passed by the little red bank once but chose not to stop after spotting customers inside. At 11 a.m. he drove by the bank again, seeing only employees.
Court documents say Pope parked, grabbed the briefcase containing the Ruger and silencer, and walked into the bank. Because it was nearly lunchtime, the bank was quiet.
He spoke to bank President Andreas Kjeldgaard, casually inquiring about a land development loan. Kjeldgaard told Pope the bank didn't make such loans and went to retrieve a telephone book so he could give Pope the number of a bank that did.
Pope walked around the counter. He drew the gun and told Kjeldgaard to fill the briefcase with money. Kjeldgaard's 25-year-old nephew and bank employee Franklin Kjeldgaard came to assist his uncle. They removed money from the cash drawer and loaded it into Pope's briefcase.
Pope ordered bookkeeper Lois Ann Hothan to retrieve money from the vault. She reportedly walked into the vault, retrieved some one-dollar bills and put them in the case. A cashier, Glen Hendrickson, was sitting at a table watching the robbery play out.
Pope ordered all four employees to lie on the floor face down. He stood behind Andreas Kjeldgaard, pressing a gun to his back and pulling the trigger. He shot him again in the head.
Pope's gun jammed. He unjammed it quickly, then shot each of the remaining bank employees twice, once in the back and once in the head or neck. Andreas Kjeldgaard, 77, Hendrickson, 59, and Hothan, 35, died instantly. Franklin Kjeldgaard, 25, survived and remained conscious throughout the ordeal. Court records say he heard and saw everything that took place.
Pope walked out of the bank, saying "good morning" to another customer as he passed.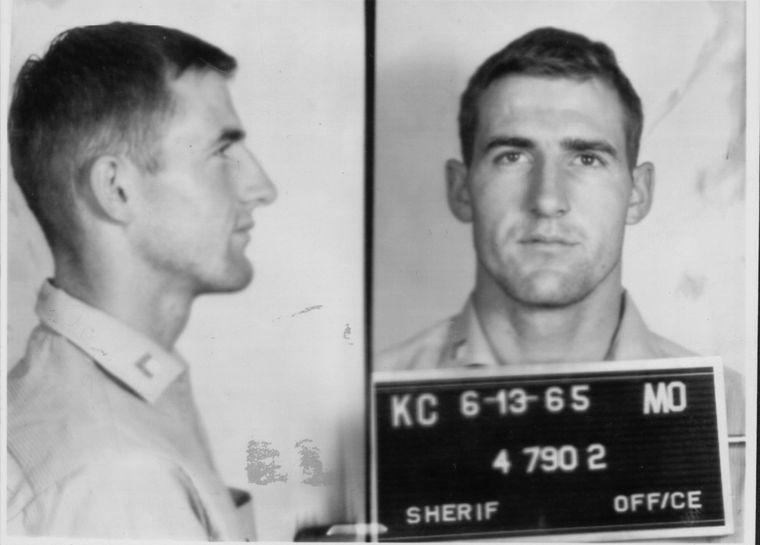 Franklin was able to sound an alarm. He was paralyzed for the rest of his life but eventually returned to work at the bank.
Pope drove to the main highway and then the back road south of Brule. He unscrewed the silencer from the Ruger and threw it out the window; farther down the road he got out and threw his gun into a field. It was later found by the FBI.
He arrived at the hotel he'd stayed at in Salina a few nights before and checked in using his real name. He returned the Chevy and picked up his Buick, then returned to the family farm, where he left a note and $150 — $50 to cover the loan from his father and $100 to deposit into his bank account.
He abandoned his Buick in Wichita and boarded a bus to Oklahoma, then a plane to Texas and another bus to San Diego. He arrived in California on June 6 and placed his money and another gun in a storage locker before heading to Tijuana, Mexico, where he attended a bullfight. He returned to San Diego and booked a hotel room under a false name.
On June 7, while purchasing a new car, Pope saw a newspaper and read about the robbery in Big Springs. Not long after the purchase, the car broke down, forcing him to buy a bus ticket to Las Vegas.
Pope gambled and enjoyed himself until June 10, when he picked up a newspaper with a message from the president of McPherson College.
"We suggest and urge that you give yourself up to the proper police authorities at once," Dr. D.W. Bittinger wrote, addressing Pope.
Pope bought a plane ticket June 11 and flew to Kansas City, Missouri. In the meantime, he had been added to the FBI's Top 10 Most Wanted list.
He checked into a hotel room under a fake name, called Bittinger and told him he was going to turn himself in. He then called Kansas City police. Pope told them where he was and reportedly said, "I'm tired of running. I want to surrender."
When authorities arrived, the hotel room door was open and he was waiting for them. He was cooperative and calm. They told him he didn't need to make any statements and he simply said, "I know about that stuff."
He was taken to the Kansas City police station, where he was immediately turned over to the FBI. Two agents asked Pope if he was aware that three people had been killed in the robbery; he said he was. They asked if he realized the person responsible could be given the death penalty; he said he did.
Pope gave the police two confessions.
He told authorities, "My plan was to rob the bank and then kill everyone in the bank so they would not be alive to identify me as the robber." He said he'd planned to rob the bank the day before but arrived after the bank was closed. He said he shot each person twice to ensure they were dead.
During Pope's interrogation, he allegedly told police that he committed the crime because he was in debt for around $1,300; he stole $1,598.
Pope was extradited to Nebraska and tried in U.S. District Court in Lincoln in 1965. His lawyers, including Robert Crosby — a former governor and North Platte native — claimed that Pope was insane. They told the court he had a "schizoid personality."
They said that Pope was victimized by the disease and that stress had propelled his mind into a "make-believe" world where he was playing a game of "cops and robbers."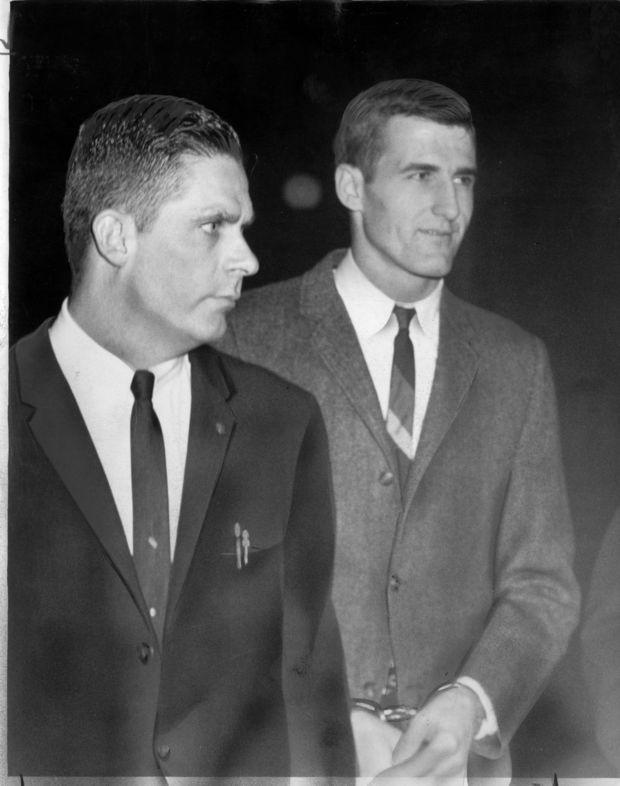 Pope was ruled competent to stand trial. Throughout December 1965, the jury heard from prosecutors and defense lawyers.
The jury deliberated for 14 hours.
Back in court, Pope didn't move; his mother began to sob and his father covered his face as the verdict was read: "Guilty."
Judge Robert Van Pelt told Pope, "The punishment of death shall be inflicted upon you by causing to be passed through your body, Duane Earl Pope, a current of electricity of sufficient intensity to cause death, and the application of such current shall be continued until you, Duane Earl Pope, are dead."
Additionally, Pope was sentenced to 20 years for robbing a bank insured by the FDIC, 10 years for transporting money taken in a robbery and 25 years for assaulting and putting in jeopardy the life of a person with a gun.
In 1968, it was determined that he was sentenced to death under a defective federal statute and he was resentenced to life in prison.
In 1970, Pope was tried by the State of Nebraska and was found guilty of three counts of first-degree murder and one count of shooting with intent to kill, wound or maim. For a second time, he was told he would lose his life.
In 1972, his sentence was commuted to life in prison as part of a U.S. Supreme Court ruling that the death penalty, as it was practiced then, was unconstitutional.
He was put in federal prison, where he awaited federal parole; it was recently granted, effective July 1.
On June 24, Deuel County Attorney Joel Jay applied for a transportation order to have Pope moved to Nebraska. After Pope's release from Leavenworth, he will be transferred to the Diagnostic and Evaluation Center in Lincoln so he can begin serving the three life sentences handed down to him in the State of Nebraska vs. Duane Earl Pope. He is now 73 years old.
My plan was to rob the bank and then kill everyone in the bank so they would not be alive to identify me as the robber."