A Marine from Nebraska who tried to enter Offutt Air Force Base last May with firearms and ammunition in his truck has been sentenced to three years in a military prison.
Pfc. Ali Al-Kazahg, 22, of Milford pleaded guilty to charges of unlawful possession of firearms, fraudulent enlistment and making false official statements. The move was part of a plea bargain during a court-martial Tuesday at Marine Corps Base Hawaii, where he is stationed.
Al-Kazahg's sentence also includes a bad conduct discharge and reduction to the lowest enlisted rank, said Capt. Eric Abrams, a Marine Corps spokesman. He will receive credit for 288 days he already has served.
Sign up for World-Herald news alerts
Be the first to know when news happens. Get the latest breaking headlines sent straight to your inbox.
The fraudulent enlistment charges resulted from information Al-Kazahg withheld when he joined the Marines in September 2017, including a previous arrest, suspension from school and being fired from a job, Abrams said.
The false statements stem from "purposefully misleading government officials" in his chain of command and at Offutt, he said.
Al-Kazahg was home on leave visiting family when he was arrested May 31 at Offutt's Capehart Road gate. Security officers searched his truck and found two semi-automatic rifles, a pistol, a silencer, a bump stock, a vest with body armor and a case of ammunition.
The type of equipment security officers found in his truck initially led them to fear Al-Kazahg might have been planning an assault at the base or elsewhere, but military authorities did not charge him with terrorism-related offenses.
He had been flagged at the gate because of a "be on the lookout" bulletin issued by Nebraska law enforcement authorities after he allegedly made threats to shoot up his barracks in Hawaii.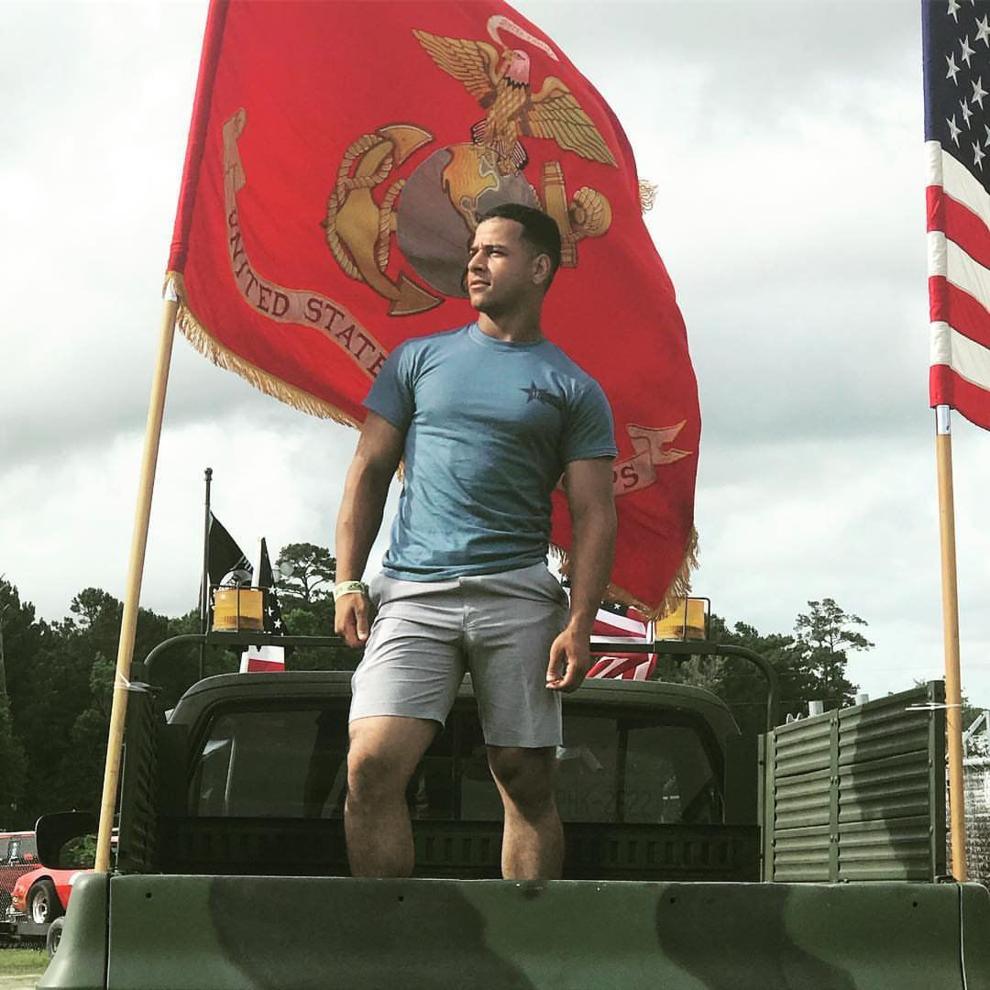 The bulletin, obtained by The World-Herald, also said he had been reported for "suspicious activity" and cited a 2016 assessment by the Lincoln Police Department that he was "dangerous, has an infatuation with guns and violent acts, and has a dislike for law enforcement."
Al-Kazahg's sister, Nedhal Al-kazahy of Lincoln, said he was planning to work out at Offutt's gym when he was stopped and had "zero intentions" of causing harm.
Al-kazahy said her brother was born in Michigan to parents who were refugees from Iraq. Their names are spelled differently, she said, because of a mix-up on a birth certificate.
She said he and his six siblings were raised primarily in foster care in Omaha and Lincoln, though they remained close to their parents. Their father died several years ago. Their older brother was killed in a shooting in 2012.
Al-kazahy said her brother moved in with a family near Milford when he was about 16 years old and played high school football there. After graduating, he studied criminal justice at Southeast Community College and worked briefly as a Nebraska correctional officer in Lincoln before joining the Marines.
She said his parents and some of his siblings are Muslim, but Al-Kazahg converted to Christianity while living with his foster family.
Al-kazahy said she thinks he was victimized by the Marines and targeted for prosecution because of racism.
"No matter what you do in life, if you are a person of color it's always going to be 10 times harder for you," she said. "You have to work 10 times harder than the person who is white."
The Marine Corps said in a statement that an investigation found the accusations of discrimination to be unsubstantiated.
"The Marine Corps does not tolerate racism or bullying and expects all Marines to act in a professional manner, maintain an atmosphere of dignity and respect, and ensure an environment free from discrimination, harassment, and assault," the statement said.
Most military bases don't permit any carrying of personal firearms on base. In September 2018, Offutt's 55th Wing did begin allowing military and civilian workers with concealed-carry permits to bring locked, unloaded weapons on base as long as they were left in vehicles.
This report includes information from the Associated Press.