LINCOLN — Reuel Van Ness and Maynard Helgeland died almost 39 years ago in Omaha, each of their lives cut short by three bullets.
On Tuesday, Nebraska executed their killer, Carey Dean Moore. The state used four drugs to carry out its first execution in 21 years and its first by lethal injection.
Moore, 60, had served 38 years on death row for the 1979 killings of Omaha cabdrivers Van Ness and Helgeland.
The two were shot five days apart as Moore targeted cabdrivers because he knew they carried cash. Both men were 47 years old, fathers and military veterans.
Corrections Director Scott Frakes said the first of four execution drugs was administered at 10:24 a.m. The Lancaster County coroner declared Moore dead at 10:47 a.m.
Frakes said the execution was carried out with "professionalism, respect for the process and dignity for all involved."
The scene outside the Nebraska State Penitentiary, where the execution occurred, was subdued on Tuesday morning amid on-and-off rain. About a dozen death penalty opponents prayed outside the prison; only three capital punishment proponents attended. Many more state troopers and media members stood nearby.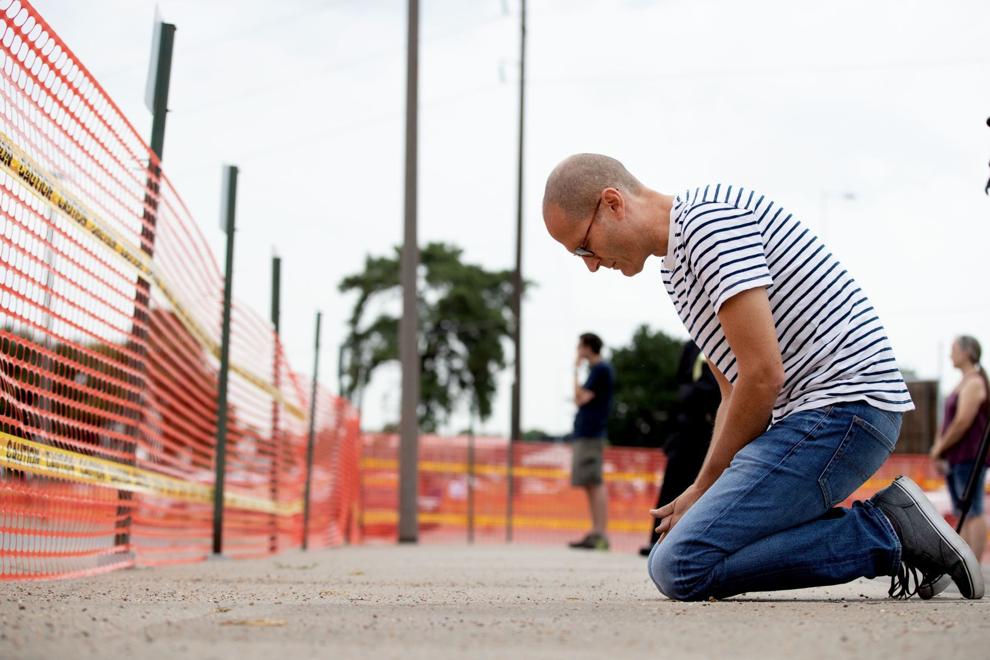 Gov. Pete Ricketts, who helped lead an effort to overturn a 2015 repeal of the death penalty by the Nebraska Legislature, spent the morning in a meeting with state agency officials.
"Today, the Nebraska Department of Correctional Services carried out the sentence the court ordered in accordance with the will of the people of Nebraska," Ricketts said in a prepared statement. "The death penalty remains a critical tool to protect law enforcement, corrections officers and public safety."
Outside the governor's mansion in Lincoln just after the execution, a handful of protesters stood in the rain, one carrying a sign reading: "Ricketts has blood on his hands."
Among the death penalty supporters who came to the prison were Vivian Tuttle, whose daughter was slain inside a Norfolk bank in 2002. "I'm here to support the victims," Tuttle said. "That's the ones I have to stand for."
Standing with her was Pierce County Sheriff Rick Eberhardt, who, along with Tuttle, collected hundreds of signatures in support of restoring the death penalty in 2016.
Tuttle's daughter, Evonne Tuttle, was one of five people killed in a bank robbery in Norfolk on Sept. 26, 2002. Evonne Tuttle, a single mother, went to the bank in Norfolk to cash a $64 check.
Three gunmen from the robbery — Jose Sandoval, Jorge Galindo and Erick Vela — all are on death row.
"I think it's important that we have voices that still say it's important that we stand for the death penalty. And for the families of victims," Tuttle said.
Moore — who had served the longest time on Nebraska's death row — was led to the execution chamber at 10 a.m. After he was strapped to the execution table, he mouthed the words "I love you" multiple times toward his official witnesses, including a brother and a niece.
His final words were delivered in a handwritten statement: He hoped that lawyers could get his younger brother, Donald, released from parole, and he urged death penalty opponents to pursue claims of innocence by four others on Nebraska's death row.
Moore also expressed regret in the letter that he hadn't led the younger brother "in the right way ... instead of bringing him down." Donald Moore, then 14, came along when Carey, 21 at the time, said he was going to rob a cabbie 39 years ago.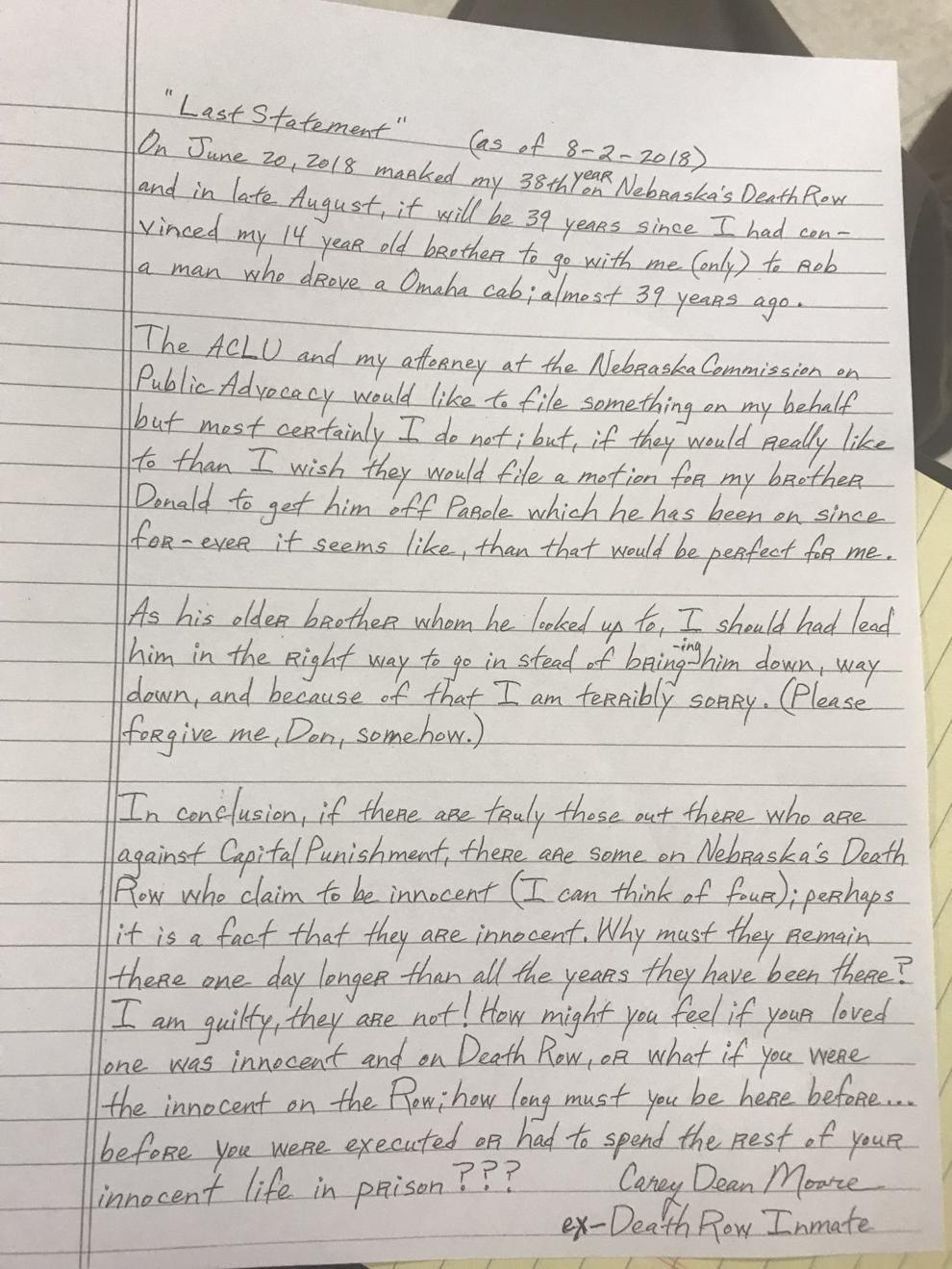 "I am terribly sorry. Please forgive me Don, somehow," Moore wrote.
Steve Helgeland, the youngest son of slain cabdriver Maynard Helgeland, said he was bothered that Moore expressed no remorse for the murders in his final statement.
"I was a little frustrated and angry that he couldn't even apologize," he said.
Although not in his final statement, Moore did express sorrow for killing Helgeland and Van Ness in a message shared by his minister at a Tuesday evening rally. Pastor Bob Bryan, a Lutheran minister, said the message had been written in July.
"I marvel at how God is able to work in hearts that has been forced to grapel [sic] with pain and anger, all because of what one man (me) had done — murdering two men. I am so sorry for what I had done to these families, even more than anyone can imagine," Moore wrote.
"I am thankful for God's forgiveness for my actions and my sins, and I pray these families will forgive me somehow; it is easy to cause hurt but it takes great strength to forgive," he continued.
Steve Helgeland and his brother, Kenny, traveled from their homes in South Dakota to be inside the penitentiary when the execution took place, although neither man wanted to witness it.
"We were there just to honor Mr. Van Ness and our father," Steve Helgeland said.
Photos: Scenes from around Carey Dean Moore's execution at Nebraska State Penitentiary
Scenes from in and around the Nebraska State Penitentiary in Lincoln, Nebraska, on Tuesday, August 14, 2018 where Carey Dean Moore was the first person in Nebraska to be executed by lethal injection. Carey Dean Moore, 60, has served for 38 years on death row for the 1979 killings of Omaha cabdrivers Reuel Van Ness and Maynard Helgeland.​ 
The four official news media witnesses to the execution said that Moore's face gradually turned slightly red, then purple, as the four drugs were administered. The execution was the first using the four drugs obtained by Nebraska, over legal objections by death penalty opponents and some drug manufacturers.
The curtain to the execution chamber was lowered at 10:39 a.m. after the fourth drug was administered. The curtains reopened 14 minutes later after Moore was pronounced dead.
World-Herald staff writer Joe Duggan, one of the media witnesses, said that Moore appeared slightly shaken when the death warrant was read to him before the execution.
Duggan called the execution "a monumental day" after the many debates in the state over capital punishment. The death penalty was restored by voters in 2016 by a 61-39 percent margin after a petition drive, in large part funded by Ricketts, placed the issue on the ballot.
In a statement, Nebraska Attorney General Doug Peterson said, "Our sympathy is extended to the families of Reuel Van Ness and Maynard Helgeland for the loss of their loved ones nearly 39 years ago. Today's somber event serves to provide a measure of closure for what has been a lengthy enactment of justice."
Nebraska has now carried out 38 state-sanctioned executions. Moore was put to death using a previously untried four-drug combination of diazepam, fentanyl, cisatracurium and potassium chloride.
He is the first inmate executed using the drug fentanyl, a powerful narcotic painkiller that has contributed to the nation's epidemic of drug overdoses. He was put to death despite two federal lawsuits filed last week by drug companies seeking to keep their products from being used.
The state's last execution before Tuesday took place in 1997, when the electric chair was the method. Lethal injection was adopted in 2009 after the State Supreme Court outlawed electrocution as cruel and unusual punishment.