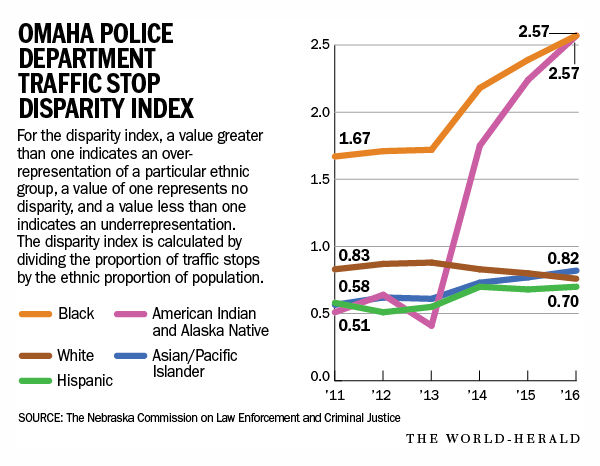 Nebraska law enforcement agencies continued to report racial disparities in traffic stops in 2016.
In Douglas County, for example, black drivers accounted for 28.5 percent of traffic stops by all local agencies, though blacks represent 11 percent of the county's population.
Meanwhile, whites accounted for 56 percent of Douglas County stops and 71 percent of the population.
Similar disparities have shown up for years.
The latest data from the annual report, provided by law enforcement agencies to the Nebraska Crime Commission as required by law, break down traffic stops by race, reason for the stop, outcome and whether officers conducted searches.
A criminology professor at the University of Nebraska at Omaha said the numbers don't provide insight into the appropriateness of an officer's actions because the circumstances of each stop aren't detailed.
"The outcome doesn't really tell us if it was proper behavior," said Colleen Kadleck, an associate professor in the School of Criminology & Criminal Justice at UNO.
Additionally, Kadleck said, officers might not be able to see who the driver is before they pull over a car — particularly at night. But those variables aren't reflected in the data, she said.
Still, Danielle Conrad, executive director of the ACLU of Nebraska, said the report raises important questions.
"Racial disparities result from disparate treatment of people of color at every stage of the criminal justice system, including stops and searches, arrests, prosecutions and sentencing," she said. "We know that Nebraska law enforcement officials have a difficult job, but it does not help anyone to ignore race in working to improve police practices and strengthen community relationships."
The Nebraska State Patrol made 40 percent of the roughly half-million stops in Nebraska in 2016. Omaha and Lincoln Police Departments each stopped about 10 percent of the total amount.
Black drivers were overrepresented in traffic stops by Omaha and Lincoln police, while the majority population of whites was slightly underrepresented.
The crime commission report noted that the racial disparities cannot "prove bias or instances of racial profiling," but that agencies can use the information to understand why the disparities exist.
Omaha Police Lt. Darci Tierney, a department spokeswoman, said the senior staff in the Police Department regularly evaluates the statistics, makes adjustments when needed and checks for officers who make the most traffic stops — "noting comparisons on crime rate, staffing levels, calls for service and complaints on biased-based profiling."
"We utilize an early-warning tracking system that assists with monitoring potential concerns and allows for supervisory intervention when needed," she said.
The report said two agencies reported a total of three allegations of racial profiling — the lowest number since 2006 — which the agencies investigated internally. In each case the officer was exonerated or the allegations were unsubstantiated.
In Omaha, traffic stops for all drivers led to more searches and more arrests in 2016 than in past years. Roughly 47,000 traffic stops were conducted by Omaha police that year. Of those, 6.5 percent led to searches and 23.1 percent of the stops included arrests.
Five years ago, searches occurred in 1.2 percent of stops, and arrests were an outcome in 19.2 percent, according to the data Omaha police submitted.
Kadleck said she would like to know what percentage of searches resulted in an arrest and would like more data to fully evaluate the statistics.
"I would want more information to understand these situations, either from the perspective of the car being pulled over or the perspective of police," she said.
Nearly 200 law enforcement agencies gave the commission their 2016 data on traffic stops — about 40 more than in 2015 — covering 98 percent of the state's population. Only 23 agencies in sparsely populated areas did not submit information.