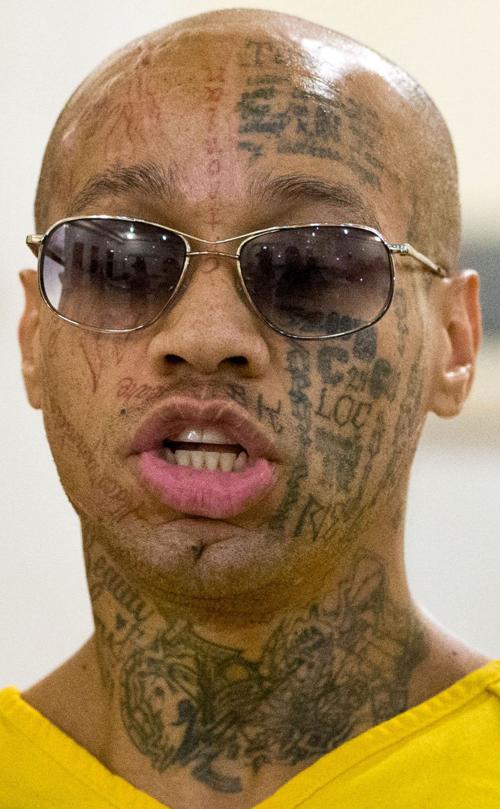 Quadruple killer Nikko Jenkins will learn his fate May 30.
A three-judge panel — Judges Peter Bataillon of Omaha, Mark Johnson of northeast Nebraska and Terri Harder of western Nebraska — will announce whether Jenkins will receive the death penalty or life in prison for a 10-day killing spree after his release from prison in 2013.
Douglas County Attorney Don Kleine pushed for the death penalty. Jenkins' attorney, Douglas County Public Defender Tom Riley, argued that the state should not execute a mentally ill man.
Experts disagree on whether Jenkins suffers from a treatable mental illness or is anti-social and concocts tales of hearing voices that told him to kill.
Following a 10-year prison sentence —more than half of which he spent in solitary confinement — Jenkins was released July 30, 2013. Just before his departure, he had begged to be released to a mental health facility for what he claimed to be schizophrenia and psychotic disorders.
Less than a month later, four people were dead.
Jenkins killed Juan Uribe-Pena and Jorge Cajiga-Ruiz on Aug. 11, 2013, Curtis Bradford on Aug. 19, 2013, and Andrea Kruger on Aug. 21, 2013. Of the four, Jenkins knew only Bradford.
Riley pointed to psychiatrists' reports that explore whether Jenkins' suffered from mental illness as far back as age 8.
"To suggest that an 8-year-old would feign mental illness strains credulity beyond all belief," Riley wrote. "The (state's) clear agenda was to keep Mr. Jenkins in solitary confinement because he was too dangerous to the prison population and guards, ignore warnings from their own mental health professionals about his dangerousness ... literally hide evaluations of Jenkins ... and then shove him out the door.
"Through their unconscionable use of solitary confinement, they created a situation where the condition of a severely mentally ill man was made far worse."
Kleine countered by questioning what choice prison officials had but to separate the dangerous and deceptive Jenkins from the rest of his fellow prisoners.
Kleine noted a letter written by one inmate who begged prison administrators to stop giving in to Jenkins' manipulative demands. The inmate wrote: "I do not believe I've ever seen a more disruptive, a louder, a more hostile inmate in my 12 years of incarceration."
In turn, Kleine urged the judges to reject the idea that Jenkins was a monster created by the state prison system.
"The majority of time Defendant has spent in restrictive custody is a direct result of his own manipulation and violent tendencies," Kleine wrote. "These (mental health) evaluations are replete with findings that (Jenkins) simply feigns mental illness to get what he wants while being held in custody or to gain advantages throughout legal proceedings.
"Even if the Sentencing Court gives some weight to mitigation factors surrounding Defendant's mental health, those factors do not in any way outweigh the intentional and calculated actions by Defendant in each of these murders."
Jenkins was convicted April 16, 2014, after pleading no contest to all charges against him, including four first-degree murder counts.
The three judges met last week to deliberate Jenkins' fate. Bataillon is expected to announce the decision at 11 a.m. May 30.