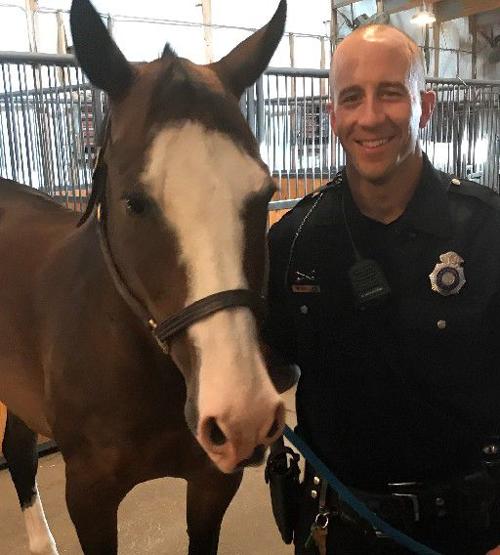 One of Omaha's finest is headed out to pasture. Literally.
Omaha police officers on Thursday gave Blaze, an 18-year-old horse with the Police Department's mounted patrol, a retirement party at the city's equine facility, 615 Leavenworth St.
Blaze, known as the steadiest of Omaha's patrol horses, was feted with carrots and apples topped with whipped cream on a bale of hay.
Typical of his blue-collar attitude, Blaze seemed to enjoy the hay best.
"He was a rock for us," said Officer Nathan Waller, who rode Blaze.
"There was not really a whole lot that could scare him. He'd be the strong horse that the other horses would look at in a crowd and know they were going to be OK," Waller said.
Tender hooves are behind the retirement, Waller said. Blaze has had some hoof ailments that are exacerbated by patrolling on pavement.
Waller's parents, who live near Toledo, Ohio, will take Blaze to live with them on their acreage. Another horse on the property will provide companionship.
"We wanted to give him an early retirement so he can walk on grass, heal up and enjoy himself," Waller said. "We want him to be comfortable."
Blaze came to the mounted patrol three years ago from his home in Ashland. He and another horse were donated to the Police Department.
"We kind of thought the other horse would do the best, but he washed out," Waller said. "Blaze steadily progressed through all the training and became a really solid worker."
During his time with the horse patrol, Blaze worked many of the city's biggest events, including the College World Series, Septemberfest, Cinco de Mayo and the Bank of the West Memorial Park concerts.
"He was really good with people," Waller said. "He would kind of act a little standoffish at first as if he didn't want the attention, but he'd warm up to it. He liked the kids."
One of his biggest honors with the horse patrol was being chosen as the riderless horse for Officer Kerrie Orozco's funeral procession in 2015.
"He's very intelligent," Waller said. "When he first came in here, we noticed that and talked about it. He's done everything we asked and done it well."