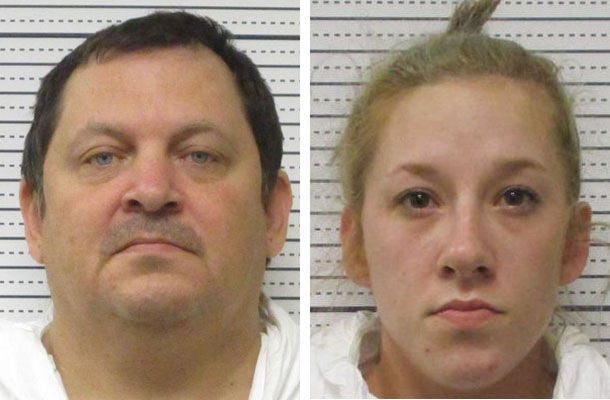 WILBER, Neb. — Aubrey Trail was combative, often veering off the subject and inspiring comments of "bulls---" more than once from his FBI interrogators.
But in a three-hour videotape played Friday, Trail laid out his gruesome version of the slaying of Sydney Loofe.
Trail, in a June 11, 2018, interview with two FBI agents, told his oft-repeated story that Loofe, a 24-year-old Menards clerk from Lincoln, willingly agreed to participate in a staged sexual fantasy with him and two other women he refused to identify.
He said Loofe had complained about money problems and had accepted $5,000 for her role. Trail said that she knew it would involve rough sex, but that she was accidentally strangled with an electrical cord.
"It was too many times, too long," Trail told the investigators at one point. "I let a fantasy go down that I knew, when it was set up … that it had the potential for going bad."
He said he'd been paid $15,000 for the fantasy by the two women, and let it happen "because I was greedy."
Other new details emerged during the video statement, the first time jurors got to hear Trail's account during the trial.
Trail, a 52-year-old ex-convict, is charged along with Bailey Boswell, his 25-year-old girlfriend, with first-degree murder in the slaying and dismemberment of Loofe. Both face the possibility of the death penalty if convicted.
Loofe's remains were found Dec. 4-5, 2017, scattered along country roads near Edgar, Nebraska, and wrapped tightly in black plastic trash bags.
Trail, in the videotaped interview played Friday, said that Loofe's body was deposited in Clay County, Nebraska, because a cemetery there was "a special place" in his beliefs. He added that the body parts were located in a certain way along the road ditches to speed her "incarnation."
"I don't believe in the God you believe in," he told the two agents, as they questioned Trail in an interrogation room at the Saline County Jail.
Trail's story about the intentional placement of Loofe's remains doesn't match previous testimony by law enforcement officials, who have said the body parts appeared to be randomly tossed in ditches. There has been no mention of any cemeteries in Clay County, or any searches there, in prior trial testimony.
Trail, who had an antique business with Boswell and was convicted last year with her of scamming a Kansas couple out of $400,000 in an antique deal, revealed on the tape that he had a second occupation — conducting "hardcore" sexual fantasies for people whom he contacted over the Internet.
He said he got paid up to $30,000, and once staged a fantasy for a woman from Alabama who came all the way to Wilber.
"Everything in the world is based on money," Trail said, boasting that his life was "money, sex and women."
He rejected the suggestion that Loofe was forced to participate.
"It's always been, 'I'll pay you this much money. This is what you have to do. Yes or no,' " Trail said.
He added that another woman, a prostitute, was to participate in the choking fantasy but had backed out, which led him to suggest it to Loofe.
Sign up for The World-Herald's afternoon updates
Receive a summary of the day's popular and trending stories from Omaha.com.
The agents, Mike Maseth and Eli McBride, expressed disbelief at some of Trail's comments, told him to get back on the subject of Loofe's slaying and pressed him on how Loofe's body could have been cut up "without a huge mess."
After several minutes passed, Trail said that he had drained Loofe's body of its blood, and deposited the blood and her "soul" in a place that law enforcement had not located.
"I'm a low-down piece of s---, a monster, whatever," he said during the interrogation. "But I'm not giving anyone up."
That included the two unidentified women whom he said had paid for the sexual fantasy involving Loofe. In it, he said, Loofe was supposed to be brought "to the brink" of death during sex.
"My job was to keep the monsters in the cage," he said of the fantasies.
"I'm not per se lying," Trail said at one point during the videotape. "Am I covering some people's tracks? Yes. Am I going to make it easy for you? No."
Trail, after being pressed by the FBI agents, denied that Loofe's heart was removed as the body was cut up. But that led to his dissertation on his "belief system," including that everyone who was there when Loofe died had to leave "something they liked" — which included a sex toy — with the body parts as part of an "apology."
Trail also, more than once, maintained that he alone was responsible for Loofe's death, and that Boswell was not present when Loofe died. Trail claimed that Boswell was later forced to help cut up and dispose of the body.
Jurors stared with troubled looks at the video as it played on three screens. Loofe's mother left the courtroom at one point.
The mood in the courtroom Friday was by far the most somber during the trial, and this was after photographs of the body parts were shared with jurors earlier in the week.