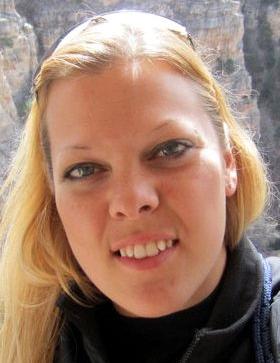 The Omaha police union and Omaha's police chief expressed their opposition to the sentence given to the buyer of the gun used to kill Omaha Police Officer Kerrie Orozco.
A federal judge in Atlanta on Monday sentenced Jalita Johnson, 26, to one year of probation for lying when she bought the gun in April. Johnson bought the Glock semi-automatic handgun, plus a 50-round drum magazine and ammunition, from a pawnshop in Jonesboro, Georgia.
Johnson replied "yes" to a question on a form asking whether she was the actual buyer of the gun.
Prosecutors said Johnson's boyfriend, Marcus Wheeler, a felon, gave her money and told her what to buy.
Wheeler, 26, fatally shot Orozco on May 20 when he opened fire on officers trying to arrest him.
He fired nine rounds from the handgun and struck Orozco once. Wheeler was killed when Sgt. Jeff Kopietz returned fire.
In August, Johnson pleaded guilty to providing false information to a federally licensed firearms dealer. In addition to the probation term, U.S. District Judge Eleanor L. Ross sentenced Johnson to 40 hours of community service and 180 days of house arrest.
The Omaha police union, in a posting on its Facebook page, said federal authorities "failed" by not sending Johnson to prison. Union members "cannot begin to express the amount of anger, frustration, and sadness this news brings to us," the union said in the post on Facebook. The union added that the court could have sentenced Johnson to 10 years in prison and up to a $250,000 fine, "But instead they chose to let her walk freely among the citizens."
Omaha Police Chief Todd Schmaderer issued a statement Wednesday morning, saying he was disappointed in the court's decision. An illegal straw purchase such as the one Johnson made "is a well-documented manner in which violent offenders obtain their firearms," he said. "Straw purchases are a link to the gun violence that has damaged our community 'over and over' and the court missed an opportunity to make a bold statement."
The Omaha Police Department traced the purchase of the gun to Johnson, a resident of Jonesboro.
Agents from the federal Bureau of Alcohol, Tobacco, Firearms and Explosives went to Johnson's house to interview her on May 22, two days after the Omaha shootout. She first told ATF investigators that someone who had been staying with her took the gun, court documents said. Upon further questioning, court records said, Johnson admitted she bought the gun for Wheeler, her boyfriend. She said Wheeler lived out of state and visited her, but she had not talked to him in three days.
Authorities returned to Johnson's home to record a follow-up interview on June 3. Johnson again admitted to buying the pistol, ammunition and magazine for Wheeler, court documents said.