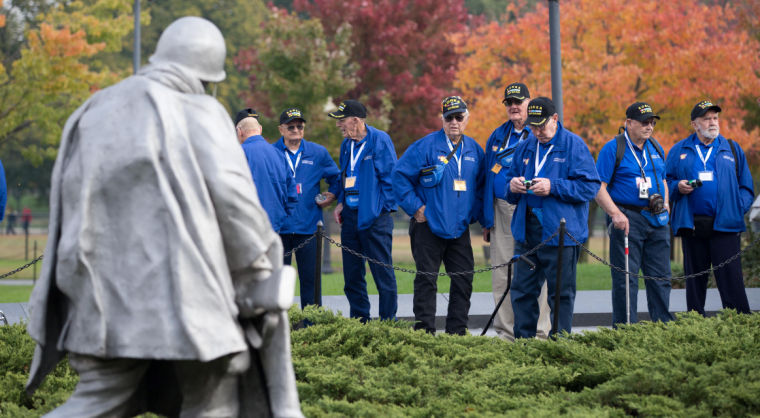 WASHINGTON — Ted Hubbard read this week that Nebraska Honor Flight organizers were looking for $200,000 to continue bringing the state's Korean War veterans to the nation's capital.
"I said, 'I've got that much, and I'm willing to do it,' so I just went ahead and did it," the South Bend, Neb., investor told The World-Herald Friday.
He added that it's not actually his own funds he's donating. Rather, he manages money left by his late parents, through the Theodore F. and Claire M. Hubbard Family Foundation.
If the Hubbard name sounds familiar, it should. Their money has gone to support causes around Omaha with an emphasis on scientific endeavors. That includes the University of Nebraska Medical Center and the Henry Doorly Zoo & Aquarium.
Visitors to the zoo enjoy the Hubbard Gorilla Valley and the Hubbard Orangutan Forest and there is even a "Claire's Falls" sign at the waterfall in honor of Ted's mother.
Hubbard said he has a particular interest in the Korean War because both of his parents were drafted into the Army at that time, although neither was sent to Korea.
His mother, a dietitian, and his father, a cardiologist, worked at Walter Reed Army Medical Center in Washington.
"My mom was on the team that helped President Eisenhower recover from his heart attack," Hubbard said.
Hubbard said he has known honor flight organizers Bill and Evonne Williams for years.
Bill Williams was excited when Hubbard called about the contribution on Friday, the day after a $90,000 contribution by a donor who wished to remain anonymous.
People from across the state also have been calling about sponsoring an individual veteran at a cost of about $800 each.
"It's unbelievable," Williams said. "For some reason, it just touches people to see these guys in their twilight years get such a wonderful experience."
Williams' plan is to bring more than 300 veterans on two 757s to Washington in early April. While this week's large donations should cover most of the cost of that trip, Williams encouraged people to continue donating.
More veterans could sign up in the months ahead, which might require additional funding for another flight. If any money is left over, it will go to a worthy cause, Williams said.
He noted that about $40,000 in leftover funds from earlier World War II honor flights was donated to the VFW.