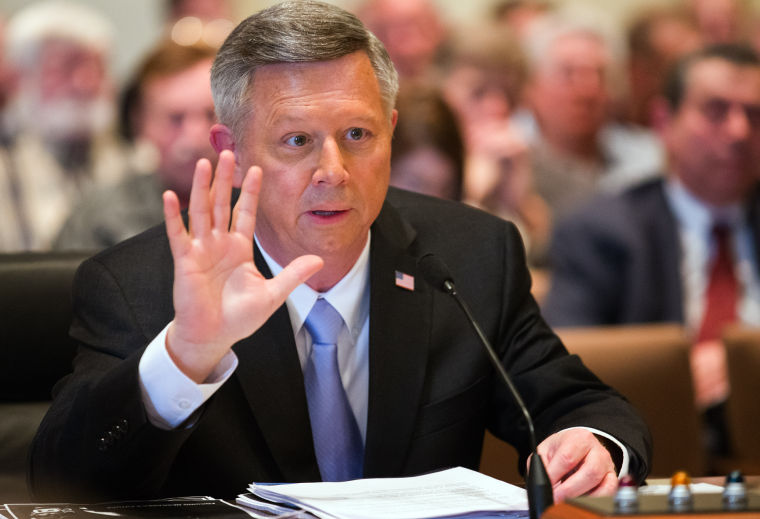 LINCOLN — Gov. Dave Heineman signaled Wednesday that he's willing to include property tax relief in a comprehensive plan next year to lower the tax load on Nebraskans.
"Taxes are too high in Nebraska. I hear it every day," the governor said at a morning press conference.
Heineman displayed a handful of posters at the event that indicated Nebraska's property tax load is 13th highest in the nation, and that state income taxes rank in the top 15. That makes the state uncompetitive in attracting high-paying jobs, he said.
He called on the State Legislature to work with him to pass a "balanced" plan of income tax cuts and property tax relief during the 2014 session, which will be the Republican governor's last before he leaves office due to term limits.
"Rural Nebraska wants property tax relief and urban Nebraska wage earners need income tax relief," Heineman said. "This is going to be priority No. 1."
The governor's comments come as a committee of state lawmakers is holding public hearings across the state on how to "modernize" the state's tax system to better reflect today's economy.
In the past, Heineman, like several other Republican governors, focused his ire on the state's income tax rates. He pointed out that only Iowa, among Nebraska's neighboring states, has a higher top rate than the Cornhusker State.
But on Wednesday, the governor said he'd also support property tax relief by increasing the rebate Nebraska property owners now get from the state each year. He said he'd finance it by utilizing the state's record high cash surplus — now standing at $679 million — or other "alternatives discussed in the future."
Heineman, when pressed for details about the alternatives, said it was too early to provide them. The Legislature's Tax Modernization Commission is scheduled to issue recommendations by Dec. 15, and the 2014 legislative session doesn't begin until Jan. 8.
"It's only October," he said. "I want to work together with (the Legislature). I don't care who gets the credit."
Immediate reaction was mixed.
State Sen. Tom Hansen of North Platte, who attended a press conference with Heineman in North Platte on Tuesday, said he supports the governor's new focus on property tax relief, saying it appears he has been listening to the complaints voiced by taxpayers during the initial hearings of the tax modernization group.
Omaha Sen. Heath Mello, who is chairman of the legislative committee that writes up the state budget, voiced caution, saying he wanted to make sure that any tax proposals are "fiscally responsible."
Mello said he anticipates the Legislature will be cautious in using the cash reserve for any tax cut proposals because it was pumped up, in part, by a one-time influx of taxes paid on capital gains taken late last year in advance of the so-called fiscal cliff.
"My taxes are high, just like everyone's taxes are too high," the senator said. "However, the challenge we have is reforming a tax code to ensure fairness and stability, while generating enough tax revenue to fund state priorities into the future."
The cash reserve is essentially a state insurance plan that funds state services when tax revenue drops, like during the recent economic recession. The state's healthy cash reserves have been credited for allowing Nebraska to avoid tax increases that other states, with low cash reserves, had to pass.
Heineman, in his weekly column last week, criticized the Lincoln-based think tank, the Open Sky Institute for advocating higher allocations of state aid to local schools, cities and counties to allow for property tax relief. He said it was a liberal group that wanted to increase taxes and spending.
Open Sky has said that Nebraska ranks 49th in the state aid it offers local schools — the largest item on a property tax bill — which exacerbates the state's property tax problems.
On Wednesday, the governor said that there's no guarantee that local property taxes would drop if aid from the state was increased.
"I haven't heard a single school board say we will lower the property taxes," Heineman said, if state aid was increased. But Heineman said he would be willing to consider upping state aid if there was a legal guarantee that property taxes would fall.
The tax modernization group held meetings last week in Scottsbluff, North Platte and Norfolk. A common refrain from mostly rural taxpayers was that property taxes were too high and the tax load should be shifted elsewhere, like higher sales taxes or removal of sales tax exemptions.
Heineman has often said that since property taxes are levied and collected locally, the state cannot do much to impact high property taxes. But on Wednesday, he said that the state's property tax rebate program, which he launched in 2007, is a means to provide direct relief, and that he'd look at expanding it.
This year, the rebate program delivered a $71 credit to the owner of a $100,000 home, and cost the state $115 million.
The program has been criticized by Mello and others over the years for aiding not just residents, but nonresident landowners, including billionaire Ted Turner, the state's largest individual property owner.
Heineman said Wednesday he understands the criticism but believes there are legal barriers to excluding nonresidents from the tax break.