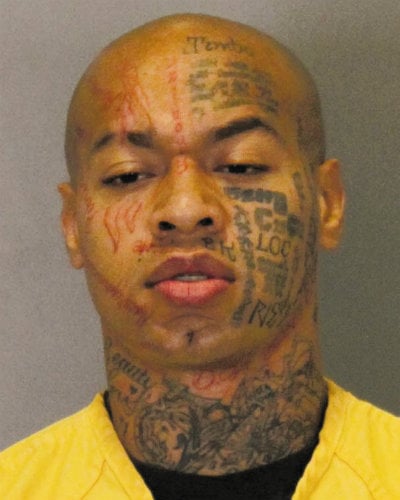 After Andrea Kruger begged "no, please don't," Nikko Jenkins executed her with four shots from a 9 mm rifle, an investigator testified Tuesday.
But it was a single, unspent 12-gauge shotgun shell — containing what hunters refer to as a deer slug — that connected her death to three other slayings in the preceding 10 days.
Investigators found the deer slug near the center console of Kruger's Gold 2012 Chevrolet Traverse as they searched for evidence amid the soot-filled and smoky interior.
The SUV was set on fire by Jenkins' uncle following her slaying, authorities say.
Subsequent tests on that slug showed that it was the same caliber as ones used in the Aug. 19 killing of Curtis Bradford near 18th and Clark Streets and the Aug. 11 killings of Jorge Cajiga-Ruiz and Juan Uribe-Pena in South Omaha's Spring Lake Park.
The unspent slug also provided something else: evidence of the DNA of both Jenkins and Kruger, investigators say.
With those links — and the reported confession of Nikko Jenkins — Douglas County Judge Jeffrey Marcuzzo ordered Jenkins to stand trial on first-degree murder charges in the four slayings.
In another development, Warren J. Levering — Nikko's uncle — was charged with first-degree murder in the Kruger slaying.
The testimony Tuesday provided a glimpse into how Omaha police and Douglas County sheriff's investigators identified Jenkins as the killer who had vexed investigators with his ferocious, indiscriminate spree.
Omaha Police Detective Dave Schneider said investigators had scoured area hunting stores in the days between the Spring Lake slayings and Kruger's killing. Schneider said they were looking for one "very uncommon" brand of the deer slugs — Brenneke, the one used in the Spring Lake killings.
"We only found boxes of it on the shelf at one location," Schneider said.
That store: Canfield's Sporting Goods, 8457 West Center Road.
Surveillance photos from that store led police to a customer who was purchasing the ammo Aug. 2. They first believed the female customer was Nikko Jenkins' cousin, Christine Bordeaux, only to later learn that the ammo buyer was Jenkins' mother, Lori Jenkins.
But the mistaken identity proved fortunate.
In follow-up interviews, Bordeaux unraveled the mystery as to the motive and manner of the slayings of Kruger, Cajiga-Ruiz and Uribe-Pena.
While Jenkins' attorney suggested that mental illness was the motive behind the killing spree, Douglas County Attorney Don Kleine said it was something far simpler: greed.
Just released from prison, Nikko Jenkins needed money. So he and his family were looking for a car with which they could commit subsequent carjackings.
Jenkins saw a golden opportunity: the Aug. 20 concert of rapper Lil' Wayne at the CenturyLink Center. Jenkins and his family believed that people with money were in town; in turn, the group could rob and carjack concertgoers.
Douglas County Sheriff's Sgt. John Pankonin also spoke of the grisly comments Nikko Jenkins and his sister Erica allegedly made in the seconds after killing Kruger, a wife and mother of three young children.
Bordeaux has cooperated with authorities and told investigators that four Jenkins family members were in a 2005 Ford Taurus looking for someone to carjack, Pankonin said.
Pankonin gave this account of Bordeaux's version of what happened in the early morning of Aug. 21:
Erica Jenkins was driving, and Nikko was sitting behind her. Bordeaux was in the front passenger seat, and Levering was in the back. The four didn't want to keep using the Taurus because it was registered to one of Nikko Jenkins' girlfriends.
Kruger, after stopping for fast food, happened upon the four at 168th and Fort Streets.
Nikko Jenkins and Levering jumped out and rushed her. Nikko Jenkins pulled Kruger out of the SUV and threw her to the ground.
"No, no, please don't," Kruger screamed.
Nikko Jenkins shot Kruger four times — twice in the head, once in the neck and once in the shoulder. As he rushed back to the car, Jenkins hollered: "That dumb (expletive) just laid down on the ground."
As they raced away in both the Taurus and Kruger's SUV, Erica Jenkins phoned Nikko Jenkins.
"Why didn't you move that body into the ditch?" Erica Jenkins said to her brother. "That was stupid."
About a dozen family members of all four victims lined the front row of the courtroom. At one point, Bradford's mother spoke with Andrea Kruger's husband.
Michael-Ryan Kruger, the husband, rested his elbows on his knees and dropped his head in his hands. Staring ahead, he watched Jenkins intently.
Jenkins showed little emotion. Several times, he turned to the gallery and squinted to see who was there. The chains from his waist and leg irons clanked as he did.
His attorney, Public Defender Tom Riley, hit on the Jenkins family's claims that Nikko Jenkins was mentally ill and had several times requested mental health treatment while in prison.
In his own reported confession to the killings, Jenkins made little allusion that robbery might be the motive. He instead claimed that the killings were "sacrifices" that he made to an Egyptian serpent demon god that he dubbed "Opophis."
At one point, he also told a detective that he wasn't sleeping well and had been suffering from persistent headaches since being released from prison. The serpent told him the only way to get rid of those headaches was to sacrifice people to it, Jenkins told Schneider.
According to Schneider's testimony:
On Aug. 11, Erica Jenkins and Bordeaux met Uribe-Pena and Cajiga-Ruiz at Tquila Night Club, 3050 L St. The women spent some time with the men at an apartment, then suggested that they all go to Spring Lake Park on the pretense that the women would perform sex acts.
Bordeaux told detectives that she called Nikko Jenkins and told him that she thought one of the men had as much as $1,000 cash on him. Bordeaux said Jenkins shot both men.
Cajiga-Ruiz appeared to be ducking down before he was shot to death.
On Aug. 19, Nikko Jenkins partied with Bradford, a man he had met in prison. He even posed for a photo, with his arm around Bradford and the two flashing gang signs.
Hours later, Nikko and Erica went out with Bradford on the pretense of committing a robbery. Authorities allege that both Erica and Nikko Jenkins shot Bradford in the head. The motive for that killing is unclear.
Nikko Jenkins claimed that he acted alone, shooting Bradford first in the head with a .357 handgun. As Bradford was writhing on the ground, Jenkins told detectives, he finished him off with a deer slug.
Investigators are wondering whether Nikko and Erica Jenkins gave Bradford an unloaded Hi-Point 9 mm rifle as part of the robbery ruse. The reason for that suspicion: Bradford's blood — presumably from the shot to the head — was found on the rifle. Two nights later, that 9 mm rifle was used on Kruger.
During her autopsy, doctors recovered the 9 mm bullets. Subsequent testing showed that they were fired from the same Hi-Point 9 mm rifle that investigators found in a duffel bag when they arrested Jenkins in late August.
Investigators found something else. Next to Kruger's body was part of a zipper from a knockoff Louis Vuitton bag. Bordeaux told authorities that Jenkins sometimes carried his weapons in that bag.
Days later, investigators found the fake Vuitton bag — with a missing zipper — during a search of the home of another Jenkins sister, Melonie.
Kleine said Erica Jenkins — already charged with first-degree murder in Bradford's death — most likely will face charges of conspiracy to commit robbery in the deaths of Kruger, Uribe-Pena and Cajiga-Ruiz.
Bordeaux has been charged with two counts of conspiracy to commit robbery in those cases.