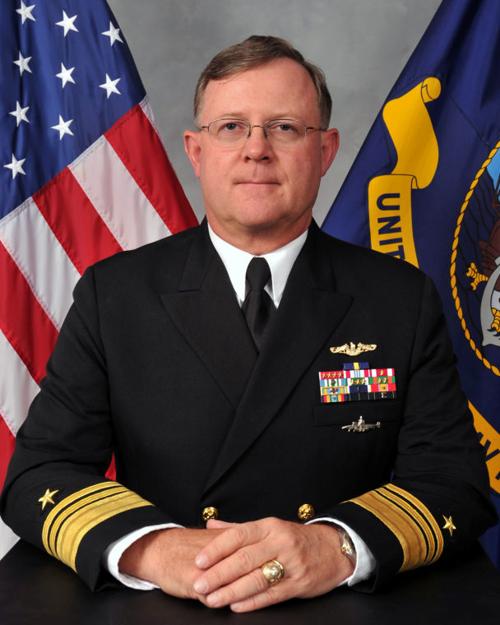 Vice Adm. Tim Giardina has been suspended as deputy commander of the Bellevue-based U.S. Strategic Command, StratCom officials confirmed Friday.
StratCom's commander, Gen. C. Robert Kehler, suspended Giardina in early September from all duties that include oversight of nuclear materials or nuclear issues, or that require a security clearance, said Capt. Pamela Kunze, a StratCom spokeswoman.
She said Kehler also recommended to Defense Secretary Chuck Hagel that Giardina be reassigned to another command.
Giardina is being investigated by the Naval Criminal Investigative Service.
Officials say Giardina is suspected in a case involving counterfeit gambling chips at the Horseshoe Casino in Council Bluffs, according to the Associated Press.
DCI agents stationed at the Iowa casino discovered the chips, Iowa Division of Criminal Investigation special agent David Dales said. He would not say when the discovery was made or how much in counterfeit chips was found, only that "it was a significant monetary amount."
Kunze said Strategic Command did not announce the Sept. 3 suspension because Giardina remains under investigation and action on Kehler's recommendation that Giardina be reassigned is pending, according to AP.
Kunze said a law enforcement agency, which she would not identify, began an investigation of Giardina on June 16, the AP reported. Kehler became aware of this on July 16, and the following day he asked the Naval Criminal Investigative Service to begin a probe.
Giardina, 56, joined StratCom in December 2011, after a tour as deputy commander and chief of staff at the U.S. Pacific Fleet command in Honolulu.
A 1979 graduate of the U.S. Naval Academy, Giardina became a career submarine officer. He commanded the attack sub USS Kentucky and was executive officer aboard the USS Hyman G. Rickover. He later commanded the entire fleet of 18 Trident ballistic-missile submarines.
He also was chief of staff of the Japan-based 7th Fleet and a joint task force supporting the wars in Iraq and Afghanistan.
Giardina had been scheduled to leave StratCom later this year. In July, President Barack Obama nominated Lt. Gen. James Kowalski to replace Giardina.
Kowalski currently leads the Air Force Global Strike Command at Barksdale Air Force Base, La., where he oversees the nation's Minuteman III intercontinental ballistic missiles and nuclear-capable B-2 and B-52 bombers.
This report includes information from the Associated Press.