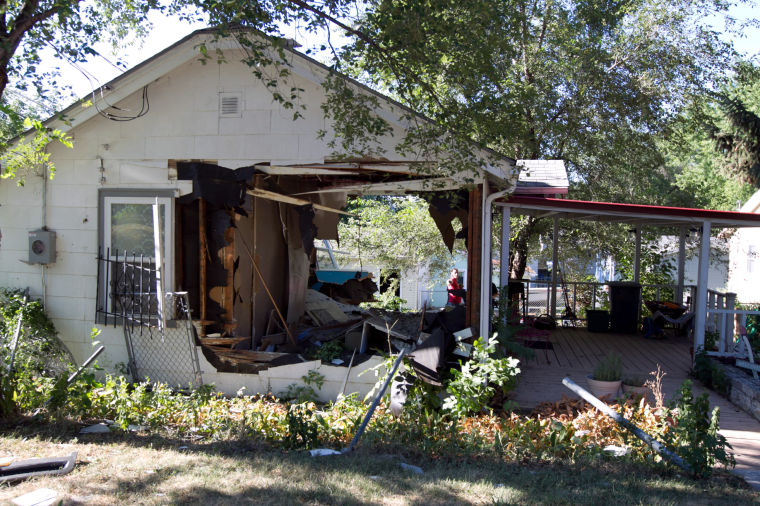 Paul Mosher destroyed a house and nearly a life.
In July 2012, Mosher drove drunk, crashed into five parked cars, hit a curb and launched his 2009 Chevy Trailblazer into the house where Brooke Sutton was sleeping.
Mosher's SUV barreled into Sutton's bed, pushing her and her sleeping chihuahua into the backyard.
There, paramedics found Sutton alive but with multiple injuries — a broken shoulder, fractured ribs, a crushed vertebrae and a shattered ankle. She was hospitalized for two weeks, was in a body cast for months and has been in rehabilitation ever since. On top of that, she now suffers from post-traumatic stress disorder.
Mosher's sentence for wreaking that havoc: three years' probation.
Mosher, who pleaded no contest to driving drunk and causing serious bodily injury, faced up to five years in prison or five years of probation.
Douglas County District Judge Mark Ashford declined Monday to impose any upfront jail time — a penalty that often accompanies felony probation sentences.
Instead, the judge said he decided to give Mosher a choice: go to inpatient treatment immediately or go to prison. Mosher chose treatment.
"Quite frankly, I felt initially you should go to the penitentiary," Ashford said. "It is an absolute miracle someone wasn't killed."
The probation sentence drew concern from Douglas County Attorney Don Kleine, though Kleine's prosecutors did not ask for jail time during the sentencing hearing.
"I wish there was more of a consequence from the standpoint of some sort of jail sentence upfront," Kleine said. "For him to not spend a day in jail is a little disappointing."
Mosher's attorney, Mike Fabian, said the sentence was appropriate.
He noted that Mosher, now 23, had no record. He has attended Alcoholics Anonymous meetings and has gone through therapy, including outpatient treatment for his alcohol problem. He continued in classes at the University of Nebraska at Omaha and maintained his employment at a local restaurant. And he was willing to go through inpatient alcohol treatment, Fabian said.
"He's done absolutely everything he could possibly do to show that's he's accepted responsibility," Fabian said. "The young man has a great deal of remorse, a great deal of guilt."
Brooke Sutton and her dog, Lily, were asleep when Paul Mosher's SUV crashed into Sutton's house.
Sutton, meanwhile, simply has a great deal of pain.
Mosher's swath of destruction was the stuff of cinema, complete with a flying SUV, a miracle survival of a woman and her chihuahua and a painful aftermath.
At 3 a.m. Friday, July 27, after a night of drinking, Mosher was speeding south on 66th Avenue, near Grant Street, when he sideswiped and severely damaged three cars parked on the east side of the road. He somehow missed another car before hitting two more cars.
The Blazer then hopped a curb at the dead end of 66th Avenue — went airborne and ripped through Sutton's house.
Total damage: One house destroyed, five cars hit, two cars totaled and one retaining wall toppled.
The Omaha woman had taken great care to fix up her 1925 bungalow in the Benson area. The then-computer trainer at Peter Kiewit Sons' Inc. renovated the 572-square-foot home, made the payments and painted the front door pink.
She and her chihuahua, Lily, were fast asleep in the bedroom on that July night. The next thing she remembers was Mosher standing over her, his warm breath reeking of alcohol. In excruciating pain, she groaned at him to call 911.
Mosher responded, "Do we have to?"
That wasn't his last bit of defiance.
After police arrived and arrested him, Mosher refused to submit to a breath test. The then-22-year-old told police that friends had told him to refuse all tests.
Meanwhile, the ordeal was just beginning for Sutton.
Her shoulder blade was broken, bone jutting from her skin. Several ribs were cracked. The collision shattered her ankle, wrenched her knee and compressed vertebrae in her back.
She spent the next two weeks in the hospital, said her attorney, Richard Dinsmore of Omaha.
Unable to surgically mend all her fractures, doctors put her in a body brace for months. She eventually moved back to the home of her parents, Robert and Leslie Sutton, and endured daily rehabilitation sessions.
Neighbor Michael Schlautman cleans up some of the debris after the wreck. JAMES R. BURNETT/THE WORLD-HERALD
To this day, she still undergoes rehabilitation and faces possible surgery on her ankle, Dinsmore said. Her back aches — as do many of her joints.
And there's another lingering problem: nightmares and flashbacks. Sutton has been diagnosed with PTSD, Dinsmore said. Any startling noise — even a fireworks pop — takes her back to an SUV ripping through her home.
"She is not a complainer or a moaner, though," he said. "She looks at these challenges and says, 'I'm going to take this on — and I'm going to get through it.' "
One of the challenges she has taken: a return to college to become an elementary teacher.
Her house is almost rebuilt, but she decided that she needed a change of place. Sutton enrolled at Iowa State University in Ames, where she'll spend the next year or two finishing her education degree.
Dinsmore said Sutton, now 32, bears no ill will toward Mosher.
"True to her nature, her reaction was this: 'I really hope he makes progress and can turn his life around. And I hope he understands that either of us could have been killed that night,' " Dinsmore said.
Sutton's voice, however, was noticeably absent from the sentencing hearing Monday. Ashford noted that he had no victim-impact statement updating Sutton's condition. Those forms typically are provided to victims by either the probation office or by prosecutors.
Dinsmore said that Sutton never got the victim-impact statement — perhaps because of her move — but that prosecutors had done a good job of updating him on the case.
The prosecutor assigned to the case was not in the courtroom Monday. His substitute listed Sutton's injuries but continually referred to her as a "he" before ultimately deferring to the report of probation officials.
The probation office informed Ashford that Mosher was a suitable candidate for probation.
In addition to probation, Ashford suspended Mosher's driver's license for a year, ordered him to perform 120 hours of community service and fined him $1,000. Mosher's insurance company is handling the claims of Sutton and the car owners.
"The main thing here is that you are a convicted felon," Ashford said. "That's something that will be a constant reminder for you for a long period of time."
Asked if there was anything he wanted to say, Mosher told the judge, "No, there is not."
Fabian said his client, a communications major at UNO, is remorseful and remarkably candid. Mosher admitted to a probation officer that he has drunk alcohol since the crash, though he says he last did so in mid-June. He has been through therapy to deal with his guilt and alcohol use, Fabian said.
"A lot of guilt, a lot of anxiety," Fabian said. "He's been in continuous treatment. This is just another situation that educates us on the dangers of drinking and driving."
The neighbors who rushed to Sutton's side that night questioned whether the probation term provided any education.
Chris Joneson and his wife, Stephanie, both 27, awoke to the crash and Mosher's SUV careening into their yard.
The Jonesons said they didn't just tend to Sutton — they had to keep an eye on Mosher. He looked as if he were about to hop the fence and take off running, Chris Joneson said.
"He nearly killed somebody, and he got a slap on the wrist," Joneson said. "We all make mistakes, but this mistake almost cost someone their life."
World-Herald staff writer Alissa Skelton contributed to this report.
Be the first to know
Get local news delivered to your inbox!