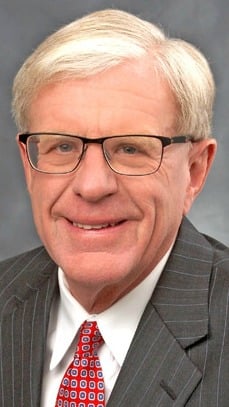 LINCOLN — Relieving overcrowding in Nebraska's state prisons and adopting other prison reforms are going to take time.
Two to four years was the estimate provided Wednesday by a pair of national authorities on prison reform.
That would surpass the tenures of Gov. Dave Heineman, who has voiced support for lower-cost reforms rather than new prison construction, and State Sen. Brad Ashford, who is leading the charge on the issue in the Legislature.
But Ashford said there are still initial steps the state can take to address overcrowding, which has hovered at 151 percent of capacity — an overflow of about 1,600 inmates — in recent months.
One step, he said, would be requiring that all inmates on release be supervised by parole officers for several weeks to ensure a safe transition into society.
Such "supervised release," the Omaha lawmaker said, might have headed off Nikko Jenkins, who stands charged with four slayings within a month of his unsupervised July 30 release from prison.
"There's a number of other offenders who should not get out without some kind of supervision," Ashford said. "It's a formula for disaster."
The CSG has helped 18 other states adopt reforms that cut millions of dollars in corrections spending and enhanced public safety by reducing repeat crimes. Marshall Clement and Marc Pelka, both of CSG, said it would take Nebraska up to four years to make changes to its prison system.
After visiting the past two days with state corrections officials and others, CSG officials said Nebraska's prison overcrowding is among the worst in the nation. But there are proven strategies to address overcrowding, they said.
For instance, North Carolina, which worked with CSG, has seen a 9 percent decrease in inmates, a projected savings of $560 million over the next five years and the closing of five prisons.
The state did it by creating new out-of-prison rehabilitation programs and hiring 175 new employees to supervise inmates on release programs.
Clement said the "science" of what works in effectively dealing with inmates once they leave prison has improved markedly in recent years.
To be successful, Clement said, states must obtain bipartisan support from the executive, legislative and judicial branches of government.
Toward that end, representatives of the Heineman administration and Nebraska Department of Corrections attended, for the first time, a meeting of the prison reform group.
Earlier this week, the governor told The World-Herald he is willing to talk with anyone, including CSG, in seeking solutions to overcrowding.
CSG officials provided other food for thought:
— About 40 percent of Nebraska inmates leave with no supervision, which risks public safety.
— About 51 percent of inmates who are released without supervision are rearrested within three years.
— Nebraska's prisoner-to-parolee ratio is about 70-to-30, much higher than in other states.
— The percentage of Nebraska inmates with sentences of four years or longer has grown steadily; why is unclear.
Read more on prison overcrowding: