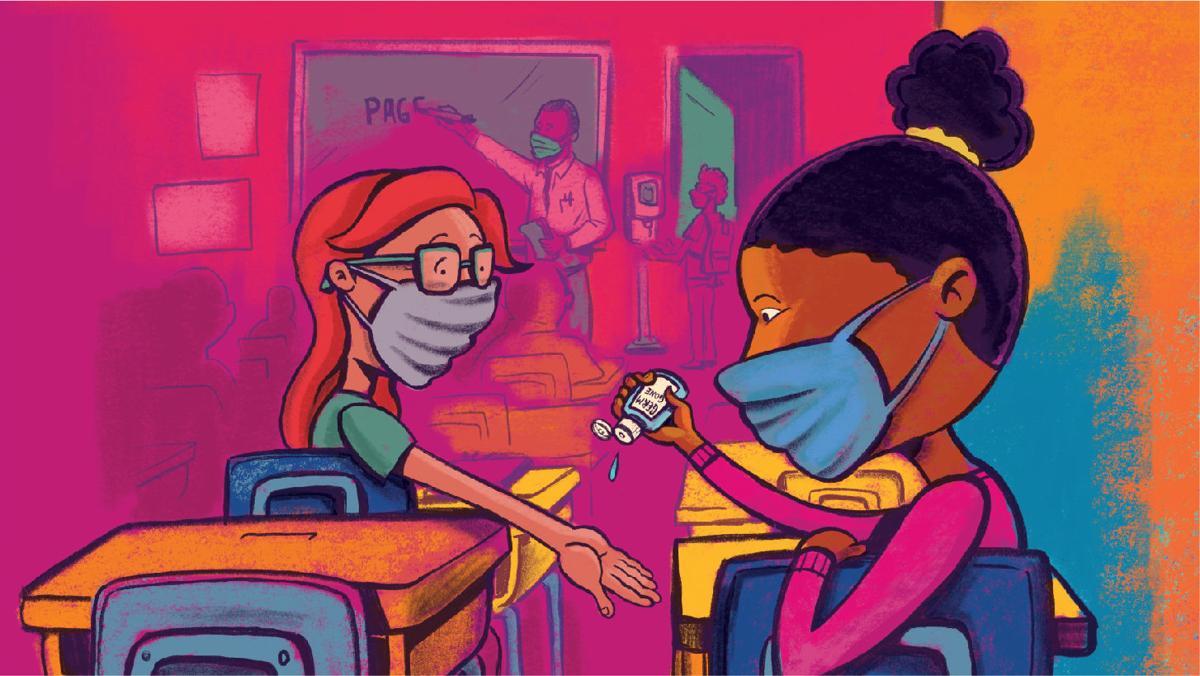 Parents, students and teachers in Omaha are looking ahead and wondering what school will look like in August.
Some school districts, such as Millard, Elkhorn, Westside and Bellevue, have announced that they expect all students will return to in-person classes this year.
The Omaha Public Schools have announced that students will be divided into two groups, with each attending school in person part of the week.
District officials elaborated on that plan at a recent school board meeting. Below are some frequently asked questions or issues raised by school board members and the answers district officials provided.
Q: What does the OPS plan for reopening this fall look like?
A: In what the district is calling the "Family 3/2 Model," students throughout the district would be divided into two groups, each of which would attend school in person part of the week.
Students would be divided into the groups based on the first letter of their last names.
Students whose names start with A through K would attend every Monday and Tuesday. Those starting with L through Z would attend every Thursday and Friday. The groups would attend on alternate Wednesdays.
The plan would be for all grades across the district.
Q: Will the OPS school board vote on the Family 3/2 Model?
A: No, the board is not scheduled to vote on the model. The model was determined by district leadership, including Superintendent Cheryl Logan.
Q: What would instruction look like under this model?
A: Melissa Comine, chief academic officer for OPS, gave an example for elementary school students. For in-school instruction, traditional time allotments have been adjusted so students would receive two lessons in English/Language Arts and math every day. Time also is built in for other subjects.
On at-home learning days, students will have a daily schedule with time allotments for each subject. Students can practice skills using textbooks and digital learning on the iPad.
Q: When students are at home, will teachers be delivering remote learning lessons to them?
A: Comine said teachers will teach the students in the classroom. Teachers will not be simultaneously delivering remote learning to the students at home. Comine said the district will require teachers to plan for at-home learning, and OPS also will offer a variety of printed and digital materials for at-home students. Some elementary math videos also will be available.
"We do expect that our teachers in person are teaching our students in person," she said, "and they are not instructing remotely at the same time."
A: Yes. Curriculum models are being revised. Comine said, for example, that students would not go to the library — library staff would deliver materials to the classroom.
A: The district is receiving the iPads in five waves, July through September.
Comine said elementary school students will not have iPads at the beginning of the year. Those students, she said, will have printed at-home learning activities.
Q: Has anyone discussed live-streaming the lessons so students at home can watch what is being done in the classroom and participate?
A: Charles Wakefield, OPS's chief human resources officer, said that in the past, cameras have not been allowed in classrooms, and unions representing staff have been reluctant to agree to cameras. He said the union would have to sign off on that plan.
One school board member, Lou Ann Goding, asked the district to explore that option.
Q: Will students' work be graded?
A: Yes. Comine said district grading practices will be in effect for all instructional models during the 2020-21 school year.
Q: Will students and staff be required to wear masks while at school?
A: Yes. The school board approved a resolution requiring that masks be worn by anyone engaging in any activity on district property when other people are present. Bandanas are prohibited.
The district will give each student and staff member five masks. Some exceptions to the policy will be made for those whose breathing may be impaired by a mask.
Q: What happens if a student in a classroom gets COVID-19?
A: Logan, who has been working on plans with Douglas County Health Director Adi Pour, said the answer will depend on the circumstances. The superintendent said more information would be shared with the school board in August.
Logan said if everyone surrounding the student had been wearing a mask, the protocol could be different.
Q: Will the district step up cleaning in schools?
A: Lisa Sterba, OPS chief operations officer, said all classrooms will be cleaned more frequently. Restrooms and "high-touch areas" like stair rails and door handles will be cleaned a minimum of every two hours, Sterba said.
As much as possible, Sterba said, outdoor air will be introduced to the space.
Q: If students are in school for only part of the week, how will sports and after-school activities be handled?
A: Logan said those are issues that still need to be worked out. An update will be given at the school board meeting next month.
Q: If students aren't in school every day, what will they do for food?
A: Sterba said the district is working with the U.S. Department of Agriculture to provide students with three days' worth of meals to take home on the days they are not in school.
Q: How will truancy and attendance be handled under this model?
A: Logan deferred the attendance question to the next school board meeting but said student attendance will be taken on remote learning days.
Q: What about students with disabilities who receive special education services?
A: In the model, students in the following programs would attend school every day: Early Childhood Special Education, K-12 Alternate Curriculum Program, K-12 Behavioral Skills Program, K-12 Hearing Impaired Classrooms and all classrooms at JP Lord School.
Jeremy Maskel, a district spokesman, said that's approximately 1,600 students.
Q: Do students and families have access to COVID-19 testing through OPS?
A: Logan said the district has a partnership with OneWorld Community Health Centers and Charles Drew Health Center, and COVID-19 testing is available at both locations. In additional to testing, Logan said school-based health centers also are setting up immunization clinics. Logan said students have gone months without immunizations, so there's some catch-up to do.
Q: If teacher or other staff members get COVID-19, will they have to use all of their sick time?
A: Wakefield said that under the federal coronavirus relief bill, any employee who tests positive for COVID-19 gets 10 days of paid leave. After that, Wakefield said, the employee's leave would be used depending on the type of medical treatment required.
Q: If a teacher gets sick or his or her child gets sick, are there enough substitute teachers to cover the classes?
A: Logan said the district is working on that and updates will follow in the coming weeks.
Q: Can families opt for a remote learning option instead of sending students back to school?
A: Yes, the district is offering an all-remote option. Students would receive a schedule that matches the Family 3/2 Model, but all learning would be done at home.
Logan said remote learning placement will be subject to need and availability. The placements would remain in effect for an entire semester. Families can request remote learning at remotelearning@ops.org. The district also has a virtual school that is separate from the remote learning option.
Q: If things improve, will the district have students return to school on all school days?
A: Logan said she's hoping all students will be able to return to school for five days a week.
"This is not a forever scenario, hopefully," Logan said. "We're hoping that we will go in that direction and not the opposite direction, to be honest."